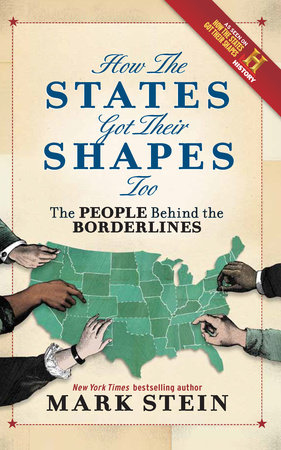 How the States Got Their Shapes Too
The People Behind the Borderlines
The People Behind the Borderlines
By Mark Stein

By
Mark Stein
By Mark Stein

By
Mark Stein
Best Seller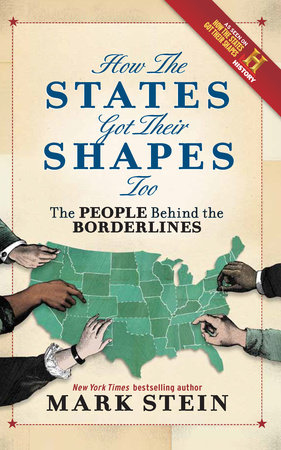 Paperback
May 29, 2012 | ISBN 9781588343505
Paperback

$16.95

May 29, 2012 | ISBN 9781588343505
*This title is not eligible for purchase to earn points nor for redemption with your code in the
Reader Rewards
program
People Who Read
How the States Got Their Shapes Too

Also Read
Inspired by Your Browsing History
Praise
Library Journal


Stein, Mark. How the States Got Their Shapes Too: The People Behind the Borderlines. Smithsonian. Jun. 2011. c.360p. illus. maps. index. ISBN 9781588343147. $24.95. HIST
In an evocative sequel to his popular How the States Got Their Shapes, Stein presents a plentitude of varied and compelling biographical sketches associated with the setting of our national boundaries. The personalities, both the notable (e.g., Thomas Jefferson, Daniel Webster, Ethan Allen, Charles Mason, and Jeremiah Dixon) and the more obscure (Zebulon Butler, Clara Nichols, John Meares) and their agendas are central to the book. Readers are reminded that under President James K. Polk, U.S. boundaries grew exponentially to include Texas and all lands between the Rockies and the Pacific, producing a colossal headache for Congress and a dilemma largely solved by such outsize local personalities as Sam Houston and Brigham Young. The author also treats lands we attempted to annex but lost: Canada, the remainder of Mexico, Cuba, and the persistent issue of Puerto Rico. Readers will be inspired by Congresswoman Eleanor Holmes Norton's dogged campaign to win statehood for the District of Columbia. VERDICT Stein's major and minor vignettes are well chosen from a wide array of primary and secondary sources. The book offers a perfect blend of optimism, tongue-in-cheek humor, and universal appeal. A winning effort.—John Carver Edwards, Univ. of Georgia Libs., Cleveland
Booklist

Stein's How the States Got Their Shapes (2008) described why the American states look the way they do—how their borders landed where they did. This equally informative follow-up puts the spotlight on the people responsible for shaping those borders. People like Roger Williams, the Puritan minister who was expelled from the Massachusetts Bay Colony for advocating against the Church of England and established the township of Providence at the tip of the bay, and Anne Hutchinson, also banished, who secured the rights to a small island called Aquidneck by the Indians and Rhode Island by the British. Or—and this is a curious one—Robert Jenkins, the sea captain whose severed ear played a key role in establishing the boundary between Florida and Georgia. Stein, a playwright and screenwriter, writes history the way it should be written, as an entertaining story and not merely a tedious list of names, dates, and places. This is a very interesting follow-up to the earlier book, but it works equally well as a stand-alone.— David Pitt
Kirkus Reviews

A fun sequel offers more recondite tidbits of American history.

With 50 states, there are plenty of details about border controversies for this mildly titillating follow-up to screenwriter Stein's How the States Got Their Shapes (2008), which in turn inspired the History Channel's eponymous documentary. The personalities behind the disputes take center stage: Charles Mason and Jeremiah Dixon, who were actually a pair of highly accomplished English surveyors of the Royal Society possibly hired by Benjamin Franklin to establish impartially the disputed 300-mile Pennsylvania-Maryland-Delaware boundary. "Asking Mason and Dixon to survey a boundary in America," writes the author, "was… akin to asking Mozart to play at a prom." Thanks to Ethan Allen ("not a furniture maker") and his motley posse of Green Mountain Boys, the homesteads making up the future Vermont were saved from rapacious New Yorkers. It is largely due to the zeal (or wealth) of John Hardeman Walker who "put the boot heel on Missouri" in order to keep his land from sinking into Arkansas. Under the presidency of James K. Polk, America's borders increased greatly, incorporating Texas, the Oregon Territory and everything in between the Rockies and the Pacific, creating a massive befuddlement for lawmakers; bright lights such as Sam Houston, Brigham Young and John Sutter would all wield profound influence on the shape of the states affiliated with their names. Stein includes contributions by important women, including proto-feminist Clarina Nichols, who moved her family to Kansas for the purpose of creating an anti-slavery majority in 1854, and Representative Eleanor Holmes Norton, who attempted tirelessly to win statehood for the District of Columbia. Overall, the author provides plenty of good stuff for tournament quizzes and Jeopardy questions.
Bright, readable and accessible for all ages.
Back to Top