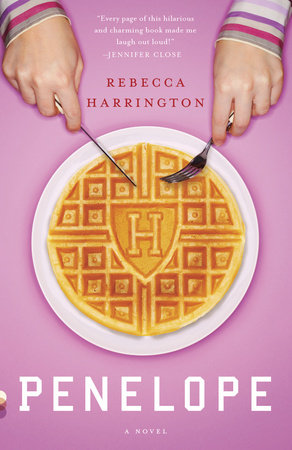 READERS GUIDE
The questions, discussion topics, and suggestions for further reading in this guide are designed to enhance your group's discussion of
Penelope
, Rebecca Harrington's hilarious look at one young woman's freshman year at college.
Introduction
When Penelope O'Shaunessy arrives at Harvard, she expects to enter the cheerful scenes she saw on her admissions brochure: to lounge, play Frisbee, and live in an impressive brick building inside the Yard's hallowed gates with to-be lifelong friends. Instead, within the first few minutes of her college career, she becomes acutely aware of how out of step she is with her illustrious peers. Struggling to pick up on the fundamentals of Harvard life—from social cues to academic lingo—she finds herself exiled to a converted apartment building above a radio station, a trek away from anything fun or interesting. Nor are her roommates the pals she imagined: Emma has already joined the pastel-colored ranks of private school graduates like herself and is immersed in career-enhancing extracurriculars; and Lan is so moody and hostile that the word "friend" may not even be in her vocabulary. Her attempts to find freshman love are equally thwarted, as her classmate Ted sends mixed messages about his feelings and intentions, whereas the sexy, foreign upperclassman Gustav proves to be unfailingly charming but frustratingly elusive.    
The earnest geeks, ardent social climbers, and anxious misfits who amble through the halls and along tourist-filled walkways of
Penelope
are the cast of this hilarious comedy of errors, told from the perspective of a writer who's been there herself. Rebecca Harrington, a recent Harvard graduate, brilliantly captures the angst and absurdities college students face—and somehow manage to survive—in this unforgettable and sharp-eyed satire of campus life.
Questions and Topics for Discussion
1. How do Penelope's first days at Harvard set the tone of the novel?  What in particular does Penelope find different from what she expects college to be like—both from what she knows about Harvard and what her mother tells her?
2. Penelope seems oblivious at times to Harvard's protocols, both academic and social. Is Penelope's reaction to her peers' behaviors sensible and level-headed, or does it display a certain lack of ambition and perspective on her part? To what extent is she aware of and bothered by her somewhat outsider status?
3. Throughout the novel there are many references to Harvard buildings, hangouts, traditions, and even the terminology students use without much explanation.  Why does the author choose to use Harvard in particular rather than basing the story at an unnamed college?  In what ways do the details sharpen the satirical thrust of the novel?
4. What role does social class play in the novel? What are the signifiers of class that Penelope sees, and what effect do they have on her friendships and sense of belonging?
5. What draws Penelope and Ted together? Is their friendship based on happenstance and convenience or a shared feeling of loneliness and not fitting in with the crowd?
6. Ted and Penelope's first near-romantic encounter is far from perfect (pp. 32-34): he divulges how he misses his old girlfriend in California, but then awkwardly asks Penelope to lay down with him for a fleeting moment that neither of them can make sense of. How does this scene, and their conversation, bring out their emotional and social confusion? Which comic touches and clichés add to the authenticity of the scene and invoke the reader's empathy?
7. What explains Penelope's obsession with Gustav? What does he represent to her, both on his own and as a foil to Ted? Does Penelope get carried away by her own fantasies and expectations of college love, or is Gustav genuinely interested in her? To what extent does Penelope control the direction their relationship takes? 
8. Harrington puts a great deal of emphasis on Penelope's courses ("Images of Shakespeare," and the course nicknamed "Counting People"). Did you feel the author's parodic descriptions of them were more a reflection of Penelope's character, or a sly comment on academia's pomposity, or both?
9. How does the production of Camus's Caligula bring together the themes of the novel? In what ways do preparations for and the actual performance encapsulate Penelope's overall experiences during her freshman year?
10. What do Penelope's conversations with her mother, scattered throughout the book, contribute to your sense of how Penelope sees and defines herself? What do her mother's opinions reflect about the relationship between mother and daughter? What do they show about the universal concerns of a parent? Did you feel that her mother helped or hurt Penelope in preparing her for college life?
11. Is Penelope unusually naïve and unsophisticated for someone of her age and background? What reasons might the author have for creating a protagonist who seems to be unprepared for—or unaware of—what to expect as a college freshman? Does Penelope become more aware and sure of herself over the course of the novel?
12. What is the significance of the waffle depicted on the cover of the book?
About this Author
Rebecca Harrington is a twenty-six-year-old writer living in New York City
.
She has worked at
The Huffington Post,
studied history and literature at Harvard, and journalism at Columbia.
Penelope
is her first novel.
Suggested Reading
Elinor Lipman,
My Latest Grievance
; Nick Hornby,
An Education
; Chip Kidd,
The Cheese Monkeys
; Lisa Birnbach with Chipp Kidd,
True Prep
; John Jay Osborne Jr.,
The Paper Chase
; Tom Perrotta,
Joe College
; Richard Russo,
Straight Man
; J.D. Salinger,
The Catcher in the Rye
; Jane Smiley,
Moo
; Donna Tartt,
The Secret History
; Tom Wolfe,
I Am Charlotte Simmons
Back to Top