The Corsican Caper Reader's Guide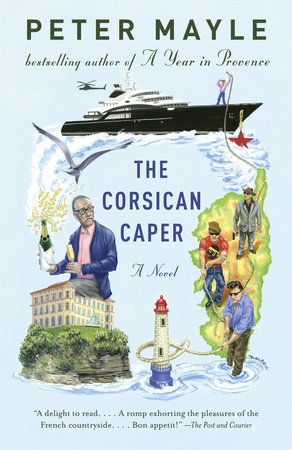 The Corsican Caper Reader's Guide
READERS GUIDE
The questions, discussion topics, and reading list that follow are intended to enhance your reading group's discussion of
The Corsican Caper
, Peter Mayle's latest tale about lovable rogue and sleuth extraordinaire Sam Levitt.
Introduction
Here is Peter Mayle at his effervescent best—his master sleuth, Sam Levitt, eating, drinking, and romancing his way through the South of France even as he investigates a case of deadly intrigue among the Riviera's jet set.
Billionaire Francis Reboul is taking in the view at his coastal estate, awaiting the arrival of vacationing friends Sam Levitt and Elena Morales, when he spies a massive yacht whose passengers seem a little too interested in his property. The yacht belongs to rapacious Russian tycoon Oleg Vronsky, who, for his own purposes, will stop at nothing to obtain Reboul's villa. When Reboul refuses to sell, Vronsky's methods quickly turn unsavory. Now it's up to Sam—he's saved Reboul's neck before—to negotiate with an underworld of mercenaries and hit men, not to mention the Corsican mafia, to prevent his friend from becoming a victim of Vronsky's "Russian diplomacy."
The dire situation doesn't stop Sam and Elena from attending glamorous fêtes where the wines and starlets alike sparkle, and enjoying sumptuous meals—from multicourse revelations to understated delights like the first asparagus of the season, on which one must make a wish. But as Sam's sleuthing draws him closer to the truth of Vronsky's schemes, he realizes Reboul might not be the only one unable to enjoy the good life for long.
Brimming with entertaining twists, sparkling scenery, and mouthwatering gustatory interludes as only Peter Mayle can write them, The Corsican Caper is a one-way ticket to pleasure, Provençal style.
Questions and Topics for Discussion
1. "Francis Reboul sat in the sunshine, contemplating his breakfast: a shot glass of extra-virgin olive oil, which the French insist is so beneficial for le transit intestinal, followed by a large bowl of café crème and a croissant of such exquisite lightness that it threatened to float off the plate." How does Mayle use the novel's opening sentence to set up Francis's character?
2. Compare that introduction to our first glimpse of Reboul's nemesis: "On board the yacht, Oleg Vronsky—Oli to his friends and numerous hangers-on, and 'The Barracuda' to the international business press—turned to Natasha, the statuesque young woman whom he had appointed his personal first mate for the voyage." (pages 4–5) How do these two early passages indicate what kind of story this will be?
3. Mayle is known for his exquisite descriptions of food and place. How does he use this skill to establish characters and propel the plot?
4. One of the themes in this novel is old vs. new, pitting old money and deep-rooted locals against oligarchs and faux aristocrats. Where does Sam Levitt fit into that rivalry?
5. Levitt is a bit of a sybarite, and he spends considerable time aboard luxury yachts—yet he doesn't like boats. What does this tell us about him?
6. When Reboul rebuffs Vronsky's attempt to talk to him at the gala, each man walks away believing the other has behaved badly. Can you see why both might consider things that way? How might Vronksy have had more success with Reboul?
7. Why do you think Vronsky is so obsessed with this particular house? Why is he willing to kill (or have someone else kill) for it?
8. How do Sam and Elena's forays into house-hunting keep the story moving? What do we learn about character and plot from these detours?
9. Elena seems like quite a smart, capable woman, but she's easily distracted by food, wine, and clothing—for example, when Sam derails her political rant about anti-abortion, pro-gun activists with an invitation to lunch (page 91). What do you think she sees in Sam? What does he see in her? Do you think they have a serious future?
10. Why is Philippe willing to risk his professional reputation—and possibly his life—to help Reboul?
11. The divorce lawyer, Prat, "congratulated himself, as he frequently did, on having chosen an occupation that feeds off human weakness, fallibility, and greed, three qualities that had helped to reward him so generously over the years" (pages 99–100). What other characters in the novel might say the same?
12. At times, the Figatellis and the Oblomovs seem like two sides of the same coin. What differentiates them? What makes us root for one pair over the other?
13.  "Like so many rich and successful men, [Vronsky] was often the target of a nagging feeling that whatever he had wasn't quite enough. Something was lacking" (page 108). Why does he feel this way? Do you think Reboul shares this feeling?
14. Levitt's scheme requires him to act as a stand-in for Reboul, and in so doing, to risk his life. Clearly, he enjoys this—he says as much to Elena on page 129: "Guys just like to have fun." Why do you think he finds this element of danger so appealing? Do you think all men share that sense?
15. What did you think of the novel's climax? Were you expecting something different?
16. How would you characterize this series: mystery, travelogue, escapist lit? How does Mayle take elements from each to create something uniquely his?
About this Author
Peter Mayle is the author of thirteen previous books, seven of them novels. A recipient of the Légion d'Honneur from the French government for his cultural contributions, he has been living in Provence with his wife, Jennie, for twenty years.
Back to Top