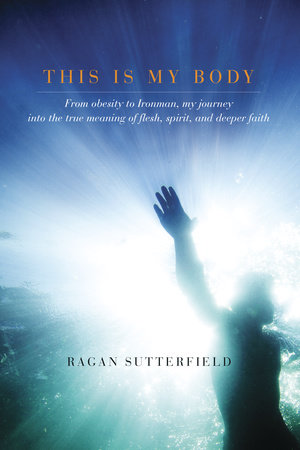 This Is My Body
From Obesity to Ironman, My Journey into the True Meaning of Flesh, Spirit, and Deeper Faith
By Ragan Sutterfield

By
Ragan Sutterfield
Best Seller
Inspired by Your Browsing History
Also in Biography & Memoir
Praise
"I honestly don't think there is a book out there that is quite so brave and honest about the complex, pain-filled, and beautiful experience so many of us have with our bodies as this one.  I applaud Ragan Sutterfield for bringing to the light what has for so long been hiding in the dark" —Nadia Bolz-Weber, author of Pastrix: The Cranky, Beautiful Faith of a Sinner & Saint
 
"Ragan has learned from experience what our best poets have been telling us–that the key to being human in our time is a "recovered body." That the "soft animal of your body" will teach you, like the wild geese, if you give it your attention. What Ragan makes so beautifully clear is how Jesus longs to love and redeem us in and through our bodies. This Is My Body is a memoir that threatens to up-end spiritual writing in the 21st century."—Jonathan Wilson-Hartgrove, author of Strangers at My Door: A True Story of Finding Jesus in Unexpected Guests
 
"Ragan Sutterfield not only reminds us that we live our faith in our bodies, but he calls us to live with beauty, grace and strength. This is My Body is the ideal companion as we seek to live whole, healed lives in mind, body and spirit." —Doug Pagitt, author of Flipped: The Provocative Truth That Changes Everything We Know About God

"'We are practicing for forever.' That's the last sentence of this remarkable book, in which Ironman meets the Jesus Prayer, and every preceding word leads up to it. At a time when so many memoirs seem to be driven by a terminal narcissism, Ragan Sutterfield's story of transformation lifts us out of relentless self-preoccupation." —John Wilson, Editor, Books & Culture

"Ragan Sutterfield has intensely lived a struggle in pursuit of fulfillment. In This Is My Body he rehearses this struggle in vivid and engrossing detail, from encroaching obesity to a broken marriage to completing marathons and a grueling triathlon. His story is unflinchingly honest and encouraging for all of us who want to be whole, body and soul." —Rodney Clapp, author of Tortured Wonders: Christian Spirituality for People, Not Angels

"At the heart of Christianity is a body: the body of the God who lay it down for the salvation of the world. Yet in a time when we are both obsessed with yet wary of the body and its power, this incisive, vulnerable book helps locate the body in its rightful, holy place. Read it and be restored." —Katelyn Beaty, managing editor, Christianity Today magazine

"Christians have long suffered from the heretical idea that our bodies are a sort of holding tank for the soul. In this wonder-filled book Ragan Sutterfield draws our attention back to a faith where our embodied life is inseparable from our spiritual life. This is My Body is the compelling story of one man's search to restore his own body to its full potential. For men and women both, this book points a way beyond the latest diet fad or exercise scheme, and shows us a more holistic, sane, and joyful way of living in our own skin. Full of wisdom both practical and profound, this book is one I highly recommend." —Fred Bahnson, author of Soil and Sacrament: A Spiritual Memoir of Food & Faith, and director of the Food, Faith, and Religious Leadership Initiative at Wake Forest University School of Divinity.
Back to Top