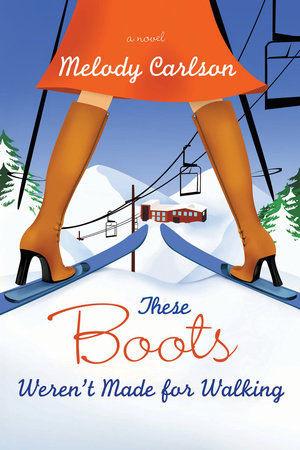 These Boots Weren't Made for Walking
By Melody Carlson

By
Melody Carlson
Best Seller
Inspired by Your Browsing History
Buy other books like These Boots Weren't Made for Walking
Praise
Praise for
These Boots Weren't Made for Walking

"Melody Carlson has crafted a brilliant, kick-up-your-heels, laugh-out-loud winner. Welcome to the Chick Lit side of the bookshelf, Sisterchick. Keep 'em coming!"
—ROBIN JONES GUNN, best-selling author of the Sisterchicks novels and the Christy Miller series

Praise for Melody Carlson
"…any story by Carlson is worth encountering."
—BOOKLIST

"Melody Carlson's style is mature and bitingly funny, and her gift for connecting our heart to the character's plight also connects us to the complicated human condition and our need for one another."
—PATRICIA HICKMAN, best-selling author of Fallen Angels and Sandpebbles

"Melody Carlson never fails to drag us out of our Christian easy chairs and right into the coals of the confusing culture in which we all find ourselves. She never fails to reveal that place of compassion within each of us. Excellent."
—LISA SAMSON, author of The Church Ladies and Tiger Lillie

"With great confidence, I can say that Melody Carlson's story will enlighten, encourage, and empower you."
—GREGORY L. JANTZ, PH.D., Founder and Executive Director
of the Center for Counseling & Health Resources Inc.
Back to Top