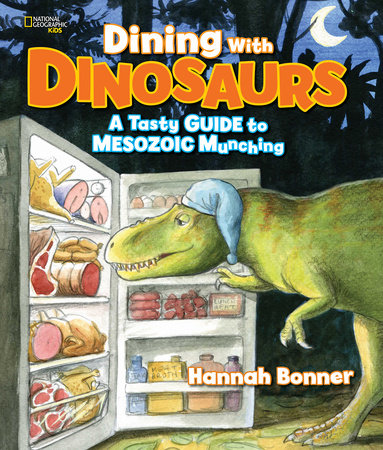 Dining With Dinosaurs
A Tasty Guide to Mesozoic Munching
A Tasty Guide to Mesozoic Munching
By Hannah Bonner

By
Hannah Bonner
By Hannah Bonner

By
Hannah Bonner
Best Seller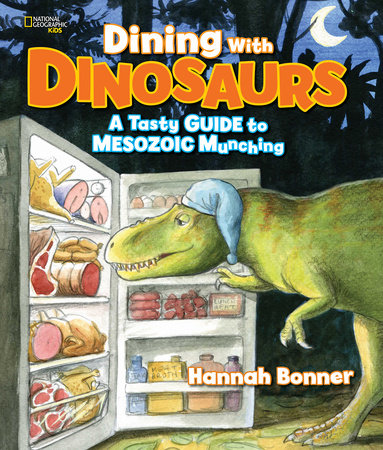 Sep 20, 2016 | ISBN 9781426323393
*This title is not eligible for purchase to earn points nor for redemption with your code in the
Reader Rewards
program
Buy the Hardcover:
People Who Read
Dining With Dinosaurs

Also Read
Inspired by Your Browsing History
Praise
"From T. rex and like "mega carnivores" down to bacterial "trashivores," everyone is a guest—and also on the menu—at this paleo-pantry… bespectacled Bonner (When Dinos Dawned, Mammals Got Munched, and Pterosaurs Took Flight, 2012, etc.) squires readers through teeming scenes of dino diners, with pauses for quick Q-and-A's with paleontologists about fossil evidence, revealing close-ups of teeth and jaw structures, and other informative sidelights… Properly noting that dinosaurs shared their era with reptiles, mammals, and even true birds… who all had appetites too, she presents her subjects in painted collectives by preferred diet…. Five-star fare for librovores." — Kirkus Starred Review

"Junior readers will be dying to get their teeth into this delightful book… packed full of scientific fact; all presented in a fun and exciting manner." — Dinosaurnews.org

"If you are starving for dinosaur knowledge, this book serves up a full-course meal of mouthwatering Mesozoic food facts." — Archimedes Notebook


.
Back to Top