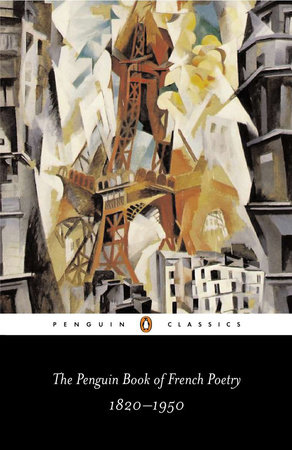 The Penguin Book of French Poetry
1820-1950–With Prose Translations
By Various
Introduction by
William Rees


Translated by

William Rees


Selected by

William Rees



By Various
Introduction by
William Rees


Translated by

William Rees


Selected by

William Rees




Best Seller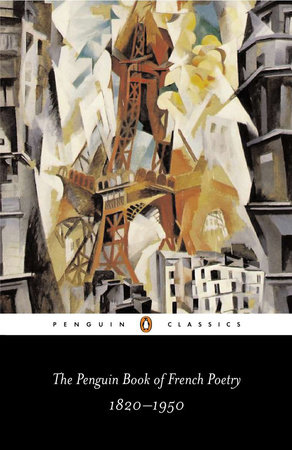 Jan 01, 1994
|
ISBN 9780140423853
Buy the Paperback:
YOU MAY ALSO LIKE
QUICK VIEW
The Confidence-Man
Paperback
$15.00
QUICK VIEW
Singing With the Top Down
Ebook
$8.99
QUICK VIEW
Under Western Eyes
Ebook
$2.99
QUICK VIEW
The Protestant Temperament
Ebook
$25.99
QUICK VIEW
Faery Tale
Paperback
$15.00
QUICK VIEW
Acting in Commercials
Ebook
$6.99
QUICK VIEW
Walter Potter's Curious World of Taxidermy
Ebook
$10.99
QUICK VIEW
The New Normal
Paperback
$9.99
QUICK VIEW
The Economy of Cities
Paperback
$17.00
QUICK VIEW
The Narrow Circle
Ebook
$11.99
Table Of Contents
Acknowledgments
Introduction
Technicalities
Sources and Acknowledgments

Romanticism in France
Alphonse de Lamartine (1790-1859)
Le Lac
Le Vallon

Marceline Desbordes-Valmore (1786-1859)
Souvenir
Les Roses de Saadi
La Couronne effeuillée

Alfred de Vigny (1797-1863)
La Colère de Samson
Le Mont des Oliviers

Victor Hugo (1802-85)
Extase
Puisque mai tout en fleur…
Souvenir de la nuit du 4
Stella
Mes deux filles
Demain, dès l'aube…
A Villequier
Booz endormi
Je suis fait d'ombre
Fenêtres ouvertes
Bêtise de la guerre

Charles-Augustin Sainte-Beuve (1804-69)
Mon âme est ce lac même…

Gerard de Nerval (1808-55)
Fantaisie
Vers dorés
El Desdichado
Myrtho
Antéros
Delfica
Artémis

Alfred de Musset (1810-57)
Une Soirée Perdue
A Julie
La Nuit de mai
Rappelle-toi

Theophile Gautier (1811-72)
Nous n'irons plus au bois…
Sculpteur, cherche avec soin…
Le Saut du tremplin

Charles Baudelaire (1821-67)/b>
Correspondances
L'Albatros
La Beauté
La Chevelure
Avec ses vêtements…
Une Charogne
Harmonie du soir
L'Invitation au voyage
La Musique
Spleen (I)
Spleen (III)
Les Aveugles
A une Passante
La Destruction
Le Voyage
Recueillement

The Parnassian Movement
Leconte de Lisle (1818-94)
Les Montreurs
Midi
Le Coeur de Hialmar
Le Rêve de jaguar

Jose-Maria de Heredia (1842-1905)
Soir de bataille
Ariane
Sur le Pont-Vieux
Les Conquérants
La Sieste
Soleil couchant

Stephane Mallarme (1842-98)
Les Fenêtres
Brise marine
L'Après-midi d'un faune
Sainte
Petit Air I
Quand l'ombre menaça…
Le vierge, le vivace et le bel aujourd'hui…
Autre Eventail
Le Tombeau d'Edgar Poe
Ses purs ongles…
Le Démon de l'analogie

Charles Cros (1842-88)
Lendemain
Hiéroglyphe
Sonnet (A travers la forêt…)
Phantasma
Sonnet (J'ai bâti dans ma fantaisie…)

Paul Verlaine (1844-96)
Mon Rêve familier
Effet de nuit
Soleils couchants
Clair de lune
En sourdine
Colloque sentimental
Il pleure dans mon coeur…
Dans l'interminable…
Les chères mains qui furent miennes…
Le ciel est, par-dessus le toit…
Je ne sais pourquoi…
Art poétique

Tristan Corbiere (1845-75)
Le Crapaud
A une Camarade
Sonnet de nuit
Paysage mauvais
Litanie du Sommeil
Petite Mort pour rire
Epitaphe

Comte de Lautreamont (1846-70)
Chants de Maldoror:
Chant II, strophe 13 (extract)
Chant IV, strophe 6 (extract)

Germain Noveau (1851-1920)
Poison perdu
Mendiants
Pourrières

Arthur Rimbaud (1854-91)
A la Musique
Ma Bohème
Oraison du soir
Le Coeur volé
Les Chercheuses de poux
Voyelles
Le Bateau ivre
Mémoire
O saisons, ô châteaux
Après le Déluge
Matinée d'ivresse
Ville
Aube
Marine
Nuit de l'Enfer
Adieu

Jules Laforgue (1860-87)
Complainte des Pianos qu'on entend dans les quartiers aisés
Complainte des Nostalgies préhistoriques
Complainte du Roi de Thulé
Complainte sur certains Temps déplacés
Pierrots
Locutions des Pierrots
L'Hiver qui vient
Dimanches
Solo de lune

The Symbolist Movement
Emile Verhaeren (1855-1916)
Le Moulin
Chanson de fou
Les Usines
Les Horloges
Les Heures claires
Un Soir

Maurice Maeterlinck (1862-1949)
Tentations
Hôpital
Trois princesses m'ont embrassé…

Jean Moreas (1856-1936)
Le Socle
La Prisonnière
Julie aux yeux d'enfant

Saint-Pol Roux (1861-1940)
Golgotha
Alouettes
La Carafe d'eau pure

A Renewal of Lyricism
Paul-Jean Toulet (1867-1920)
Contrerimes
Chanson: Le Temps d'Adonis
Cople CVII

Francis Jammes (1868-1938)
J'aime dans les temps…
Prière pour aller au Paradis avec les ânes
Les cinq Mystères douloureux
Il va neiger

Paul Fort (1872-1960)
Complainte du Roi et de la Reine
La grande Ivresse
La Grenouille bleue
L'Ecureuil

Anna, Comtesse de Noailles (1876-1933)
L'Empriente
C'est après les moments…

Paul Claudel (1868-1955)
Deuxième Ode: L'Esprit et l'Eau (extract)
Quatrième Ode: La Muse qui est la Grâce (first part)
Ballade

Charles Peguy (1873-1914)
La Nuit (extract)

Oscar Vladislas de Lubicz Milocz (1877-1939)
Quand elle viendra…
Aux sons d'une musique…
Cantique de la connaissance (opening and closing sections)

Paul Valery (1871-1945)
La Fileuse
Le Bois amical
Au platane
L'Abeille
Les Pas
L'Insinuant
Les Grenades
Le Cimetière marin

Victor Segalen (1878-1919)
Les trois Hymnes primitifs
Pierre musicale
Ordre au soleil
Eloge du jade
Nom caché

Cubism, cosmopolitanism and modernism
Leon-Paul Fargue (1876-1947)
Sur le trottoir tout gras…
La rampe s'allume…
La Gare
Postface

Max Jacob (1876-1944)
La Guerre
Dans la forêt silencieuse
Ruses du Démon pour ravoir sa proie
Etablissement d'une communauté au Brésil
Août 39
Présence de Dieu

Guillaume Apollinaire (1880-1918)
Zone
Le pont Mirabeau
L'Emigrant de Landor Road
Le brasier
Nuit rhénane
Liens
Fête
Visée
La jolie rousse

Blaise Cendrars (1887-1961)
Prose du Transsibérien et la petite Jeanne de France (3 extracts)
Contrastes
Construction
Orion
Mississippi
Aube

Pierre Reverdy (1889-1960)
Après le Bal
Toujours lè
Auberge
Nomade
Couloir
Chauffage central
Drame
Les Mots qu'on échange
X
Chair vive

Catherine Pozzi (1882-1934)
Ave
Nyx
Scopolamine

Jules Supervielle (1884-1960)
Montévidéo
Haute mer
Dans la forêt sans heures
Les Poissons
Tristesse de Dieu
Nuit en moi…
Plein Ciel
1940

Saint-John Perse (1887-1975)
Eloges II & XIV
Anabase VII
Exil II
Neiges IV
Vents: Chant II, i

Pierre-Jean Jouve (1887-1976)
Vallée de larmes
Vrai Corps
L'Oeil et la chevelure
Lamentations au cerf
La Femme et la terre
Je suis succession furieuse…
Angles
A soi-même

Surrealism
Andre Breton (1896-1966)
Tournesol
Vigilance
L'Union libre
Sur la route de San Romano

Tristan Tzara (1896-1963)
La grande complainte de mon obscurité trois
Le Mort de Guillaume Apollinaire
Sur une ride du soleil
Volt

Philippe Soupault (1897- )
Dimance
La grande Mélancholie d'une avenue
Say it with Music
Stumbling

Paul Eluard (1895-1952)
L'Amoreuse
La courbe de tes yeux…
La terre est bleue…
Le front aux vitres…
A perte de vue dans le sens de mon corps
Tu te lèves
La victoire de Guernica
Faire vivre
La Mort l'Amour la Vie

Louis Aragon (1897-1982)
Poème è crier dans les ruines
Elsa au miroir
Les lilas et les roses
Ballade de celui qui chanta dans les supplices

Robert Desnos (1900-1945)
J'ai tant rêvé de toi
La Voix de Robert Desnos
Destinée arbitraire
Désespoir du soleil
Mi-Route
Le Zèbre
Le Paysage

Jacques Prevert (1900-1977)
Le Cancre
Familiale
Déjeuner du matin
Sanguine
L'Ordre nouveau
Barbara

Henri Michaux (1899-1984)
Mes Occupations
Crier
Emportez-moi
Le grand Violon
Clown
Dragon
Après ma Mort
Portraits des Meidosems (extracts)

Francis Ponge (1899-1988)
Les Mûres
L'Orange
Végétation

"Négritude"
Leopold Sedar Senghor (1906- )
Femme noire
Camp 1940

Aime Cesaire (1913- )
N'ayez point pitié
Soleil serpent
Perdition
Prophétie
Tam-tam I
Ode á la Guinée

Andre Frenaud (1907- )
Naissance
Maison à vendre
Les Rois Mages
Présence réelle
Assèchement de la plaie

Rene Char (1907-1988)
Artine
Migration
Commune Présence II
Chant du refus
Les premiers instants
A ***
L'inoffensif
Front de la rose

Index of First Lines

Get the latest updates about Various
And go from well-read to best read with book recs, deals and more in your inbox every week.
And go from well-read to best read with book recs, deals and more in your inbox every week.
Dismiss
Thanks!
Something awesome is on its way.
Back to Top
Become a Member
Start earning points for buying books! Just for joining you'll get personalized recommendations on your dashboard daily and features only for members.
Find Out More
Join Now
Sign In
Success!
Your account has been created. Upload book purchases, access your personalized book recommendations, and more from here.