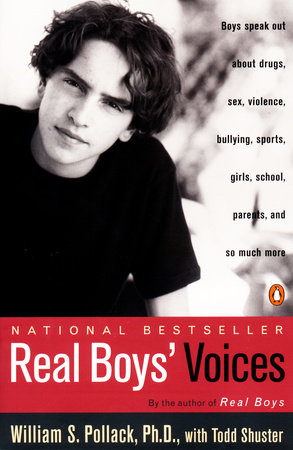 Real Boys' Voices
Boys Speak out about Drugs, Sex, Violence, Bullying, Sports, Girls, School, Parents, and So Much More
By William S. Pollack and Todd Shuster

By
William S. Pollack

and

Todd Shuster




Best Seller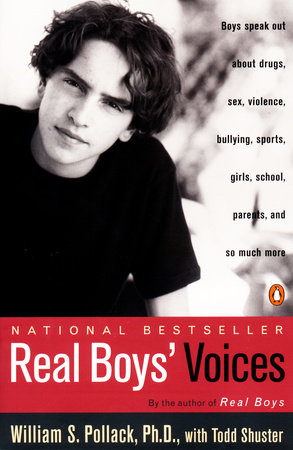 May 01, 2001 | ISBN 9780141002941
Buy the Paperback:
People Who Read
Real Boys' Voices

Also Read
Inspired by Your Browsing History
Table Of Contents
Introduction: Listening to Boys' Voices
A Nationwide Journey
Moments of Doubt
Helping Boys to Be Themselves

Reaching Out and Listening to Boys: A New Approach
Getting Behind the Mask
The Real Boys' Voices Project

Part I: The Secret Emotional Lives of Boys
1. The Secret Emotional Lives of America's Boys: What They're Really Talking About
2. Taking Off the Gender Straitjacket
3. The Mask of Masculinity and the Double Life: Suppression and Bravado
4. The Angst of Becoming a Man: Coming of Age
5. Of Two Minds: Having Sex with Girls
6. The Pressure to Work and Succeed
7. Spirituality and Renewal
8. Bullying and Teasing: Fitting In and Being Left Out: Overcoming Bullying; What If Your Child Is Bullying?; What Should Boys Who Are Bullied Know?
9. Sadness, Depression, and Suicide: Sad Boys or Bad Boys?: Is He Bad or Is He Sad?; How Do You Tell if a Boy Is Depressed?

Part II: The Cycle of Rage and Violence
10. Traumatic Violence: Listening to Boys from Littleton, Colorado
11. The Columbine Syndrome: Fear of Violence
12. Abuse

Part III: Boys Reaching Out and Connecting
13. Love for Mother
14. The Dad Connection
15. Friendships and Romances with Girls
16. Having Male Buddies
17. Emotional Intensity: Connecting Through Sports
18. Coming Out as Gay and Supporting Those Who Do

Part IV: Dealing with Loss, Loneliness, and Shame
19. Pumping and Crunching: Body Image and the Media
20. The Sting of Divorce
21. Addictions: Drugs, Alcohol, and the Media
22. Loss: Coping with Injury, Illness, and Death

Part V: Boys in the World
23. Overcoming Hatred, Racism, and Poverty: Justice and Action Talk
24. Music, Art, and Writing: Boys Talk Through Creativity

Epilogue: Mentoring Boys and Creating Safe Spaces: A 15-Step Program
Back to Top