Song Yet Sung Reader's Guide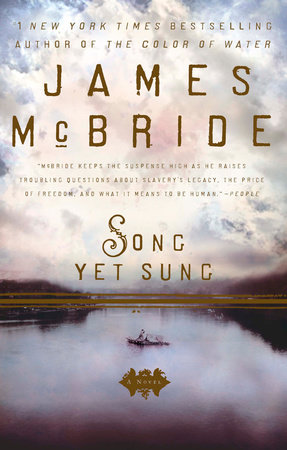 Song Yet Sung Reader's Guide
READERS GUIDE
Questions and Topics for Discussion
INTRODUCTION
Song Yet Sung is a sweeping examination of the legacy of American slavery. Using visions and dreams to bring antebellum Maryland into contact with modern America, author James McBride creates a story that resonates across generations. Set on Maryland's eastern shore in the year 1850, the story opens with the capture of Liz Spocott, a runaway slave. Liz has a peculiar gift, an ability to see the future in dreams that come to her with frightening clarity. Peering far off into "tomorrow," she envisions a world in which black people are free from slavery but imprisoned by violence and vice, where well-fed black men sing songs of murder and worship gold.
Imprisoned in the attic of slave thief Patty Cannon's tavern, Liz reluctantly shares her visions with her fellow captives. In return, Liz is indoctrinated into the mysteries of "the code," the secret system of communication used by the area's slaves and freedmen. The code is both a language and a philosophy, full of esoteric wisdom: the truth is a lie, lies are truth; evil travels in straight lines; the coach wrench turns the wagon wheel. Most important of all is the "song yet sung," a song to which no one knows the words but whose singer will bring salvation.
Liz's visions spark an uprising among Patty Cannon's prisoners, and soon they have escaped into the boggy countryside. Capturing Liz becomes a priority to a number of players, especially as word of the escape spreads and Liz becomes a figure of local legend. Patty Cannon, already feared for her ruthless tactics, leads a posse bent on recovering her "property," while Liz's former master coaxes famed slave hunter Denwood Long out of retirement to beat Patty to the quarry. And lurking among the thickets of Joya's Neck is the mysterious Woolman, a feral black man who moves like the wind and spreads death like the devil.
Drawing on historical events and training a keen eye on period detail, Song Yet Sung is a vivid re-creation of America's past. At the same time, it also points up the lingering effects of this past on today's society. Liz – known to her fellow slaves as the Dreamer – knows that freedom exists nowhere in her world, not even in the Abolitionist haven of the North. What troubles her more, however, is her premonition of a black culture bent on self-destruction even after the shackles have been removed. Her only hope in these visions are the words of another Dreamer, one who will come long after she is dead. He is the singer of the song yet sung, the one who will point the way to salvation – and who will one day proclaim his people "free at last."
ABOUT JAMES MCBRIDE
James McBride is an accomplished musician and author of the New York Times bestseller, The Color of Water. His second book, Miracle at St. Anna, was optioned for film in 2007 by Black Butterfly Productions with noted American filmmaker Spike Lee directing and co-producing. McBride has written for theWashington Post, People, the Boston Globe, Essence, Rolling Stone, and the New York Times. He is a graduate of Oberlin College. He was awarded a master's in journalism from New York's Columbia University at the age of twenty-two. McBride holds several honorary doctorates and is a Distinguished Writer in Residence at New York University. McBride lives in Pennsylvania and New York.
DISCUSSION QUESTIONS
When we first meet Liz, she is on the run from her master. Yet throughout the book she refuses offers of passage to the North, saying "I'm free here." What do you think Liz's plan was when she first ran away? If she was planning to go North, what changed her mind? Or did she simply wish to die in the wilds of Maryland?
 
Discuss the author's use of language. How does he evoke the speech patterns of an earlier era? What techniques does he use to bring the rural Maryland eastern shore to life?
 
Although he is a notorious slave catcher, Denwood Long—"the Gimp"—commands a degree of respect even from those he has caught. But he himself claims, "I'm going to hell in spite of redemption." Based on his actions in the book, do you think he is worthy of respect? Do you find him sympathetic? Do you think he has found any measure of redemption by the end of the story?
 
Late in the book, it becomes clear that the singer of the "song yet sung" is Martin Luther King. Given that Liz's nightmare vision of tomorrow, with its evocation of rap music and gang culture, clearly postdates King, why do you think the author chose him to fill this role?
 
Discuss the death of the Woolman. What motivates Liz to kill him? Is it an act of mercy? Do you think she has any thought of saving the Gimp? If so, why?
 
Amber believes that "Some [people] is up to the job of being decent, and some ain't." What do you think of this assessment? Is decency an inherent trait, or is it a conscious choice? Based on the characters and events in this book, what do you think the author's answer to this question would be?
 
Throughout the book, Liz becomes more and more attuned to the world around her: "a kind of clarity seemed to settle upon her… at times she felt so sensitive to the elements about her, she felt as if her skin were ready to fly off her body." What is the connection, if any, between this growing sensitivity and Liz's visions of the future? How does Liz's "two-headedness" allow the author to develop the larger themes of the novel?
 
Consider the ending of the novel—the violent deaths and Liz's precarious future. At the same time, Amber is free, Kathleen's future is secure, and Woolman's son offers a link to the far-off coming of the song yet sung. Overall, did this novel leave you with a sense of hope? Did it provide you with any new insights on human nature? On America?
Back to Top