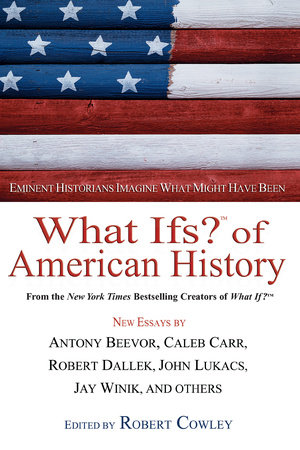 What Ifs? of American History
Eminent Historians Imagine What Might Have Been
Eminent Historians Imagine What Might Have Been
Edited by
Robert Cowley
Edited by
Robert Cowley
Edited by
Robert Cowley
Edited by
Robert Cowley
Best Seller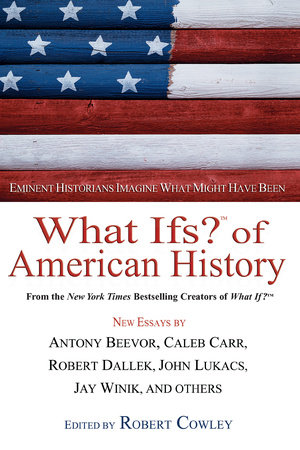 Sep 07, 2004
|
ISBN 9780425198186
Inspired by Your Browsing History
Buy other books like What Ifs? of American History
Table Of Contents
What Ifs?™ of American HistoryList of Maps and Illustrations
Introduction by RObert Cowley

Theodore K. Rabb
Might the Mayflower Not Have Sailed?

Caleb Carr
William Pitt the Elder and the Avoidance of the American Revolution

David McCullough
What the Fog Wrought: The Revolution's Dunkirk, August 29, 1776

Tom Wicker
His Accidency, John Tyler

Victor Davis Hanson
Lew Wallace and the Ghosts of the Shunpike

James M. McPherson
If the Lost Order Hadn't Been Lost: Robert E. Lee Humbles the Union, 1862

Thomas Fleming
The Northwest Conspiracy

Jay Winick
Beyond the Wildest Dreams of John Wilkes Booth

Cecelia Holland
The Revolution 1877

Andrew Roberts
The Whale Against the Wolf: THe Anglo-American War of 1896

John Lukacs
No Pearl Harbor?: FDR Delays the War

Antony Beevor
If Eisenhower Had Gone to Berlin

Ted Morgan
Joe McCarthy's Secret Life

George Feifer
If the U-2 Hadn't Flown

Robert L. O'Connell
The Cuban Missle Crisis: Second Holocaust

Robert Dallek
JFK Lives

Lawrence Malkin and John F. Stacks
What It Watergate Were Still Just and Upscale Address?
Back to Top