Alive in Necropolis Reader's Guide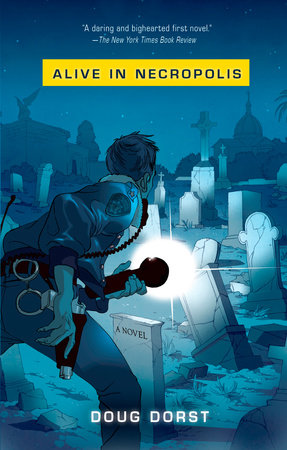 Alive in Necropolis Reader's Guide
READERS GUIDE
Questions and Topics for Discussion
INTRODUCTION

"A daring and big-hearted first novel…Like Dashiell Hammett, Dorst conveys a hard-bitten love of the physical San Francisco." —New York Times Book Review
Welcome to the "cemetery city" of Colma, California—but don't expect to rest in peace.
The final resting place of San Francisco's most prominent citizens—including Joe DiMaggio, Wyatt Earp, William Randolph Hearst, and other luminaries—sleepy Colma has an eager new patrolman in by-the-book rookie cop Michael Mercer. Consumed with unraveling the mysterious fate—and paperwork—of his predecessor, Mercer quickly becomes enmeshed in the disputes still raging among undead. Meanwhile, Mercer becomes the star of a high profile case (among the living—and notorious) that introduces him to even more outlandish demands and complicated politics. Struggling to maintain his balance between his newly-found adult responsibilities, complicated love life, and increasingly dramatic night beat, Mercer worries his own connection to reality is beginning to slip away.
"Doug Dorst combines cops and ghosts in his Alive in Necropolis. The result is a haunted variation on Ed McBain's 87th Precinct series…Imaginative and accomplished…Pitch-perfect." —USA Today
"[A] smart and accessibly unconventional first novel…Shot through with streaks of black humor to vivid, insightful effect…Alive in Necropolis proves truly haunting." —San Francisco Chronicle
"An intriguing mix of coming-of-age story, police procedural, and magical realism."
—Seattle-Times
ABOUT DOUG DORST
A long-time resident of San Francisco, Doug Dorst now lives in Austin, Texas where he teaches creative writing at St. Edward's University. His work has appeared in McSweeney's, Ploughshares, Epoch, and other journals, as well as in the anthology Politically Inspired. He is also a former Jeopardy! champion.
DISCUSSION QUESTIONS
In modern cities, there is a necessary coexistence between the living and the dead—both sharing the same physical space. Paris, with its underground catacombs, is another example. How might this affect the psychic landscape of the place and its inhabitants? What is the impact of always having this shadow, a ghost of the idea of death, fixed in one's rear view mirror?
Mercer finds his path to policehood after a few abandoned careers, a late bloomer in the most sincere sense. What influences his decision and draws him to this position? And how does his dedication or motivation change over the course of the novel—what is his reason for staying on such an unusual beat?
The banter among the Colma police force becomes a true star force in the novel—alternately exuberant, playful, politically incorrect, naughty, and amusing. How does this inside slice of police life add to the flow of the storytelling and our experience of it? What insights are gained through listening in?
Lillie Hitchcock Coit. Phineas Gage. Lincoln Beachley. Did you find the author's choice to reanimate some of San Francisco's most famous (or infamous) residents convincing? If so, what made them so convincing? Do you think the effect would be the same if the author had used non-historical characters? Did their dimensionality/violence/obsessions surprise you?
Why do you think the ghosts remain restless—and what keeps them in this searching, limbo state? What do you think "The Root" is?
Who is actually "alive in the necropolis" of Colma? Those living fully without regret, those choosing to "die like an aviator"? Might the author be trying to say something about what the point of living might actually be, and the importance of the bonds we make?
Mercer struggles deeply with, and is hypersensitive to, the idea of living a "mediocre" life— he worries about falling short (or settling for less) in his love life, especially versus Owen's success, about his choice of apartments, about his career path. Jude shares the same preoccupation—though struggles in his own teenage, self-destructive way. How does this set them up for their intersecting journeys? What happens to those, like Fiona perhaps, who have come to embrace just exactly what life presents them, mediocre or non-perfect as it is?
Why do you think Mercer begins to see and hear the dead? What is it about his state of mind that makes him a candidate? Why might Featherstone have been targeted as well?
When we meet Sergeant Featherstone he is already deceased, and it is through his grieving wife's anecdotes and the stacks of unprocessed police reports she presents to Mike that we get a sense of his trials. Through this unique device we come to learn not only the crimes and misdemeanors of Colma's ghost population but of Wes' own regrets in his life. What else do we gain as readers though this exposition?
"Shut up and die like an aviator" is an ever-present mantra throughout the novel—repeated by members of the squad, and through Beachley's actions among others. Do you feel there could be another mantra (or theme) in the novel that comes to the forefront and has resonance?
How does Mercer's constant awareness of "The Book"—his conduct laws—influence his actions in the story? What steers his decisions to follow them or not? Why does he bend the rules when he does—and what are the consequences? (Might this make him more human in our eyes—or less of a "perfect" cop?)
What is it about Mercer's character that draws other needy characters toward him, and to trust and depend on him? Who are Mercer's protectors or guardians in the story?
Mercer's absent father functions as yet another looming ghost in the novel—one that everyone but Mercer sees on the street and is touched by. What might that tell us about what Mercer chooses to acknowledge, see in his own life? What have been the consequences of this for him?
The crescendo of desperation at the end of the novel—of desperate people, of desperate acts, everyone losing control—is particularly hard-hitting for the reader. Especially in the case of Toronto, Jude, and Fiona, everyone has given up the reins as Mercer struggles to put his life back in focus. Were you shocked by any of these particular breakdowns?
Back to Top