Death Without Company Reader's Guide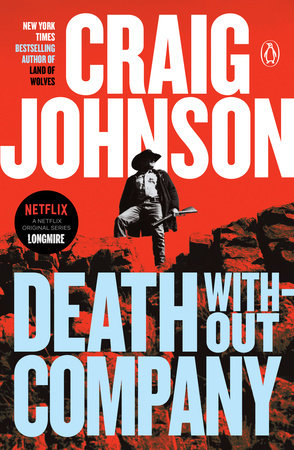 Death Without Company Reader's Guide
READERS GUIDE
Questions and Topics for Discussion
INTRODUCTION

Featuring the remarkable Sheriff Walt Longmire, the hero of Craig Johnson's acclaimed first novel, The Cold Dish, Death Without Company takes readers back into the rugged terrain and colorful social milieu of Absaroka County, Wyoming.
When Mari Baroja, a beautiful Basque woman, is found dead in the Durant Home for Assisted Living, it is assumed she died of natural causes. She is an old woman, after all. But Lucian Connally, the former sheriff, thinks otherwise. He had been married to Mari for three hours many years before, until Mari's father and uncles hunted the couple down, gave Lucian a beating, had the marriage annulled, and married Mari off to an abusive Basque husband. Lucian suspects that Mari's death is a result of foul play. An autopsy reveals poisoning as the cause of death, and Sheriff Longmire suddenly has a murder to solve. But who would kill an elderly woman in a nursing home? And for what reason? These questions prove baffling enough, but soon Longmire is confronted with a rash of crimes that would seem more likely in New York City than in this sparsely populated patch of rural Wyoming. Mari's granddaughter is brutally attacked; Lucian himself is nearly strangled in his bathtub; Mari's doctor, Isaac Bloomfield, finds the brakes of his car have been tampered with; and Anna Walks Over Ice, an Indian woman who works at the nursing home, is found stuffed in a trash can, victim of a ghastly killing. Now Longmire, aided by his friend Henry Standing Bear, Deputy Victoria Moretti, and rookie officer Santiago Saizarbitoria, must find a killer who is as relentless as he is remorseless. In trying to do so, Longmire almost sees his own life go down the river.
And while these crimes tear at the heart of Sheriff Longmire and the community he lives in, he knows that "hatred has a poor shelf life but that hope and love can limp along forever." And indeed Death Without Company is a novel of great warmth, great friendship, great humor, and great love, written with all the wit and narrative drive that have made Craig Johnson one of the strongest new voices in literary mystery.
A CONVERSATION WITH CRAIG JOHNSON
Q. What prompted you to write Death Without Company? Did the novel grow out of a specific experience or intention?
I've described Walt as a detective for the disenfranchised. In The Cold Dish, he was concerned with a teenage woman with fetal alcohol syndrome, Indians, and some young men whom a lot of people in the community would just as soon have seen dead. In Death Without Company, I was interested in the contrasts between Walt and Lucian Connally, the previous sheriff; interested in how the job was different, how the times were different. That led me to think about the aged, another group that is greatly marginalized in our society. I wanted to travel back and forth in these people's lives and show how they were different.
Q. In what ways are you like Walt Longmire?
When I was young, I made the mistakes that a lot of young people make: I was judgmental, stubborn, and puritanical. I hope I'm that sadder but wiser person now. I would hate to think all those scars and memories were for nothing. I identify with a lot of the sadness Walt carries with him, and the humor.
Q. In an interview conducted for the guide to your first novel, The Cold Dish, you said: "Writing is a solitary pursuit and I think you have to be partially at peace with yourself, but it's the other part that's usually producing the stuff worth reading." Could you elaborate on that statement? Do you feel that a certain restlessness or anxiety or resistance to things as they are is a necessary spur to creative activity?
I generally start with some injustice, something that's going to put a burr under my saddle blanket. I like dealing with large issues on a personal and passionate level and know myself well enough to know I write best when I write disgruntled.
Q. You live pretty far from the literary centers of America. Do you have much contact with other writers?
A lot more in the last year. I was doing a reading at the Great Salt Lake Book Festival and they put us up in this fancy hotel. I had just started to eat breakfast and saw a man come in and look around. I waved and said, "Mark Spragg?" I think he thought about running, but I reassured him that he didn't know me or owe me money. We had breakfast. I don't think very many authors are used to being recognized; it makes them nervous. I sat on a panel between James Lee Burke and James Crumley at the Montana Festival of the Book, talk about nervous.
Q. Walt Longmire says that he "hates mysteries," though he clearly thinks like a detective. Why are you drawn to the mystery genre? What satisfactions do mysteries offer that other kinds of fiction don't?
Walt hates mysteries in the sense that he doesn't like not knowing the answers; for him it's not an avocation or a distraction, it's his job and his nature. For me, there are structural elements to mysteries that I find appealing, the cipher; writing and reading with purpose. I also enjoy writing within a genre while trying to be outside of it. Then there is the inherent stake of life and death, it doesn't get any higher.
Q. Indians and whites get along remarkably well in Death Without Company. Is this generally true in Wyoming? What is life like for Indians in contemporary Wyoming?
It would be foolish for me to speak for all Wyoming, and I can only address the subject from my own experiences. I have numerous friends from both the Northern Cheyenne and Crow reservations who are very important to me. Once again, I would warn against categorizing Indians as a group; each tribe is different, each band is different, each clan is different, and each person is different. The relationships and lifestyles of each are too numerous and it would be a disservice to attempt qualifying them here.
Q. There is a horribly violent scene in Death Without Company. Does that violence come from within you or from what you have experienced?
That scene was a tough one to write. I wanted Lucian to tell the story, but I wanted Walt and the reader to feel it. I wanted to create a sense of helplessness, an inability to do something. I have experienced some tough situations in my life, and the thing it provided for the writing was a desire to make it real. I feel that brutality is glamorized in our society, prepackaged into something it's not. I wanted to display violence as it is: desperate, frightening, ugly, and with long-lasting consequence.
Q. Your book deals with serious societal issues yet they also contain a great deal of humor. What role do you think humor plays in conveying your serious messages?
I am my most serious when I am humorous, and my most humorous when I am serious. Not mine, Oscar Wilde's. It's the sugar coating on the medicine of the truth, or at least my truth. Without humor, the writing can get pretty pedantic, and then I'd find myself insufferable.
Q. Your books are very unlike traditional mysteries. How would you characterize what your novels are or what you intend them to be?
I hope they're whodunits for people who get to the end and don't give a damn about who done it. I'm interested in the structural aspects of the mystery, but I'm more concerned with the societal issues and the people. I'm a great fan of the golden era of mystery writers—Hammett, Christie, Sayers, and Chandler—but I don't want to write what they wrote. The mystery genre speaks to a much larger audience these days and with that goes a certain responsibility for the author. To ignore the complexities of the reader is to ignore the complexities of society, and that would be criminal.
DISCUSSION QUESTIONS
The title of the novel comes from a Basque proverb, "A life without friends means death without company" (p. 23). Why has Craig Johnson chosen this phrase for his title? What role does friendship play in the novel? How would you describe Walt Longmire's friendships with Lucian and Henry Standing Bear?
Rural Wyoming is not the typical setting for a mystery. What role does the setting—the landscape, weather, history, and culture of Wyoming—play in Death Without Company? What are the most distinctive features of the people and country in which the novel is set?
After Walt tells Henry Standing Bear about a dream he'd had about Mari in which he heard Indian drumming, Bear tells Walt: "It would appear that you now have an advocate in the Camp of the Dead" (p. 82). What does he mean? In what instances does this supernatural "advocate" help Walt?
When Walt tells Henry that Leo is a "half-breed," Henry corrects him by suggesting "bicultural" as a more apt term. Walt responds: "Are you aware of the damage you are causing with all this political correctness to the language of the mythic American West?" To which Henry replies, "You bet'cher boots" (p. 221). In what ways does the novel itself either challenge or confirm stereotypes of the "mythic American West"? How are Indians portrayed in the novel?
How does Craig Johnson build and sustain suspense over the course of the novel? What is most surprising about the way the plot unfolds and the mystery is solved?
What makes Leo Gaskell such a frightening antagonist in Death Without Company?
Walt Longmire describes himself. "It wasn't a bad face other than needing about eight hours of uninterrupted sleep, a haircut, the loss of about twenty pounds and ten years. My chin was too big, along with my ears, and my eyes were too deep set. . . . I still wasn't sure about the beard, but it hid a lot" (p. 81). What does this passage suggest about how Longmire regards himself? Why is his self-deprecating humor so appealing? What are his most admirable qualities? What makes him such a good sheriff?
Near the end of Death Without Company, Walt is filled with the thought that "hatred has a poor shelf life but that hope and love can limp along forever" (p. 270). Why does he feel this way? What evidence of the enduring quality of love, and the transitory nature of hate, can one find in the novel? Is Walt an idealist?
Johnson assembles a lively cast of female characters—Vic, Ruby, Lana, Maggie, and even Mari, who exerts a powerful posthumous influence on Walt Longmire. What is most notable about these women? How do they interact with Walt?
Death Without Company is a story about passion, greed, family, and friendship. What does the novel tell us about these grand themes of human existence?
Back to Top