Miracle's Boys Reader's Guide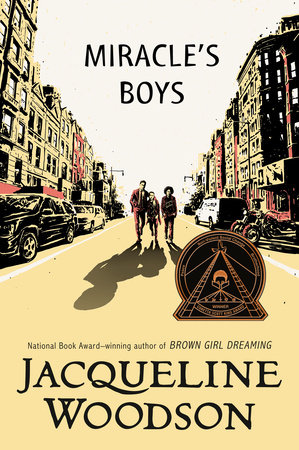 Miracle's Boys Reader's Guide
READERS GUIDE
Questions and Topics for Discussion
ABOUT JACQUELINE WOODSON

Born on February 12th in Columbus, Ohio, Jacqueline Woodson grew up in Greenville, South Carolina, and Brooklyn, New York and graduated from college with a B.A. in English. She now writes full-time and has recently received the Margaret A. Edwards Award for lifetime achievement in writing for young adults. Her other awards include a Newbery Honor, a Coretta Scott King award, 2 National Book Award finalists, and the Los Angeles Times Book Prize. Although she spends most of her time writing, Woodson also enjoys reading the works of emerging writers and encouraging young people to write, spending time with her friends and her family, and sewing. Jacqueline Woodson currently resides in Brooklyn, New York.
RELATED TITLES
Dancer
by Lorri Hewett
Stephanie works hard to pursue her dream of becoming a professional ballerina while coping with the pressures of her family expectations and those at her mostly white private school.
Lives of Our Own
by Lorri Hewett
African American Shawna and white schoolmate Kari defy the unspoken social standards of their small town as they work together to reveal a hidden community secret.
Money Hungry
by Sharon Flake
A period of homelessness and poverty has made Raspberry Hill determined to hoard as much cash as possible.
Monster
by Walter Dean Myers
Aspiring filmmaker Steve Harmon copes with his arrest for murder by relating his story as if it were a movie script.
145th Street
by Walter Dean Myers
The highs and lows of one Harlem neighborhood are explored in ten stories.
Othello: A Novel
by Julius Lester
This novelization of Shakespeare's classic play revisits the story of interracial love and tragedy.
Tears of a Tiger
by Sharon Draper
Andy Jackson, feels responsible for the death of his good friend, Robert, in a drunk driving accident.
Zack
by William Bell
Zack, the son of a African American mother and a Jewish father, experiences racial rejection for the first time when his family moves from Toronto to a small college town, and feels a need to connect with his family history.
OTHER BOOKS BY JACQUELINE WOODSON
Last Summer with Maizon
Reissue available Summer 2002
HC: 0-399-23755-0
PB:TK
Between Madison and Palmetto
Reissue available Fall 2002
HC: 0-399-23757-7
PB: TK
Maizon at Blue Hill
Reissue available Fall 2002
HC: 0-399-23576-9
PB: TK
AN INTERVIEW WITH JACQUELINE WOODSON
Why do you write for young adults?
I think it's an important age. My young adult years had the biggest impact on me of any period in my life and I remember so much about them. When I need to access the physical memories and/or emotional memories of that period in my life, it isn't such a struggle. And kids are great.
The issue of identity is central to the three books under discussion, yet each seems to approach this topic differently. Was this a deliberate choice on your part? What does each of these stories say about the teen characters and their struggles to define themselves?
Identity has always been an important and very relevant issue for me. For a lot of reasons, I've been 'assigned' many identities. From a very young age, I was being told what I was—black, female, slow, fast, a tomboy, stubborn—the list goes on and on. And this happens with many children as they are trying to become. So that by the time we're young adults, no wonder we're a mess!! There are so many ways we come to being who we are, so many ways in which we search for our true selves, so many varying circumstances around that search. No two people are alike but every young person is looking for definition. My journey as a writer has been to explore the many ways one gets to be who they are or who they are becoming.
What do you do differently, if anything, when you tell a story from a male perspective?
When I'm writing from a male perspective, I try to imagine myself as a boy and I really try to remember as much as I can about the guys I knew and know. It's very different than creating girl characters but I love the challenge of it.
Although these are very different stories, they each reflect what can happen to African Americans when they are impacted by the criminal justice system. What do you want your readers to understand about this?
I don't really know what I want readers to understand. I know what it helps me to understand—that the criminal justice system has historically not worked for African-Americans, that the percentage of people of color as compared to whites in jail, killed by cops, racially profiled and constantly singled out is unbalanced. I want the system to be different and the only way that it can change is if the way our society looks at race changes. And the only way that can happen is if people really start paying attention and making a decision to create change.
DISCUSSION QUESTIONS
Each of the three brothers is haunted by a past incident involving their parents. Describe each incident and tell how it continues to bother each of the boys. How do they each deal with what Ty'ree calls "a monkey on their back"?
 
Why does Charlie act so hostile to his brothers when he returns from Rahway Home for Boys?
 
Lafayette has a difficult time coping after his mother's death. How does the psychologist help?
 
Although the boys are on their own after Milagro's death, they receive some help from their Aunt Cecile. What kind of help does she provide?
 
Describe Charlie's friend Aaron. How does he interact with Lafayette? Why? What kind of choices is he making about his life?
 
People in the neighborhood refer to Ty'ree as "St. Ty'ree." Why has he earned that nickname?
 
Lafayette has strong memories of his mother as a reader, particularly reading Toni Morrison. How does the quote "The function of freedom is to free someone else" relate to Ty'ree, Charlie, and Lafayette?
 
Issues about money and poverty confront the family constantly. How did Milagro show her values concerning money? How do the boys accept or reject her feelings?
 
What do you think will happen to Miracle's boys?
Back to Top