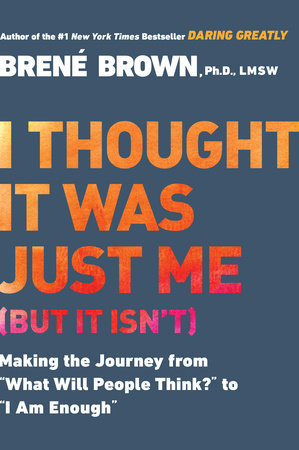 I Thought It Was Just Me (but it isn't)
Making the Journey from "What Will People Think?" to "I Am Enough"
Making the Journey from "What Will People Think?" to "I Am Enough"
By Brené Brown

By
Brené Brown
By Brené Brown

By
Brené Brown
Best Seller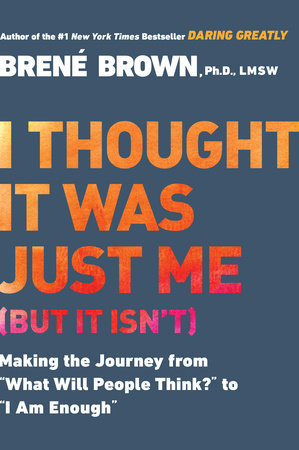 Dec 27, 2007 | ISBN 9781592403356
People Who Read
I Thought It Was Just Me (but it isn't)

Also Read
Inspired by Your Browsing History
Praise
"Brown offers insights and strategies for understanding shame and overcoming its power over women… An interesting look at a debilitating emotion that stunts the potential of too many women."
—Booklist
"Brown is clearly passionate and knowledgeable about her subject and has a smooth writing style."
—Library Journal
"Shame is a profoundly debilitating emotion. It drives our fears of not being good enough. We can learn to feel shame about anything that is real about us — our shape, our accent, our financial situation, our wrinkles, our size, our illness, or how we spend our day. I Thought It Was Just Me is an urgent and compelling invitation to examine our struggles with shame and to learn valuable tools to become our best, most authentic selves. Grounded in exceptional scholarship and filled with inspiring stories, this is one of those rare books that has the potential to turn lives around."
—Harriet Lerner, Ph.D. author of The Dance of Anger
"Brené Brown has written an insightful and informative study of a subject that leaves many women feeling trapped and powerless. Her analysis of how women are often caught in shame, is in itself liberating, and her thoughtful suggestions will help readers continue to free themselves from emotional debilitation in ways they may not even realize are possible. I Thought It Was Just Me can be a doorway to freedom and self-esteem for many, many readers."
—Martha Beck, Ph.D., columnist, O, The Oprah Magazine, and author of Finding Your Own Northstar
"Brené Brown's ability to explore shame and resilience with humor, vulnerability and honesty is both uplifting and liberating. If we want to change our lives, our relationships or even the world, we must start by understanding and overcoming the shame that keeps us silent. This important and hopeful book offers a bold new perspective on the power of telling our stories."                                                                                   
—Professor Jody Williams, 1997 Nobel Peace Prize Recipient; Campaign Ambassador, International Campaign to Ban Landmines
"This is an important and inspiring book that offers understanding and validation to the painful feelings that come with the beliefs that we are not good enough or we should be different than who we are. Brené Brown walks us on a path that releases the shackles of inadequacy and leads us to embracing our authentic selves."
—Claudia Black, Ph.D. author of
It Will Never Happen To Me
Back to Top