Persuasion Reader's Guide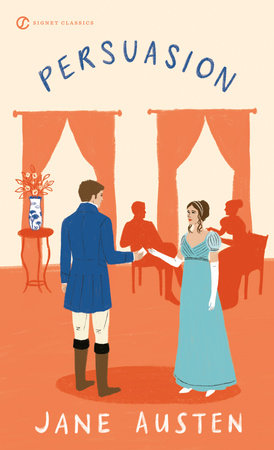 Persuasion Reader's Guide
READERS GUIDE
Questions and Topics for Discussion
INTRODUCTION

Twenty-seven-year old Anne Elliot is Austen's most adult heroine. Eight years before the story proper begins, she is happily betrothed to a naval officer, Frederick Wentworth, but she precipitously breaks off the engagement when persuaded by her friend Lady Russell that such a match is unworthy. The breakup produces in Anne a deep and long-lasting regret. When later Wentworth returns from sea a rich and successful captain, he finds Anne's family on the brink of financial ruin and his own sister a tenant in Kellynch Hall, the Elliot estate. All the tension of the novel revolves around one question: Will Anne and Wentworth be reunited in their love?
On the most basic level Persuasion is a love story, both interesting and entertaining, rich in intrigue and romance. On a deeper level it examines human foibles and societal flaws. The question of the importance of propriety is raised frequently, as is the issue of appearance versus reality.
Readers of Persuasion will discover Austen's talents on full display: her skill for delicate, ironic observations on social custom, love, and marriage nor her ability to apply a sharp focus lens to English manners and morals.
 
ABOUT JANE AUSTEN
Jane Austen was born on December 16, 1775, at Steventon near Basingstoke, the seventh child of the rector of the parish. She lived with her family at Steventon until they moved to Bath when her father retired in 1801. After his death in 1805, she moved around with her mother; in 1809, they settled in Chawton, near Alton, Hampshire. Here she remained, except for a few visits to London, until in May 1817 she moved to Winchester to be near her doctor. There she died on July 18, 1817.
As a girl Jane Austen wrote stories, including burlesques of popular romances. Her works were only published after much revision, four novels being published in her lifetime. These are Sense and Sensibility (1811), Pride and Prejudice (1813),Mansfield Park (1814), and Emma (1816). Two other novels, Northanger Abbey and Persuasion, were published posthumously in 1818 with a biographical notice by her brother, Henry Austen, the first formal announcement of her authorship. Persuasion was written in a race against failing health in 1815-16. She also left two earlier compositions, a short epistolary novel, Lady Susan, and an unfinished novel, The Watsons. At the time of her death, she was working on a new novel, Sanditon, a fragmentary draft of which survives.
 
DISCUSSION QUESTIONS
Sir Walter is disturbed because he doesn't like the way his "heir presumptive" has acted in the past. Why do you think he can't just leave his money, title, and estate to his daughters?
To what extent do you agree with Sir Walter on the value of rank and consequence?
What do you think led Anne to acquiesce to her family's wishes? Should families have a say in whom their children marry?
What does the book illustrate about how naval men view women? What assumptions are they making about women?
Captain Wentworth and Anne are constantly in each other's company. What keeps them from speaking honestly to each other? Would you invite two people who had once been engaged to the same social gathering? Both the Captain and Anne are very polite to each other. How might things be different today?
The Crofts are portrayed as one of the few happily married couples in the novel. What is it about their relationship that seems so different from the other relationships portrayed in the book?
What seems to make Mary happy? Why might women at the time of the novel have focused on such things?
What does Anne's relationship with Mrs. Smith suggest to you about Anne? How does her father react to these visits? Why?
Austen writes of Captain Benwick: "His reading has done him no harm, for he has fought as well as read." What does this statement indicate about what was important at this time? To what extent have attitudes changed in our time?
Captain Harville claims men do not quickly forget about the women they love while Anne claims the same for women. Do you believe men and women differ in their capacities to love and in remaining true to the one they love?
Anne believes she was right to be "persuaded" by Lady Russell not to marry Captain Wentworth when he proposed years earlier. Explain her reasoning. Do you agree with her?
Austen wrote Persuasion as her health was failing, hurrying to finish it before her death. Do you find the novel's narrative carries any sense of urgency or sentimentality, or any other indication of what the author herself was going through as she wrote it?
What was Jane Austen most critical of in her society? What are you most critical of in the modern world?
Back to Top