Black Milk Reader's Guide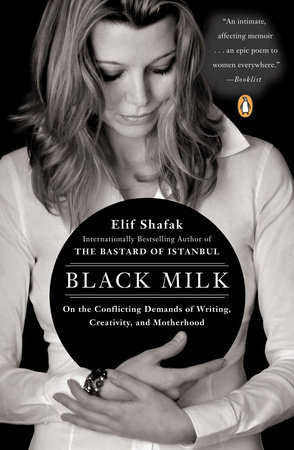 Black Milk Reader's Guide
READERS GUIDE
Questions and Topics for Discussion
INTRODUCTION

Postpartum depression affects millions of new mothers every year, and—like most of its victims—Elif Shafak never expected to be one of them. But after the birth of her first child in 2006, the internationally bestselling Turkish author remembers how, "for the first time my adult life… words wouldn't speak to me" (p. 5). As her despair finally eased, Shafak sought to resuscitate her writing life by chronicling her own experiences.
As a Sufi, Shafak believes that "to be human… means to live with an orchestra of conflicting voices and mixed emotions" (p. xii). Within herself, she had always acknowledged that there was not one identity, but a cacophony of voices that squabbled for ascendance. They were her "harem within" (p. 46), and Shafak recognized each of her internal voices: Little Miss Practical, Dame Dervish, Milady Ambitious Chekhovian, and Miss High-Browed Cynic.
In their disparate ways, each guided her toward intellectual and spiritual pursuits and away from conventional domestic life. Early in her career, she even wrote "The Manifesto of the Single Girl," in which she asserted that "literature is my husband and books are my children" (p. 15). She believed that she would never commit bigamy by taking another spouse.
When she first met Eyup, her husband-to-be, Miss High-Browed Cynic attempted to deter him—to no avail. Soon, Shafak's romantic feelings for Eyup awakened two dormant members of her harem, sexy Blue Belle Bovary and nurturing Mama Rice Pudding. When she and Eyup married, these two new voices grew increasingly loud, but it was still with conflicted feelings that Shafak acknowledged her pregnancy.
When her daughter was born, Shafak aspired to be both a devoted wife and mother, and a committed and productive writer. Seven weeks later, Shafak struggled to manage the mundane tasks of caring for an infant. "My self-confidence has become a scoop of ice cream melting fast under the duress of motherhood" (p. 210).
Shafak humorously calls him, "Lord Poton," but the djinn who visited her was far from lighthearted. Walling her inside the prison of postpartum depression, Lord Poton also silenced Shafak's voices. For the next eight months, "literature turned into a distant and forbidden land" (p. 250), and Shafak was essentially stripped of her identity.
As Lord Poton's power waned, Shafak sought wisdom in the writings and lives of her predecessors. Spanning the literary diaspora—from an imagined female poet muted by sixteenth-century Middle Eastern mores to the groundbreaking examples of George Eliot, Sylvia Plath, Carson McCullers, and Alice Walker among many others—Shafak's search eventually led her back to her own inner harem.
Combining a raw, honest and surprisingly funny memoir with Shafak's thoughtful reflections on integrating authorship and motherhood in a patriarchal society, Black Milk is a brave and bold achievement by an author, a woman and a mother whose experiences in the crucible of postpartum depression taught her to give rein to all her voices, and—in so doing—forge her own unique identity.
ABOUT ELIF SHAFAK
Elif Shafak was born in Strasbourg, France, in 1971. She is an award-winning novelist and one of the most distinctive voices in contemporary literature in both Turkish and English. Her books have been translated into more than thirty languages. She is married with two children, and divides her time between London and Istanbul.
 
A CONVERSATION WITH ELIF SHAFAK
Q. Writing so frankly about your experience with postpartum depression is a brave act. Was it easier or more difficult to write than fiction?
It was more difficult. The art of storytelling, for me, is not necessarily autobiographical. Not at all. In my novels I am more interested in discovering the Other than telling about myself. However, in Black Milk, for the first time, I sat at my desk to write about myself. It was personal. It was painful. But before I knew it, I was dissecting my personality the way I would dissect a fictional character in a novel, revealing my flaws, my foibles, my weaknesses.
Q. Black Milk is unexpectedly funny. How is it that you can record what was certainly a painful period in your life with such a light touch?
I think there are two main misconceptions that make every depression heavier than it already is. First, we tend to assume that it is happening only to us, and everyone else is perfect. Second, we think this state will go on and on forever. Both assumptions are wrong. Depression happens to many people and it is a temporary phase. After this comes another season. What makes every depression much lighter, and thereby bearable, by contrast, is humor. Only when we can laugh at ourselves with compassion and with no holds barred is everything seen in a different light.
Q. How did your mother feel when you repudiated your father's surname and took her first name in its place?
She was surprised, very much so. As I was growing up I had never heard anything negative about my father from her; she never talked, in fact. But basically when I renamed myself Shafak I wasn't trying to repudiate my father as much to re-create myself. I used my pen name for the first time when I published my first story and that, to me, was a new beginning.
Q. Before you met Eyup, did you really will yourself to stop menstruating?
Yes, I did. I was at Mount Holyoke at the time. That winter was very cold, very isolated. I lived the reclusive life of a hermit, reading and writing. I was very happy to be a Brain, and I did not want to "burdened" by the Body. In fact, I wanted to defeminize myself. And the strange thing is when you keep thinking such things, and your whole psychology is upside down, your Brain sends similar signals to your body, and you can even stop menstruating.
Q. It's surprising that Eyup left you alone with Shehrazad so soon after her birth. Was there no other time he could have performed his military service?
That wasn't in his hands, really. He could not postpone it. In Turkey military service is compulsory and there is a certain time limit you need to have it done. Yes, I was alone during most of this depression, but he, too, was alone in a way, and I don't think it was easy for him to be away from his wife and newborn baby.
Q. Since you split your time between England and Turkey, can you anticipate the different ways Black Milk will be received by readers in each country? Do you think that Western society is any more or less patriarchal than Turkish society?
One of the things I hear often as I commute between the East and the West is that countries like Turkey are patriarchal but the Western world is now beyond that. This is a fallacy, and unfortunately one that many people believe in having all the good intentions but limited information. Patriarchy is a universal phenomenon. It happens everywhere, and emerges in the most unexpected places, albeit in varying degrees and different shades. One thing I was keen on doing in Black Milk was to bridge the things that are culturally specific and the things that are universal and thereby familiar to readers everywhere.
Q. "In Turkey, elderly women believe that during the forty days following the birth of a baby, a new mother should be kept in the company of her loved ones… It is this simple and age-old wisdom that we have lost touch with in our determination to be successful, strong, and always perfect" (p. 8). Is the wisdom that we've lost a fair price to pay for the greater freedoms that modern women have won?
I think it is a marvelous thing what modern women have achieved and I truly respect it. However, it is one thing to be free and independent, and quite another thing to create myths about ourselves, believing that we are capable of achieving anything, everything, at any time. It is good to feel good and positive about ourselves. But sometimes, I am afraid, in the name of boosting our morale, or without even realizing it, we fabricate a Wonder Woman image of ourselves. And that simply is not true.
Q. You discuss a lot of different writers, but if you had to pick just one, with whom do you most identify and why?
I guess there is no one particular writer that I identify with. Instead there are bits and pieces in each of the writers mentioned that intrigue me and resonate with me. As I was writing this book I felt a natural bonding with numerous women writers, past and present. It was interesting for me to reread them, this time not by focusing on their fiction, but by looking at their lives, and to notice how many of them have dealt with similar issues, similar dilemmas, even when the solutions they have come up with vary.
Q. In The Great Gatsby, F. Scott Fitzgerald appropriated the words his wife, Zelda, said upon the birth of their daughter, Scottie. "I hope it is beautiful and a fool—a beautiful little fool." What do you wish most for your own daughter, Shehrazad Zelda?
Oh, my wish would be different. I would like her to be a happy woman who is fully aware of and in harmony with her multiple talents and many selves.
Q. Do your children travel with you when you are away from Istanbul for a long period?
Yes, they do. They have their own suitcases and they think it is pretty normal to spend so much time at airports and train stations. But as we commute back and forth I can see how much they miss their friends and daily habits. So it's not easy.
Q. In what ways do you think that you've become a better writer after becoming a mother? In what ways does being a writer make you a better mother?
Becoming a mother encouraged and helped me to reconstruct myself. In some ways it made me aware of my own complexities, more accepting and loving, and it also reconnected me with the universe. These are all helpful qualities when writing fiction: to look within, a deeper layer of understanding and compassion, and the feeling of connectedness. On the other hand, being a writer also helped me to become a better mother. The art of storytelling thrives upon empathy, versatility, imagination and the ability to renew yourself. All four are much needed qualities in motherhood.
Q. What are you working on now?
I am about to finish my new novel. It is a book about honor, happiness and how we hurt the most those we love the most. We follow the story of a half-Turkish half-Kurdish family as they immigrate to London and live there in the late 1970s until everything falls apart. It is a very moving story with multiple layers, a keen eye on mother-daughter, mother-son relations, and the notions of shame and disgrace.
DISCUSSION QUESTIONS
Have you ever suffered postpartum depression? If so, does Shafak's account resonate with your own experience?
If you had a friend who was currently in the grip of postpartum depression, is this a book you would recommend to her? Why or why not?
When you examine the chorus of voices within your own psyche, who are the Thumbelinas of your own harem? How—if at all—has their balance of power shifted over time?
What do you think about Dame Dervish's assertion that "there are no coincidences in the universe, only signs" (p. 20)?
Early on in Black Milk, Shafak discusses the issue of class, writing "sometimes the biggest award a woman writer hopes to receive is neither the Man Booker Prize nor the Orange Prize but a good-hearted, hardworking nanny" (p. 41). Is class or gender the most difficult challenge to surmount?
Shafak relates how "Tolstoy decided to give away all his possessions to the poor… He gave away all of his money, all of his land" (p. 62). Would a woman in his position would do the same?
If you are single and childless, do you wish you had a family? If you have a family, do you long for your days of freedom? Do you believe it's possible for any woman to be wholly satisfied with the decision she makes regarding marriage and family? How is it different for men?
Dame Dervish tells Shafak the story about another dervish who "spoke little," (p. 96) but whose son was saved from conscription by a chain of chance events. Do you believe that one's interpretation of misfortune is attributable solely to perception?
Do you agree with Shafak's characterizations of Sylvia Plath, Ayn Rand, Marguerite Duras, and the myriad other women she discusses in Black Milk? If not, which one and why?
Have the challenges that women face increased or diminished now that they enjoy greater economic and social freedoms?
Who are some of your favorite writers—male or female? Discuss the ways in which you imagine that their personal lives influenced their work.
If you were offered the choice between literary immortality and the adoration of your children, which would you choose and why?
Back to Top