The Union Quilters Reader's Guide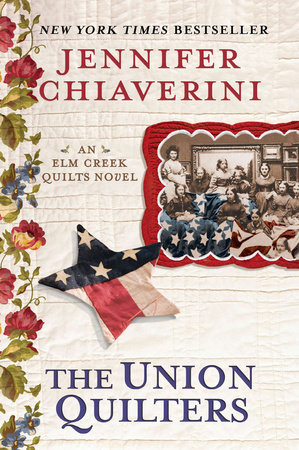 The Union Quilters Reader's Guide
READERS GUIDE
Questions and Topics for Discussion
INTRODUCTION
"Chiaverini has once again written an intense and beautiful book-so much so that readers will almost hear the hollow echo of the fife and drum as they immerse themselves in every compelling page. . . . Truly unforgettable."
–BookPage
In 1862, the men of Water's Ford, Pennsylvania, rally to President Lincoln's call while Dorothea Granger marshals her friends to "wield their needles for the Union." Meanwhile, Anneke Bergstrom hides the shame she feels for her husband's pacifism; gifted writer Gerda Bergstrom takes on local Southern sympathizers in the pages of the Water's Ford Register; and Constance Wright struggles to help her husband gain entry to the Union Army-despite the color of his skin. As the women work, hope, and pray, the men they love confront loneliness, boredom, and danger on the battlefield. But the women of the sewing circle also forge a new independence that will forever alter the patchwork of life in the Elm Creek Valley.
ABOUT JENNIFER CHIAVERINI
Jennifer Chiaverini lives with her husband and two sons in Madison, Wisconsin. In addition to the six volumes in the Elm Creek Quilts series and two books of quilt patterns inspired by the novels, she designs the Elm Creek Quilts fabric line from Red Rooster Fabrics.
A CONVERSATION WITH JENNIFER CHIAVERINI
Q. The Union Quilters is a historical novel in a series that includes both contemporary and historical books. Alternating between past and present must offer unique creative opportunities. Could you describe your methodology for selecting the eras and settings you write about? Did you plan to take this approach from the beginning of the series?
I enjoy writing both contemporary and historical novels, and I'm pleased that my readers have been willing to let me stretch the definition of series so that I can continue to write in both genres. When I wrote my first novel, The Quilter's Apprentice, I had no idea it would be the first of many intertwined books, so I didn't map out an extended storyline that would be spread out over a certain number of volumes. In hindsight, I think it's fortunate that I launched the Elm Creek Quilts series this way. Instead of proceeding in a strict linear fashion, following the same thread of the same character's life in perfect chronological order, I've been able to take secondary characters from earlier stories and make them the protagonists of new books. In other novels, I've delved into a familiar character's past, exploring entirely new settings and characters that are still tied in some way to the Elm Creek Valley. Because I've been flexible with the traditional series format, I've enjoyed the creative freedom to write novels that explore new characters, settings, and historical eras while still satisfying readers who want to see the people and places they have already come to know and love.
Q. The Lost Quilter was set in antebellum and wartime South Carolina, now The Union Quilters is set in the North during the same era. What do you find most fascinating about this time in history?
The Civil War era was a tumultuous and transformative period for our nation, showing the best and worst of humanity in stark contrast. Looking back, we discover great moral failings alongside true heroism in the struggle for justice, equality, and freedom. My personal heroes are people who face adversity with moral courage and dignity, whose hunger for justice and compassion for others lead them to stand up for what is right even at great risk to themselves. My favorite characters to write about either possess similar qualities, or are given the opportunity to summon up these qualities and do what is right but fall short. What slavery and the Underground Railroad say about our country-that we are capable of both great moral failings and tremendous goodness-resonates strongly even today, perhaps especially today, and as a creative person, I am drawn to explore and try to understand that conflict.
Q. The women of The Union Quilters played a critical role in the war, providing funds and supplies for the soldiers and running the town farms and businesses in their absence. Were you inspired by any real-life events or stories of women's groups in the Civil War?
In The Union Quilters, as in history, Union and Confederate women alike made quilts for soldiers to use in camps and in hospitals. They sewed and raffled off quilts to raise funds to support important causes, and they quilted to express themselves artistically during a time of national strife and personal turmoil. On the northern home front, the demands of war thrust women into new roles, for they suddenly needed to support and provide for the men who had always been cast in the role of their protectors. This was an unsettling transition, and yet, for many women it offered an exhilarating sense of independence. The women's advocacy for their husbands, sons, and brothers empowered them. The volunteer organizations they created to provide food, clothing, medicine, and other essential goods for the soldiers allowed them to step beyond the private, domestic sphere and participate in a new, public realm outside of the traditional political structure from which they were excluded. Accounts of women's volunteer organizations, especially the Ladies' Aid Association of Weldon (PA), inspired the activities of the Union Quilters in the novel. Like their fictional counterparts, the Ladies' Aid Association of Weldon constructed a hall to host fundraisers, incorporated, and maintained ownership of a very important cultural center and civic resource despite strong male opposition. This provided the women with significant influence and power in their town, leverage they had not previously possessed.
Q. What are you working on now?
My next novel, The Giving Quilt (Dutton, October 2012), returns to contemporary times as the Elm Creek Quilters host a special week of winter quilt camp to create quilts for Project Linus, a national organization whose mission is to provide love, a sense of security, warmth, and comfort to children in need through the gifts of new, handmade blankets, quilts, and afghans. Sylvia, Sarah, and the gang will welcome four new characters-and one reader favorite who first appeared in my ninth novel, Circle of Quilters-to Elm Creek Manor, where they become confidantes and discover the many rewards, meanings, and purposes of giving. I love the world of the Elm Creek Quilters as much as my loyal readers do, and I plan to continue the series as long as long as each book is a unique, interesting, captivating story in its own right-and as long as my readers keep telling me that they yearn to revisit the Elm Creek Valley, past and present.
DISCUSSION QUESTIONS
In the opening scene of the novel, Dorothea is preparing for Thomas's departure. Their housekeeper, Mrs. Hennessey, suggests to Dorothea that Thomas might not go off to war if she revealed her pregnancy to him. What do you make of Dorothea's decision not to share this with her husband? What does it say about her character that she wishes to keep this from him so that he won't "go into battle, worried and distracted"?
Though this novel is set during the American Civil War, many of the situations that arise and problems that characters face could also present themselves in modern times. Were there any themes you found to be particularly timeless or universal?
What did you make of Abel's determination to serve his country, regardless of how many times he is turned away for the color of his skin? How would you react if you were faced with such prejudice?
How do the women of the Elm Creek Valley work together and support one another while the men of the town are at war? What does Union Hall represent to them?
Pacifism is a recurring subject in the novel. What do you think of Hans's decision not to fight? Can you understand Anneke's feelings? Can you understand why she refuses to return home to him for so long? Are both Hans and Anneke right to feel the way they do?
Were you surprised by the decency with which the Rebel and Union soldiers treated one another on occasion? What did you think of their momentary truces to trade with one another on the front lines, or the grateful letter Dorothea receives from Private Wilson's wife? Did you find it difficult to believe that such civility exists even in times of war, or did you find it comforting?
The narration allows the reader to see the events of the novel from multiple characters' perspectives. What does this lend to the book overall? Does it help the reader get to know the characters better?
What do you make of Jonathan's refusal to sign the Confederate papers for his parole? Was it in keeping with his character? Would you have done the same?
What role does quilting play in this book? How does it serve as a means to bring people together, and provide inspiration and hope to the soldiers fighting in the war?
Prior to Charlotte and Gerda's trip to Richmond, how did you feel about the relationship between Jonathan and Gerda? What about afterwards? Were you surprised that Jonathan ultimately chose Charlotte? Did you think Gerda had been deceiving herself in some way all along? Can you understand why?
Does the war offer opportunities to the women of the Elm Creek Valley that they wouldn't normally have had, if the men of the town weren't at war? Do you think Gerda would have been able to write for the town's newspaper otherwise? What else does the men's absence enable them to do?
What do you make of Dorothea's correspondence with the suffragists? Do you feel hopeful for her future at the end of the novel? What about for the other women of the Elm Creek Valley?
Back to Top