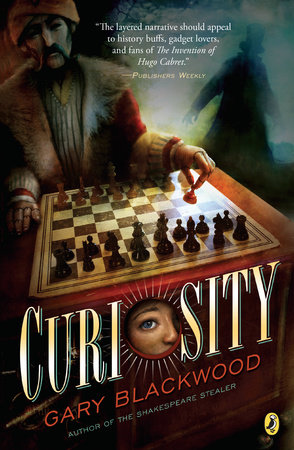 Curiosity
By Gary Blackwood

By
Gary Blackwood
By Gary Blackwood

By
Gary Blackwood
Best Seller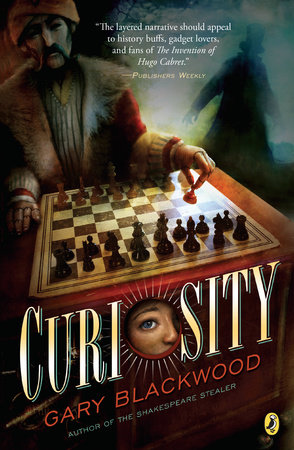 Paperback
Apr 07, 2015 | ISBN 9780142424483
*This format is not eligible to earn points towards the
Reader Rewards
program
Paperback

$8.99

Apr 07, 2015 | ISBN 9780142424483 | Middle Grade (8-12)

*This format is not eligible to earn points towards the

Reader Rewards

program
Inspired by Your Browsing History
Also in Children's Picture Books
Praise
* "A thrilling look at the 19th-century age of automata—"a time of curiosity-seekers"—and the riveting story of a likable Philadelphia boy whose life of the mind helps him transcend his extraordinary, oft-cruel circumstances." – Kirkus Reviews, starred review

* "The museum and curiosity show setting—as well as the cameo appearances by Edgar Allan Poe and P. T. Barnum—make this historical novel a delight." – VOYA, starred review

"The layered narrative should appeal to history buffs, gadget lovers, and fans of The Invention of Hugo Cabret." – Publishers Weekly

"Readers will no doubt find [Rufus] a compelling protagonist and likable hero….the Dickensian cast of characters and tightly constructed plot will resonate with fans of Laura Amy Schlitz's Splendors and Glooms." – School Library Journal

"Blackwood excels in writing historical fiction that is as informative as it is entertaining. The period details, including cameos by famous people, bring the era to life, but it's the vivid characters and the inventive plot, told through Rufus's sympathetic first-person narrative, that drive our interest in the story." – The Horn Book

"With a cast of fictional and historical figures including grand showman P. T. Barnum; Edgar Allan Poe and his teenage wife, Virginia; and the real-life owner of the Turk, Maelzel—this Dickensian coming-of-age story from the author of Around the World in 100 Days offers a glimpse into quaint corner of American history." – Booklist

"Blackwood constructs a plot with appeal to several readerships: the gearheads who enjoy the mechanical workings of these robotic oddities, à la Selznick's The Invention of Hugo Cabret; those who shiver at the possibility of life force within the machine, à la Schlitz's Splendors and Glooms; those who gravitate toward plucky orphan stories; and of course, those who appreciate a solid historical fiction riff on a real-life invention, the Turk itself. Rufus' self-effacing narration is thoroughly engaging." – Bulletin of the Center for Children's Books

Gary Blackwood's The Shakespeare Stealer was the winner of the Mark Twain Award. It was also an ALA Best Book for Young Adults, an ALA Notable Children's Book, a Golden Kite Award Shortlist Book, a CCBBC Choice, and one of the Best Children's Books for ages 12 and up as chosen by Bank Street College.
Back to Top