Kind of Cruel Reader's Guide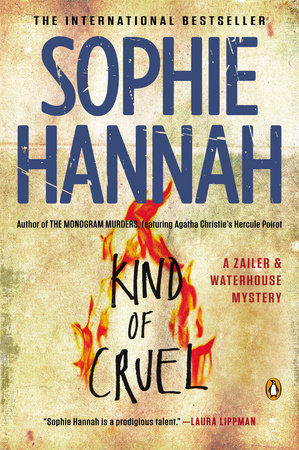 Kind of Cruel Reader's Guide
READERS GUIDE
Questions and Topics for Discussion
INTRODUCTION

"My mind can be a harsh environment. Sometimes I need to take it far away from the people I care about, to make sure I don't contaminate anybody" (p. 33).
Amber Hewerdine is certain that hypnotherapy is "a con" (p. 6). But since her best friend's brutal murder eighteen months ago, Amber has been unable to sleep for more than "twenty minutes at a time" (p. 13). Desperate for relief, she visits Ginny Saxon, a local hypnotherapist. Instead of curing her insomnia, however, Amber's session uncovers an inexplicable memory that links her to another horrific crime and draws her into a terrifying game of cat and mouse with a killer.
Amber's best friend, Sharon Lendrim, was a single mother with two school-age daughters, Dinah and Nonie, both of whom she conceived using donor sperm. Sharon worried that her own harsh and unloving mother might gain custody of the girls if something ever happened to her, so she asked Amber to be their guardian.
After an unknown arsonist set fire to Sharon's house, Dinah and Nonie escaped while their mother burned to death in the conflagration. Stricken with grief, Amber and her husband, Luke, didn't hesitate to give the girls a home, but Amber has been plagued by insomnia ever since.
Outside Ginny's office, Amber meets another client and dubs her "Red Lipstick Woman." Smoking, writing in a notebook, and as skeptical about hypnotherapy as Amber herself, Red Lipstick Woman informs Amber that Ginny is running behind schedule and gives her the earlier slot.
Under hypnosis, Amber speaks the words: "Kind. Cruel. Kind of Cruel" (p. 21), but angrily accuses Ginny of planting them in her mind. On her way out, she once again encounters Red Lipstick Woman.
Amber then decides she must have seen the words in Red Lipstick Woman's notebook and breaks into her car to find it. She confirms her suspicions but is caught in the act and flees. That night, Detective Constable Chris Gibbs knocks on Amber's door. Red Lipstick Woman is Detective Sergeant Charlotte "Charlie" Zailer, and those words are the only clue to a recent murder.
Police found a notebook with an imprint of the words, "Kind. Cruel. Kind of Cruel," near the bludgeoned body of schoolteacher Katherine Allen. Charlie told her husband and the case's lead investigator, Simon Waterhouse, about Amber's curious behavior. Neither detective thinks that Amber is the murderer, but they suspect that she knows something—if only on an unconscious level—that pertains to the crime.
Meanwhile, Amber can't stop thinking about a nagging family mystery. Seven years ago, Luke's brother, Neil; his wife, Jo; and their two children disappeared from their group holiday on Christmas Eve and reappeared twenty-four hours later with no explanation, refusing to ever discuss the incident. Could it have been then that Amber first saw those enigmatic words?
Smart, suspenseful, and with a jaw-dropping denouement, Kind of Cruel is Sophie Hannah at her very best. In the latest addition to Hannah's internationally best-selling series, seemingly innocuous words lead detectives Charlie Zailer and Simon Waterhouseto a shocking crime motivated by the darkest and most twisted obsessions of the human heart.
ABOUT SOPHIE HANNAH
Sophie Hannah's crime fiction is published in twenty-seven countries. She is also an award-winning poet and novelist. She lives in Cambridge, England, with her husband and two children.
A CONVERSATION WITH SOPHIE HANNAH
1. Which do you generally come up with first: a crime or a character?
I generally start with the opening scenario—something mysterious, intriguing, or apparently impossible that captures my imagination. I then spend a few months (or sometimes years!) trying to solve the mystery myself. I only start writing the novel once I think I've come up with the perfect solution to match my intriguing beginning. Very occasionally, I start with what I believe to be a great twist, and then work backwards. And I sometimes begin with an emotional obsession and all the plotting springs from that. For example, at the moment I'm obsessed with pathological lying, and am constructing various plots around that.
2. What was the inspiration behind this particular novel?
Well, Kind of Cruel actually had several simultaneous starting points. One was the motive for committing murder. It occurred to me one day, out of the blue, that if I were ever to commit murder it might be for this highly unusual but extremely compelling reason—almost more than any other. As soon as I realized how rare a motive for murder it would be, I knew I had to write a novel about it. I was also, at the time I wrote the book, very interested in narcissism and other related psychological syndromes, which inspired some of the themes of the book. Finally, for years I'd had the words "Kind of Cruel" knocking around in my head, and I always planned to use that as a title one day—so all of these things melded together in my mind to produce this novel!
3. A number of your previous books have featured mothers who are thrown off balance by one thing or another. Have you consciously staked out motherhood as part of your fictional territory?
Yes, I have, but no more so than several other topics I'm equally interested in: psychological abuse, deceit, adultery, family enmeshment . . . I write about every possible kind of human and interpersonal drama that I can think of!
4. Are your children old enough to read your crime novels?
My plots are quite baroque and complex, so I think my kids will need to be a bit older before they can read my books! Maybe in a few years . . . My eleven-year-old daughter has just discovered Agatha Christie! And both my children have watched the TV adaptations of my books.
5. Have you ever undergone hypnosis yourself? If not, would you consider it?
Yes, I have—for several months. It was a course of psychoanalytic hypnosis and I found it incredibly helpful and beneficial. It made me realize that I had seriously misunderstood the story of my life so far, and resolved many issues and anxieties that I had.
6. You begin this novel with a childhood memory, but it's not clear until the very end of the novel to whom the memory belongs. Is hypnotherapist Ginny Saxon your storytelling proxy?
Yes, I suppose that's a good way to describe it! Ginny is, in a way, acting as psychotherapist and clarifier not only to Amber but also to the entire narrative.
7. Charlie and Simon are both deeply in love and miserable in their marriage. Why is it that troubled detectives are so much more compelling than happy ones?
I don't think Charlie and Simon are miserable. Their marriage is complex, tormented, ambiguous, frustrating . . . but they're not unhappy. In some ways, they're both people who would be made far more deeply unhappy by the kind of simple contentment that most people might enjoy and need in order to function. I don't necessarily think fictional detectives need to be unhappy in order to interest the reader—they just need to be something that isn't bland and dull.
8. In the U.K., two of your Zailer and Waterhouse novels have been adapted for television. Has seeing your characters come alive on the screen affected the way you now imagine and write them?
It did for a short while afterward, but not anymore. Now, the Simon and Charlie in my mind have reverted to my original imaginary versions of them!
9. You were recently chosen to write a new Hercule Poirot mystery. How did it feel to step into the legendary Agatha Christie's shoes? Was she an influence on your own work?
It's the greatest honor ever to have been bestowed on me! I'm enormously flattered and feel so privileged. Agatha was a huge influence on me as a crime writer, yes. I inherited my love of apparently impossible-and-yet-happening scenarios from her!
10. Christie famously said, "Everyone has the potential to be a murderer." Do you agree?
No. I think most people do, but not everyone. I do, however, think that everyone would kill in self-defense, or to save the life of a loved one.
11. Who are some of your favorite contemporary writers?
Agatha (obviously!), Nicci French, Tana French, Iris Murdoch, and Jesse Kellerman.
12. What are you working on now?
A psychological thriller called A Game for All the Family, that's due to be published in the UK in April 2015.
DISCUSSION QUESTIONS
Does a person need to believe in hypnosis for it to work? Have you ever recovered a repressed memory—either through hypnosis or by another means?


What is it about Amber that both Charlie and Simon find sympathetic?


What does Amber's purchase of "the biggest house [she] could afford" (p. 32) say about her?


What difference does it make to Marianne if Amber and Luke are the girls' adopted parents instead of simply their legal guardians?


Is Charlie only angry about the fact that Olivia and Gibbs are being unfaithful, or is there something else that bothers her about their relationship?


What does Ginny's narrative lend to the story? How does her assessment of Simon's intimacy issues affect your opinion of him?


Does Charlie and Simon's marriage represent a step forward or a backward in terms of helping them resolve their respective neuroses?


Was Amber right to hide the fact that she'd agreed to be Dinah and Nonie's guardian from Luke?


What did you suspect lay behind Jo and Neil's Christmas disappearance?


How culpable is Hilary for Jo's crimes? Is it fair of Hilary to expect Jo to be responsible for Kirsty?


In the popular imagination, mothers should be unselfish and endlessly giving. Yet Kind of Cruel shows how a woman's inability to express and care for her own needs can be damaging to both herself and others. Why is it that society tries to propagate such an unhealthy and unrealistic image of motherhood?


Back to Top