After the First Death Reader's Guide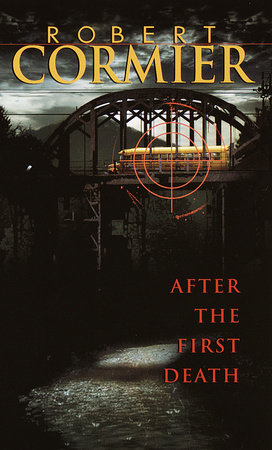 After the First Death Reader's Guide
READERS GUIDE
In Robert Cormier's unforgettable novels, an individual often stands alone, fighting for what is right–or just to survive–against powerful, sinister, and sometimes evil people. His books look unflinchingly at tyranny and the abuse of power, at treachery and betrayal, at guilt and forgiveness, love and hate, and the corruption of innocence. Cormier's gripping stories explore some of the darker corners of the human psyche, but always with a moral focus and a probing intelligence that compel readers to examine their own feelings and ethical beliefs.
The questions that follow are intended to spur discussion and to provoke thoughtful readers to contemplate some of the issues of identity, character, emotion, and morality that make Cormier's books so compelling.
Introduction
"Towers above the usual . . . bolsters Cormier's mounting repute
as a master of suspense and a wire-tight craftsman." –San Francisco Chronicle
Questions and Topics for Discussion
1. This novel is told from multiple points of view. Why do you think Cormier has chosen this type of narration?
2. Why does Artkin say it is necessary for Miro to "bury" his real name forever? Are Miro and Artkin burying anything else?
3. Which characters do you sympathize with and why? Do you have a clear-cut sense of right and wrong at the end of this novel?
4. What role does the notion of "manhood" serve? Why does Miro want to achieve this status so badly? Miro thinks that Kate is trying to manipulate him when she says "it's sad not to trust anyone." Why does Miro have to shut this statement out of his mind?
5. How does a concept of duty (to Artkin, to his nation) affect Miro's conception of self, of individuality? How does duty affect the general and his actions in regard to his son? Why does he volunteer his son for the mission?
6. Betrayal is a prominent theme throughout the novel. Do you think the general betrayed his son? Who else betrays or is betrayed? How and why? How does this betrayal compare to the betrayals that happen in the other three books (Carter and Archie, Goober and Jerry, Brother Leon and Caroni, Adam and the government).
About this Author
Robert Cormier's writing is unique in its richness and power, and he was often called one of the finest young adult novelists in America. His books are brilliant and complex structures full of intricate wordplay and subtle thought.
Robert Cormier's novels have received many awards, consistently appearing on the Best Books for Young Adults lists of the American Library Association. In 1991 he received the Margaret A. Edwards Award honoring his lifetime contribution in writing for teens, for The
Chocolate War
,
I Am the Cheese
, and
After the First Death
. Most recently, Frenchtown Summer was awarded the Los Angeles Times Book Prize for Young Adult Fiction.
Cormier lived all his life in the little New England mill town of Leominster, Massachusetts, where he grew up as part of a close, warm community of French Canadian immigrants. He and his wife, Connie, had four children and many grandchildren who lived nearby. He was for many years a newspaperman specializing in human interest stories.
The Rag and Bone Shop
was the last novel completed by Cormier before his death in 2000.
Back to Top