Mr. Vertigo Reader's Guide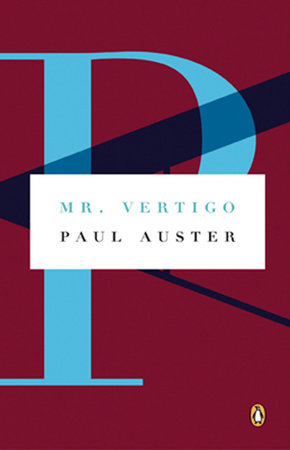 Mr. Vertigo Reader's Guide
READERS GUIDE
Questions and Topics for Discussion
INTRODUCTION

Critics describe Paul Auster as a storyteller with few modern equals. Auster himself looks to "the anonymous men and women who invented the fairy tales we still tell each other today" as an unending source of inspiration. The debt is clear and welcome in this, his eighth novel, a delight for any reader willing to sit back and give herself up into the hands of a master storyteller. Mr. Vertigo is a genuinely fabulous tale, a page-turner as mythic as the American tall tale and as down-to-earth as a Kansas wheat field, as American as Prohibition and baseball, and as alien as a spiritual quest to conquer gravity itself.
It's the story of Walter Rawley, a wisecracking street urchin from St. Louis who is taken in hand by Master Yehudi, a quasi-religious master who hails from Budapest via Brooklyn. Walt, endearingly described early on by Master Yehudi as a "pus-brained ragamuffin from honky-tonk row," has a hard head, a sharp tongue, and a gift the master has been searching for for years: properly taught, he can levitate. Sometimes cruel, often unnerving, and deeply moving, theirs is one of the most original and unorthodox partnerships in American letters. The story careens between the sublime to the ridiculous, as Master Yehudi and Walt the Wonder Boy take their act on the potholed back roads of the Midwest, their eyes on fame, fortune, and the Great White Way. Walt's reversals of fortune at the hands of his hormones, the Ku Klux Klan, the Chicago mob, and his own perversity are too many to count, and every inch of them entertains and illuminates. To appreciate the precision and cadence of Auster's writing, try reading Mr. Vertigo aloud. Be careful at the very end, where Walt, now an old man looking back, explains how to fly.
ABOUT PAUL AUSTER
The grandson of Jewish immigrants, Paul Auster was born in Newark in 1947, and grew up in South Orange and the New Jersey suburbs. He received an undergraduate degree and a master's in comparative literature from Columbia University in New York City. Then, after a six-month stint as an ordinary seaman on a tanker in the Gulf of Mexico, he spent four years in France, writing poems and doing translations to eke out a living. Back in New York, Auster got married, had a son, Daniel, and published four volumes of poetry—"only read by other poets," he claims. In 1979 his marriage broke up, his father died, and Auster found himself writing prose. Published in 1982 as the first half of a book called The Invention of Solitude, Portrait of an Invisible Man is a family memoir of a story Auster's father never told: the murder of his grandfather at the hands of the man's wife, in Kenosha, Wisconsin, in 1919. Auster never went back to poetry. He has published eight novels in the last ten years, though he says in this interview, "Just because you've written one book doesn't mean you'll be able to write a second." A literary celebrity in Europe, Auster's work has been translated in to twenty languages and published to growing critical acclaim in the United States. He has just finished working on two movies in collaboration with Wayne Wang: Smoke, starring William Hurt and Harvey Keitel, for which he wrote the screenplay; and Blue in the Face, which he co-directed. In 1981 he met Siri Hustvedt, a novelist of Norwegian descent, at a poetry reading. They married in 1982, and live in a row house in Brooklyn's Park Slope with their daughter, Sophie, who is seven years old.
RELATED TITLES
If you loved Mr. Vertigo, you'll want to read Paul Auster's other books, also available in paperback from Penguin:
The Art of Hunger
Auster reflects on his own work and traces the compulsion to make literature (or art) through essays on Franz Kafka, Samuel Beckett, Paul Celan, Laura Riding, Knut Hamsun, John Ashbery, and other seminal figures of the twentieth century.
0-14-017168-1
In the Country of Last Things
A woman searches for her brother in a devastated and violent world. "Reminiscent in many ways of Orwell's 1984. Auster creates a place so real it could be our own country, perhaps our very own city."—Atlanta Journal-Constitution
0-14-009705-8
The Invention of Solitude
Auster's moving and personal meditation on fatherhood "integrates heart and intellect, sensation and speculation…as it relentlessly tries to make sense of the shocks of living."—Newsday
0-14-010628-6
Leviathan
When Peter Aaron's friend Benjamin Sachs blows himself up by the side of the road, it launches him on an investigation into the nature of friendship and betrayal, sexual desire and estrangement, and the unpredictable intrusions of violence in the everyday.
0-14-017813-9
Moon Palace
This "beautiful and haunting" (San Francisco Chronicle) book follows Marco Stanley Fogg, a child of the sixties, from the canyons of Manhattan to the deserts of Utah in search of answers to the ultimate riddle of his fate.
0-14-011585-4
The Music of Chance
Drifters Jim Nashe and Jack Pozzi enter a poker game against two rich eccentrics, and risk their freedom on the single blind turn of a card. "All the suspense and pace of a bestselling thriller" (The New York Times) and the basis for the critically-acclaimed movie.
0-14-015407-8
The New York Trilogy
Auster's novels City of Glass, Ghosts, and The Locked Room comprise an "electrifying…work of manifest originality, if not genius" (San Francisco Examiner) and "a brilliant investigation of the storyteller's art guided by a writer-detective who's never satisfied with just the facts." (Philadelphia Inquirer)
0-14-013155-8
Also available as a single volume: City of Glass
0-14-009731-7
A CONVERSATION WITH PAUL AUSTER
What drew you to the story of Mr. Vertigo?
That's a great mystery to me. I don't know where it came from. For years I'd been walking around with a tale of a master and a disciple in my head, never very clearly defined, and never much of a story, just a situation. When I sat down to write it, I thought it would be about twenty pages. Obviously, I was wrong.
You once told an interviewer that "very strong emotions, traumas even, generate [my] stories." Was that the case withMr. Vertigo?
Again, every book I've ever written has been a conundrum to me. I don't know what I'm doing, or why I'm doing it. There is simply the compulsion to do it, the absolute necessity of getting that story down on paper. Sometimes, later, after a book is written, I have little glimmers of understanding about where it came from, little hints. With Mr. Vertigo, I think it has something to do with the idea of falling from high places. I say that in the way an anthropologist would say it, strictly based on observation and the evidence of my own eyes. I can think of several books I've written in which people fall. In the most important scene of In the Country of Last Things, Anna Blume jumps through a window on the top floor of a building in order to save herself; she's not killed, but it changes the course of her entire life. In Moon Palace, Fogg's obese father falls into an open grave and breaks his back. Everything in Leviathan revolves around a man falling off a fire escape. All this, I think (but how can I really know?) might be connected to something that happened to my father when I was a little boy. He was working on a roof in Jersey City and fell off, just like that. He slipped and started tumbling through the air. If not for a clothesline that broke his fall, he probably would have been killed. Though I didn't see it happen, I walked around with that image in my head all through my childhood: my father flying through space. Maybe that's the source, the thing at the bottom of my strange obsession.
One of my favorite things about the book is the combination of the spiritual and the utterly mundane. Both are certainly present in the character of Master Yehudi: sometimes he sounds like a Zen priest, sometimes like a carnival huckster.
He's a very complex character. On the one hand he's a con man, a charlatan, an operator trying to make a lot of money–just like everyone else in America. On the other hand, he has a very deep spiritual side. He's interested in spiritual truths. Defying the laws of nature, as he proposes to do with Walt, puts him in a very precarious and interesting position with God, with the universe, with man. And Master Yehudi thinks about these things. He takes them seriously.
Where does he come by his spiritual leanings?
Hard to say. He was there, fully formed in my head before I started writing. Later on I realized that his biography was quite similar to Houdini's, who was also a Hungarian Jew who came from a family of rabbis. His real name was Erich Weiss. The contrast between what you might call the mythical and the everyday, how they combine and live side by side in the same world, is part of what this book is about. It's what establishes its tone. Recently I stumbled across an interview with Peter Brook, the theater director, that had a tremendous impact on me. He managed to articulate something I'd been reflecting on for years. He said—and I don't know if this is an exact quote, but it's the gist of it—that what he's striving for in his theater work is the closeness of the everyday and the distance of myth. He said, "Without the everyday you can't be touched, and without the myth you can't be amazed." It's a very deep remark, a statement that comes from years of thinking about what he's doing. I was very moved by those words, and in some way I think they articulate precisely what I was hoping to achieve with Mr. Vertigo.
Walt uses a lot of religious language and imagery too. Where does it come from?
What interests me about American language, the language of the people, is that it's very crude, very lively, very inventive. But at the same time, there's a Biblical component to it, especially the Bible in the King James version, which is undoubtedly the most read book in American history, as well as the book that has been most listened to. For many people, especially people of earlier generations, it was the only literature they knew. So there's an astonishing combination in the American vernacular of what you might call the high and the low. Walt's speech is a perfect example of that.
Isn't Walt searching for some sort of truth?
No more or less than anyone else. We're all looking for the truth, aren't we? Something to believe in, something solid to stand on. You can read this book in many different ways, and I don't think that one reading is more valid than another. They all coexist. You can look at it as a parable of childhood, but you can also look at it as a piece of American history. You can look at it as a novel about the public and the private, about money, about show biz, about success and failure. I would be the last person to try to impose an interpretation on a reader.
Why did you write the story in the first person?
Another question I can't answer. That's just how it came to me, the old man looking back. You could say, though–assuming you're a literary critic-that a first-person narration is less reliable than a story told in the third person. A third-person narrator is omniscient; you trust the voice, you accept it on faith. A first-person narration is more complex, because you have to take into account who's saying what, and why. What if the narrator is lying on purpose? You can never ignore that as a possibility.
It's pretty dramatic to make poor Walt choose between his testicles and stardom. How come you shaped the story that way?
I couldn't think of a more dramatic conflict.
Explaining why Mrs. Witherspoon won't be joining them on tour, Master Yehudi says, "If you just stand there and wait, there's a chance the thing you're hoping for will come right to you." Do you think his fix on romantic love is as off-base as Walt does?
For many of the things one most ardently wants, patience is a great virtue. Sometimes things do come to you, including love. But Master Yehudi makes one mistake after another where Mrs. Witherspoon is concerned. He doesn't play his cards right.
Mrs. Witherspoon's a lusty lady. Do you think sex is important to men and women in the same way?
I don't think she has a different approach to her sexuality than either Walt or Master Yehudi. Mrs. Witherspoon is my kind of woman, and I would venture to say that her view of sex is a lot less unusual than people might think. To give you some idea of how my books get written, I have to confess that when I started the novel there was no Mrs. Witherspoon. She just emerged. She started making appearances as I was writing, and became more and more important as the book continued. Actually, and this is occurring to me for the first time, if there's any book that Mr. Vertigo is connected to, it's Pinocchio, a book that I've thought about long and hard over the years. In some odd way you could say that Walt is Pinocchio, Master Yehudi is Master Geppeto, and Mrs. Witherspoon is the Blue Fairy.
Walt the Wonder Boy says, "You have to keep testing yourself, pushing your talent as hard as you can…. People begin to sense that you're out there taking risks for them." Is this true of writing?
As a writer, I don't think about the audience in the way an actual performer does. When I wrote that passage, I was thinking about real entertainers, people who stand up in public and do their work in front of a crowd of strangers.
In your opinion, who are the great storytellers?
The anonymous men and women who invented the fairy tales we still tell each other today, the authors of the 1001 Nights, the European folk tales, the whole oral tradition that started the moment men learned how to talk. They're an unending source of inspiration to me.
Are those the sorts of books you like to read? What's on your bedside table?
It's very cluttered right now, which probably means it's a good cross-section of the kinds of things that interest me. My wife and I just bought two books for our daughter, who is almost eight, but I claimed them first: a collection of Yiddish folk tales and another one of French folk tales. I was recently sent the unabridged, enormous, first English translation of The Man Without Qualities, by Robert Musil, and that's there too. Then there's a book about intelligence in dogs, because I'm trying to write about a dog. Low Life by Luc Santo, and A Void by Georges Perec, a novelist I admire very much. Also… let me think… a book of poems by Charles Simic… and one or two others.
Talking about writing in The New York Times Magazine, you say, "You suffer a lot. You feel inadequate. The sense of failure is enormous." Do you still feel that way in the light of your growing reputation?
Oh yes. The longer you go on writing, the harder writing becomes. You set higher and higher standards for yourself, and the risks you take become bigger, more dangerous, more disturbing. Just because you've written one book doesn't mean you'll be able to write a second, and just because you've written a second doesn't mean you'll be able to write a third. The struggles go on right to the end. When I read nice things about me or my work, it's as though they're talking about someone else. People also say a lot of nasty things, and if you've made up your mind not to let that get you down, the only honest way to deal with praise is to ignore it, too.
In the same interview you describe writing as "certainly a stupid way to live your life, isolating yourself every day, making something nobody really needs or wants." Do you really believe that?
Much of the time, yes. Some of the time, no. But, for better or worse, writing is what I do, it's what I do best. I'm not good for anything else.
—Ashton Applewhite
DISCUSSION QUESTIONS
At their first meeting, Master Yehudi says to Walt, "You're the answer to my prayers, son. That's why I want you. Because you have the gift." What is the gift? Is it a blessing or a curse?
 
"She may be fat and toothless, but she's the closest thing to a mother you'll ever have," says Master Yehudi when he introduces Walt to Mother Sioux. Certainly the strange trinity of Mother Sioux, Aesop, and Master Yehudi is the closest Walt comes to having a family. Do they qualify? What roles do Aesop and Mother Sioux fulfill for Walt?
 
After Walt's escape into the snowstorm, Master Yehudi diagnoses Walt with a case of the Ache of Being, provoked by being "jolted into submission." Why does Walt wake up to discover that "the hatred festering inside me had been transformed into love?" What do you think submission–or, for that matter, Mother Sioux's magic–had to do with it?
 
There's nothing otherworldly about Walt and Master Yehudi's daily lives or dreams of riches, and the Master warns his student never to look down on the bumpkins they entertain. Yet the Master rhapsodizes, "Not like a bird, my little man. Like a god. You'd be the wonder of wonders, Walt, the holy of holies. As long as men walked the earth, they'd worship you as the greatest man among them." Do you think Master Yehudi believes these grand promises? Why does he make them?
 
Two years into his tutelage, Walt says of Master Yehudi, "I had learned that everything I was flowed directly from him. He had made me in his own image…." Master Yehudi paints quite a different picture as he lies dying.
 
He says: "Whatever you are it's because of me. Isn't that so, Walt?"

"Of course it is. I was a no-good bum before you found me."

"I just want you to know that it works both ways. Whatever I am, it's because of you."

How do Master Yehudi's and Walt's views of their relationship differ? How do these feelings change over time?
 
Walt feels no qualms about becoming a Jazz Age swell because "without the Master I was no one, and I wasn't going anywhere." He says, "Every time I took another step forward, I drifted farther away from the person I'd been with Master Yehudi. The best part of me was lying under the ground with him." At times Master Yehudi was far from benevolent; do you see him as a force for good in Walt's life? How would he feel about the turn Walt's life has taken?
 
Sex is important to all the main characters in Mr. Vertigo—after all, it's puberty, not lack of talent or spirituality that does in Walt the Wonder Boy—but romantic love doesn't really pan out for any of them. Were you surprised when Walt finds happiness with Molly Fitzsimmons? What's Mrs. Witherspoon's role in the novel?
 
Mr. Vertigo could be read as a parable about striving and success, celebrity and the price exacted for it. Is what Walt gains worth the suffering he goes through?
 
Paul Auster has described Mr. Vertigo as "a spiritual quest as much as anything." The Holy Grail Walt pursues as an adult is one of revenge and self-destruction, not life or grace. What kind of spiritual quest is this? How many transformations does Walt actually undergo? Would you call them spiritual?
 
What do you think are Walt's real talents in life? What might he have become if flying had not made him feel possessed of a special destiny, "set apart from others" for his whole life. Do you think you'd like Walt if you met him in person?
Back to Top