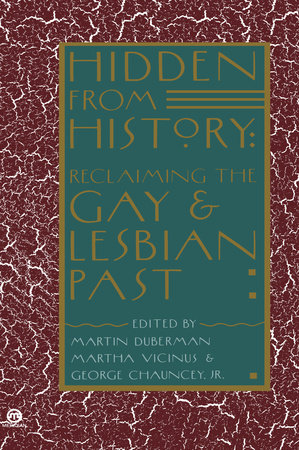 Hidden from History
Reclaiming the Gay and Lesbian Past
Edited by
Martin Bauml Duberman

,

Martha Vicinus

and

George Chauncey



Edited by
Martin Bauml Duberman

,

Martha Vicinus

and

George Chauncey




Best Seller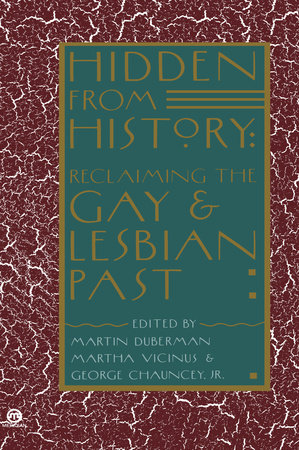 Nov 01, 1990 | ISBN 9780452010673
Buy the Paperback:
People Who Read
Hidden from History

Also Read
Inspired by Your Browsing History
Praise
Winner of two Lambda Rising Awards

"A landmark of a book and a landmark of ideas that will shatter ignorance and delusion."—Catharine Stimpson, University Professor and Dean Emerita of the Graduate School of Arts and Science at New York University

"A rich offering… solid and intriguing. One comes away from reading this collection… with fresh, extended, and perhaps more sensitive conceptions of sexuality itself."—Washington Post Book World
 
"Convincingly demonstrates the legitimacy of gay and lesbian history, reveals its extraordinary richness, and sets the agenda for future research."—George Stambolian, editor of Men on Men

"Ground-breaking."—Publishers Weekly

"The juxtaposition of diverse perspectives and research crossing boundaries of race, gender, culture, and time encourages a lively dialogue. Highly recommended for history collections, and especially gay studies."—Library Journal

"A treasure… major, informative, and fascinating."—The Advocate
Table Of Contents
Introduction George Chauncey, Jr., Martin Duberman, Martha Vicinus

The Ancient World
Revolutions, Universals, and Sexual Categories John Boswell
Sex Before Sexuality: Pederasty, Politics, and Power in Classical Athens David M. Halperin
Sexual Matters: Rethinking Sexuality in History Robert Padgug

Preindustrial Societies
Lesbian Sexuality in Medieval and Early Modern Europe Judith C. Brown
Homosexuality and the State in Late Imperial China Vivien W. Ng
Homosexuality in the Renaissance: Behavior, Identity, and Artistic Expression James M. Saslow
Lesbians in American Indian Cultures Paula Gunn Allen
Male Love in Early Modern Japan: A Literary Depiction of the "Youth" Paul Gordon Schalow
The Birth of the Queen: Sodomy and the Emergence of Gender Equality in Modern Culture, 1660–1750 Randolph Trumbach
Sodomy in the Dutch Republic During the Eighteenth Century Arend H. Huussen, Jr.

The Nineteenth Century
"Writhing Bedfellows" in Antebellum South Carolina: Historical Interpretation and the Politics of Evidence Martin Duberman
Knights-Errant and Gothic Seducers: The Representation of Male Friendship in Mid-Nineteenth Century America Robert K. Martin
"She Even Chewed Tobacco": A Pictorial Narrative of Passing Women in America San Francisco Lesbian and Gay History Project
Inverts, Perverts, and Mary-Annes: Male Prostitution and the Regulation of Homosexuality in England in the Nineteenth and Early Twentieth Centuries Jeffrey Weeks
Distance and Desire: English Boarding School Friendships, 1870–1920 Martha Vicinus

Early Twentieth Century
Iconography of a Scandal: Political Cartoons and the Eulenburg Affair in Wilhelmin Germany James D. Steakley
Discourses of Sexuality and Subjectivity: The New Woman, 1870–1936 Carroll Smith-Rosenberg
The Mythic Mannish Lesbian: Radclyffe Hall and the New Woman Esther Newton
Christian Brotherhood or Sexual Perversion? Homosexual Identities and the Construction of Sexual Boundaries in the World War I Era George Chauncey, Jr.
A Spectacle in Color: The Lesbian and Gay Subculture of Jazz Age Harlem Eric Garber
Paris Lesbianism and the Politics of Reaction, 1900–1940 Shari Benstock
Russia's Gay Literature and Culture: The Impact of the October Revolution Simon Karlinsky
Swastika, Pink Triangle, and Yellow Star: The Destruction of Sexology and the Persecution of Homosexuals in Nazi Germany Erwin J. Haeberle

World War II and the Postwar Era
Marching to a Different Drummer: Lesbian and Gay GIs in World War II Allan Berube
"Imagine My Surprise": Women's Relationships in Mid-Twentieth Century America Leila J. Rupp
Migrancy and Male Sexuality on the South African Gold Mines T. Dunbar Moodie (with Vivienne Ndatshe and British Sibuyi)
Oral History and the Study of Sexuality in the Lesbian Community: Buffalo, New York, 1940–1960 Madeline Davis and Elizabeth Lapovsky Kennedy
Homosexuality, Homophobia, and Revolution: Notes Toward an Understanding of the Cuban Lesbian and Gay Male Experience Lourdes Arguelles and B. Ruby Rich
Gay Politics and Community in San Francisco Since World War II John D'Emilio

Notes
Notes on Contributors

Back to Top