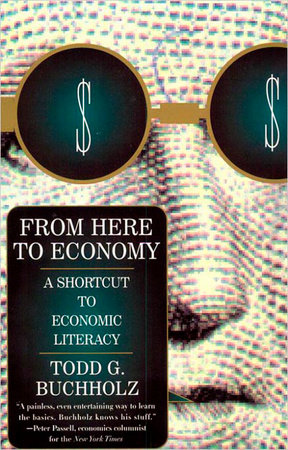 From Here to Economy
A Shortcut to Economic Literacy
A Shortcut to Economic Literacy
By Todd G. Buchholz

By
Todd G. Buchholz
By Todd G. Buchholz

By
Todd G. Buchholz
Best Seller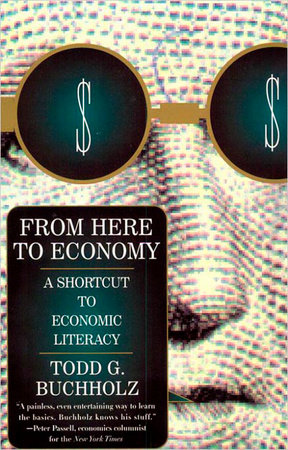 May 01, 1996
|
ISBN 9780452274822
Inspired by Your Browsing History
Buy other books like From Here to Economy
Praise
"A painless, even entertaining, way to learn the basics. Buchholz knows his stuff."—Peter Passell, Editor, The Milken Institute Review
 
"[A] humorous version of Econ 101."—Publishers Weekly
 
"An interesting overview of the economics world…  manages to combine sound economics with an entertaining writing style."—Foundation for Economic Education (FEE)

Praise for New Ideas from Dead Economists

"If you read only one economics book this year, read this one."—Larry Summers
 
"Outstanding… fun to read."—The Wall Street Journal
 
"This wide-ranging survey of economic thought combines a witty and clear exposition with a high degree of accuracy."—Milton Friedman
 
"Precious few books… on any academic subject succeed at being witty and amusing. This is one of them. Bravo!"—William F. Buckley, Jr. 


Table Of Contents
Acknowledgments
Introduction

Part One. How's the Economy Doing? Macroeconomics
1. The Big Picture
2. Uncle Sam the Debtor: Deficits and Fiscal and Monetary Policy

Part Two. The Economist's Toolbox: Microeconomics
3. The Very Model of a Modern Major Market: Microeconomics
4. Applying Microeconomics to Major Markets: Advertising, Education, the Environment, Health Care

Part Three. The International Scene
5. Border Crossings: International Trade
6. Money Makes the World Go Round: Currencies and Finance

Part Four. Making a Buck: Business Finance and Personal Investing
7. Going for Broke: How Businesses Finance Themselves
8. Taking Stock of Personal Investments

Part Five. A Tourist's Guide to the History of Economic Thought
9. They Shoot Economists, Don't They? Great Economists and Schools of Thought

Conclusion

Appendix: Greatest Hits of Economics
Notes
Suggested Readings
Index

Back to Top