Fingersmith Reader's Guide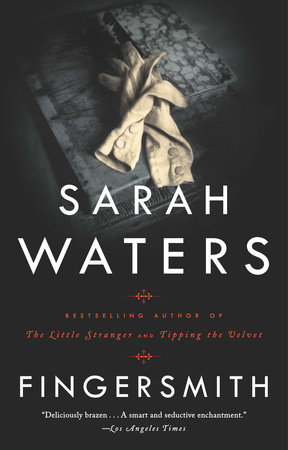 Fingersmith Reader's Guide
READERS GUIDE
Questions and Topics for Discussion
INTRODUCTION

Sue Trinder is an orphan, left as an infant in the care of Mrs. Sucksby, a "baby farmer," who raised her with unusual tenderness, as if Sue were her own. Mrs. Sucksby's household, with its fussy babies calmed with doses of gin, also hosts a transient family of petty thieves—fingersmiths—for whom this house in the heart of a mean London slum is home.
One day, the most beloved thief of all arrives—Gentleman, a somewhat elegant con man, who carries with him an enticing proposition for Sue: If she wins a position as the maid to Maud Lilly, a naïve gentlewoman, and aids Gentleman in her seduction, then they will all share in Maud's vast inheritance. Once the inheritance is secured, Maud will be left to live out her days in a mental hospital. With dreams of paying back the kindness of her adopted family, Sue agrees to the plan. Once in, however, Sue begins to pity her helpless mark and care for Maud Lilly in unexpected ways….But no one and nothing is as it seems in this Dickensian novel of thrills and surprises.
The New York Times Book Review has called Sarah Waters a writer of "consummate skill" and The Seattle Times has praised her work as "gripping, astute fiction that feeds the mind and the senses." Fingersmith marks a major leap forward in this young and brilliant career.
ABOUT SARAH WATERS
Sarah Waters, 35, was born in Pembrokeshire, South West Wales, United Kingdom. She studied English Literature at the undergraduate and postgraduate levels, at the universities of Kent and Lancaster. As a student she lived for two years in Whitstable, the sea-side town—famous for its oysters—in which her first novel, Tipping the Velvet, is partly set. In 1988 she moved to London; her first full-time job was in an independent bookshop; later she worked in public libraries. In 1991 she decided to return to postgraduate study, and she spent the next three years writing a PhD thesis, on lesbian and gay historical fiction. She developed a daily writing routine, and a passion for language and composition. She had articles on gender, sexuality and history published in various scholarly journals, including Feminist Review, Journal of the History of Sexuality, and Science as Culture.
But while working on her thesis, and becoming increasingly interested in London life of the nineteenth century, Waters began to conceive the historical novel that would become Tipping the Velvet. With the thesis complete, and supporting herself with bits of teaching and part-time library work, she started to write. The novel was finished in just over a year, and was published in the U.K. by Virago (1998) and in the U.S. by Riverhead (1999).
The British Broadcasting Corporation (BBC) is in the process of adapting the book into a major series with director Andrew Davies, who also directed the BBC's adaptation of Jane Austen's Pride and Prejudice and Anthony Trollope's The Way We Live Now.
By 1991, Waters had already begun her second novel, Affinity. This was completed with help from a London Arts Board New London Writers Award, and appeared in the U.K. in 1999 and in the U.S. in 2000. Waters taught for a time for the Open University, a national educational institution offering undergraduate schooling to mature students from a range of social backgrounds. She has also tutored on creative writing programs. She published articles on literature as recently as 1999, but now devotes herself full time to the writing of fiction. Her third novel, Fingersmith, was completed in 2001, and she is currently at work on her next book. She still lives in London, a city she finds endlessly inspiring; but she dreams, too, of returning to a life by the sea.
DISCUSSION QUESTIONS
At the start of her story, Sue Trinder claims: "I was Mrs. Sucksby's child, if I was anyone's." Is this true? Why or why not? Might she still make the same claim by the end of her saga?
 
"Everything that came into our kitchen looking like one sort of thing, was made to leave it again looking quite another," Sue says of Mrs. Sucksby's kitchen (p.10). At Briar, she finds unbearable "two-facedness" on the part of the servants, "all on the dodge in one way or another." (p.83) Compare and contrast the two households. In what ways does each reinforce the activities of its inhabitants?
 
Deceptive appearances are a recurring theme throughout the novel. Is anything about Maud what it seems to be? What about Gentleman? Mr. Lilly? Why do you think the author chose to come at the story twice, from two separate points of view? Is Sue's perception of the situation more or less "real" than Maud's? Why or why not?
 
Sue and Maud initially appear to be almost perfect opposites: where Sue's hands are toughened by work, Maud's are smooth and childlike; where Sue is illiterate, Maud does nothing but pore over books. In what ways do the scale and nature of their differences change as the novel progresses? In what ways have they grown alike by the end of their story? How are they different?
 
Sue and Maud's relationship progresses through many incarnations. Discuss the manifestations of their relationship: how do they fulfill and surpass their roles as villain and victim? Servant and master? Caretaker and dependant? How do their transitions alter their destiny?
 
What effect has her occupation in her uncle's library had on Maud's psyche? Is she capable of distinguishing between the content of the books and her own sexuality? What does her brutal treatment of Agnes indicate? How has she evolved by the time she returns to Briar at the end of the novel?
 
Sue's imprisonment in the asylum echoes Maud's incarceration at Lant Street, as well as her earlier situation at Briar. Discuss the ways in which gender and constraint are demonstrated—and challenged—in their respective characters. In what ways is the desire for "rare and sinister liberty" (p. 210) at the heart of both Maud and Sue's actions?
 
Do you think Sue's recollection of her earliest memory ("I remember seeing…how the world was made up: that it had bad Bill Sykeses in it, and good Mr. Ibbses; and Nancys, that might go either way. I thought how glad I was that I was already on the side that Nancy got to at last.—I mean, the good side, with sugar mice in.") would be altered by her experiences? In spite of all the deceptions she has undergone, does she still regard "good" and "bad" so clearly? Why or why not?
 
What does this novel ultimately say about the relationship between morality and love?
Back to Top