Standing in the Rainbow Reader's Guide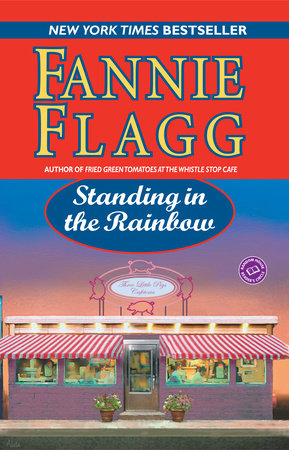 Standing in the Rainbow Reader's Guide
READERS GUIDE
Questions and Topics for Discussion
1. The novel starts in the immediate aftermath of World War II. How does the period compare with the times following more modern wars—Vietnam, Gulf War, Desert Storm, etc.?
2. In what ways is Bobby the typical pre-teenage son?
Does he differ in any important details? Does his active imagination hamper him, confuse him, or fuel his ambitions?
3. In what ways is Neighbor Dorothy a good neighbor? What makes her such an effective seller of her sponsors' products or services?
4. Does Neighbor Dorothy speak through the silences surrounding some farmers' wives—the silent or the working-all-day husband, for example. Or the limited view the nation had of housewives at that time? Or perhaps the distance between towns and cities and countryside? Was this the loneliness that can come with working alone in a house almost all the time?
5. How does Dorothy succeed in making small events into larger ones—an anniversary, the birth of a kitten, some honor bestowed in school or church, one of the ordinary
recognitions?
6. Is the humor in the novel satire—or not?
7. How does Hamm break out of the tractor salesman category?
8. How does he use his salesmanlike skills to win the young woman who becomes his wife?
9. Hamm eventually takes on a mistress and advisor. How does Vita not fit into the usual Other Woman mold? We see their relationship grow—but what of that between his wife and his mistress?
10. With all the evidence of "dysfunctional" families these days, why do some marriages in the novel work out so well?
11. Why do you think the author begins the novel with Tot, the voice of one of the minor characters?
12. The Oatman family of gospel singers: Do they reveal a "hidden" aspect of American culture (hidden, that is, unless you grew up with such entertainments and forms of worship)? What other pockets of American life are almost invisible to white, middle-class, urban Americans?
13. Hamm's politics seem to be a bit all over the place. He's not a true conservative or liberal; he's not a true demagogue or, on the other hand, a true blue Boy Scout, or without endless ambition. At what point does he leave off being a populist do-gooder and let ambition take over? Is the process gradual or sudden?
14. Because of the author's attitude toward her characters and presumably the world, some might call this a feel-good novel. In what ways does she allow some of the harsher realities to creep in?
15. Is small-town life any better per se than city life?
16. Is the Midwestern small town indistinguishable from the Southern small town in Fried Green Tomatoes, for example?
17. The decade of the '50s occurs in the middle of the novel. It was the time of the Eisenhower presidency, the end of the war in Korea, etc. For years, much of the
intelligentsia portrayed those years as dull ones, uneventful, complacent, unremarkable. Later, there was a revision in opinion. They were special years of peace (despite the Cold War), stability, growth, etc. What is your opinion?
18. Aunt Elner, Norma, Macky . . . Can you think of counterparts in real life? Do you know a character or two who exhibit some of their characteristics?
19. Do you agree that Aunt Elner would have made a good governor? Or that Poor Tot would make a splendid Secretary of Health and Human Services?
20. If you're a woman, don't you wish you could find a nightgown just like the one Macky so admired on Norma? What did it do for her?
21. How would you like a two-week vacation, all expenses paid, in Elmwood Springs, "The Most Middle Town in America." How would you spend the time?
22. Transformations occur with fair frequency in the lives of these characters. Can you name some? Do you know of similar transformations in your own life experience?
23. "You can't go home again," wrote Thomas Wolfe, famously. Bobby tries it with mixed results. But can you ever get away from home, no matter how far you travel?
24. Macky eases into retirement only to find that everything rubs him the wrong way. But one gift, one wonder of modern technology, changes all that. What was it? And has that invention done the same for you?
25. How would you write the next chapter, beyond the ending of the novel, to see the surviving characters through the next phase of their lives?
Back to Top