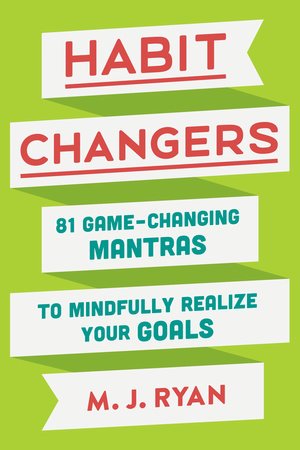 Habit Changers
81 Game-Changing Mantras to Mindfully Realize Your Goals
81 Game-Changing Mantras to Mindfully Realize Your Goals
By M.J. Ryan

By
M.J. Ryan
By M.J. Ryan

By
M.J. Ryan
Best Seller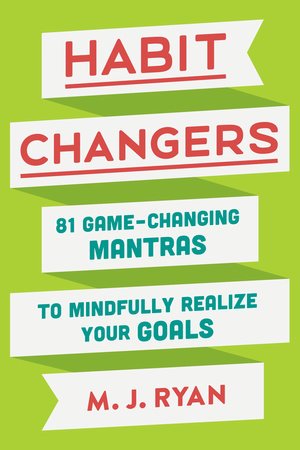 Sep 20, 2016 | ISBN 9780451495402
Praise
"If you're ready to live a fearless, awesome life, Habit Changers will help you take control of your destiny and be the badassiest version of yourself, every day. Ryan's techniques are easy to jump into and they work." -Jen Sincero, New York Times Bestselling author of You Are a Badass
 
"This book has had the delightful effect of giving me something insightful within the first 60 seconds of picking it up as well as making me return to it often. Don't let the simplicity of the guide trick you into thinking it's not profound. This is a book with that special simplicity on the other side of complexity that should also be applauded–and read." Greg McKeown, author of the New York Times bestseller, Essentialism: The Disciplined Pursuit of Less.

"Happiness is a choice, but it requires practice to maintain. MJ Ryan's insightful book serves to remind us how easily we can create a practice of incorporating effective positive thought patterns into our daily life."  –Shawn Achor, happiness researcher and NYTimes bestselling author of Before Happiness  

"Habit Changers is a game changer. In place of the predictable but worn and ineffective affirmations, MJ Ryan has created a novel new tool in the armamentarium of change tools… Like me, you'll be inspired to craft your own, practice and finally reap the rewards lasting change will bring" –Pam Peeke MD, MPH, FACP, FACSM , and NY Times bestselling author of Fight Fat after Forty, Body for Life for Women, and The Hunger Fix

"This book is killer–it's a keep by your desk, keep by your bed, career coach, therapist, and mentor rolled into one.." –Caroline Ghosn, CEO, The Levo League

" From 'trust your inner GPS' to 'presume goodwill,' these slogans are simple, memorable and remarkably effective. Changing a habit requires going beyond intention to embrace tactics that enable you to consciously achieve your goals. This book will help you do just that, providing actionable strategies that you can quickly incorporate into your daily routine."–Fran Hauser, Partner at Rothenberg Ventures and former President of Digital Time Inc.
Back to Top