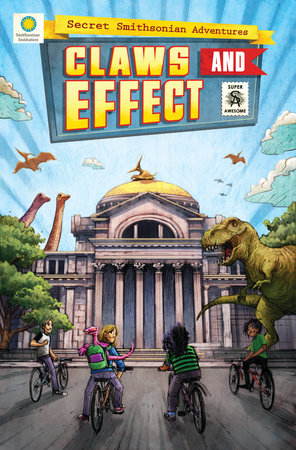 Claws and Effect
By Chris Kientz and Steve Hockensmith
Illustrated by Lee Nielsen

By
Chris Kientz

and

Steve Hockensmith


Illustrated by

Lee Nielsen




Best Seller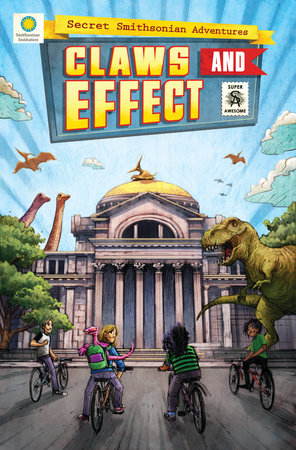 Paperback
Oct 18, 2016 | ISBN 9781588345677
Paperback

$10.95

Oct 18, 2016 | ISBN 9781588345677 | Middle Grade (8-12)
*This title is not eligible for purchase to earn points nor for redemption with your code in the
Reader Rewards
program
Buy the Paperback:
Inspired by Your Browsing History
Also in Children's Middle Grade Books
Praise
BOOKLIST
Middle-school classmates Dominique, Eric, Josephine, and Ajay return home from their first Smithsonian time-travel adventure to find dinosaurs all over their neighborhoods. When they return to the Smithsonian, the Museum of Natural History is now the Museum of Extinction. They go back in time to the 1876 Philadelphia Exhibition, where they discover the dastardly Barris brothers have brought live dinosaur eggs from the past. The friends enlist the help of William Foulke, a young Nellie Bly, and Alexander Graham
Bell to stop the Barris' plot. This volume provides another rollicking adventure with colorful art, a diverse cast, and fun details, such as the introduction of root beer, in 1876. The book includes more information about Foulke and his dinosaur at the Philadelphia Exhibition, but readers will likely want to learn more about Nellie Bly, since the kids hint at her future as a journalist. Hopefully, readers will see that history is so much more than a bunch of facts and figures as they learn about dinosaurs and fossil hunting in nineteenth-century America.

SCHOOL LIBRARY JOURNAL
Gr 5-8–Schoolmates Dominique, Eric, Josephine, and Ajay return from their first time-travel adventure to find that dinosaurs are alive and well in the modern age and roaming their neighborhoods. The kids head back to the Smithsonian to figure out why, and they find that the National Museum of Natural History has undergone a name change: it's now known as the Museum of Extinction. The only way to sort out the problems in the present is to travel to the past, so the schoolmates go to the 1876 Philadelphia Exhibition, where the Barris brothers are planning to profit from selling dinosaur eggs. Enlisting the help of notable historical figures such as Alexander Graham Bell, Nellie Bly, and William Foulke, the children set history back on course. The pacing is reminiscent of children's television programming. The artwork has a cartoon style that will appeal to the intended audience in its animation-inspired look and layout. The technology and time-travel rules are not fully explained in this volume, so readers will want to be familiar with the first installment. This is a series that should be read in order of publication and one that should be purchased in its entirety. The characterizations require readers to suspend disbelief a bit, as the children are all-knowing in many subject areas, from dinosaurs to historical figures. This graphic novel would be a great read-alike for fans of David Shapiro's "Terra Tempo" graphic novel series and may be a good fit for "Magic Tree House" fans to grow into. VERDICT Highly recommended for those seeking titles that incorporate STEM themes. A solid purchase for both school and public library collections of all sizes.–Samantha Lumetta, Public Library of Cincinnati and Hamilton County.

"Fantastic for elementary-aged kids who love adventure, museums, history, or time travel." –GeekDad

FOREWORD

Combining the colonial with the cretaceous, co-authors Chris Kentz and Steve Hockensmith cook up a smart new adventure in Claws and Effect. On their way home from the Smithsonian National Air and Space Museum—and first-time travel experience—classmates Ajay, Josephine, Eric, and Dominique can't help but notice that their neighborhood is overrun with dinosaurs, and no one seems concerned. Using data access retrieval conduits, or "DARCs," in the shape of wristwatches, the gang is sent back in time to America's first World's Fair in Philadelphia, 1876, where "someone's messing with history."
 
Picking up where The Wrong Wrights: Secret Smithsonian Adventures #1 left off, Claws and Effect jumps right into action that follows the continuous trail of destruction left by the greedy Barris brothers and their scheming cohorts, this time centered around the National Museum of Natural History. With a little assistance from some "hypno-glass" and fellow fair-goers Alexander Graham Bell and a young Nellie Bly, the dangerous repercussions of shifted time are slowly set to rights.
 
Containing enough dinosaur facts and trivia to appease even the most hardcore Jurassic fans, a counterbalance is found in the historical connection to William Foulke, and the rise of paleontology and future fossil finders, giving the story a broader scope and perspective. Illustrations from Lee Nielson, in the classic graphic-novel style, further meld the clothing and styles of the late 1800s with prehistoric visitors and a group of thoroughly modern middle schoolers. An entertaining and imaginative adventure with brains, the Secret Smithsonian Adventure series is sure to please students and teachers alike.


Back to Top