The Matchmaker's List Reader's Guide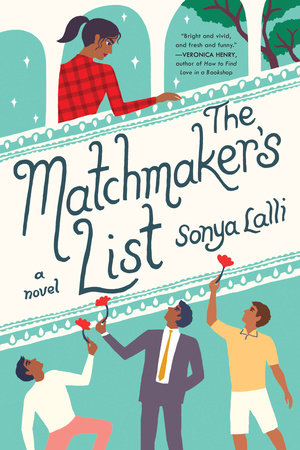 The Matchmaker's List Reader's Guide
READERS GUIDE
Readers Guide for THE MATCHMAKER'S LIST
Questions for Discussion
1. Why do you think Raina agrees to let her nani play matchmaker? If you were in Raina's situation, would you let your grandmother (or another family member) set you up?
2. In chapter one, Raina thinks "a man unmarried in his thirties was fine—but for me, it wouldn't be." Have you ever experienced a similar double standard in your own life?
3. Raina's first matchmaking date is with Vishal, who agrees to meet her because he is afraid to stand up to his mother about his relationship with a non-Indian woman. Do you think this sort of thing happens a lot?
4. What date was your favorite? Why?
5. Raina is under so much pressure to get married, she lets her nani believe she is gay to avoid having to go on more dates. Do you sympathize with her in any way, or do you think she is wrong to lie to her grandmother?
6. Why do you think Shaylee is so upset that Raina has been drifting away from her, especially when she learns that Raina has been lying about her sexuality to others? Would you ever resort to such behavior with your best friend to avoid confronting the problems between you?
7. Although hurt, Depesh ultimately forgives Raina for lying to him. Do you think she deserves to be forgiven?
8. Raina has a very close relationship with her nani. What in their family history has made them this way?
9. Why do you think Raina holds on to Dev for so long and is so resistant to considering a non-Indian man like Asher? Do you think Raina and Asher are a good match?
10. Do you think it is a good idea for Raina to quit her job before she knows what she wants to do next? Why do you think she works so hard as an investment analyst, even though her heart is never in it?
11. Why do you think Auntie Sarla and others in Raina's community are slow to understand and support homosexuality? Are there similar divides in social attitudes and awareness within your community?
Back to Top