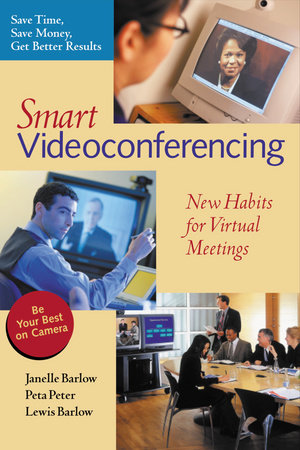 Smart Videoconferencing
New Habits for Virtual Meetings
By Janelle Barlow, Peta Peter and Lewis Barlow

By
Janelle Barlow

,

Peta Peter

and

Lewis Barlow




Best Seller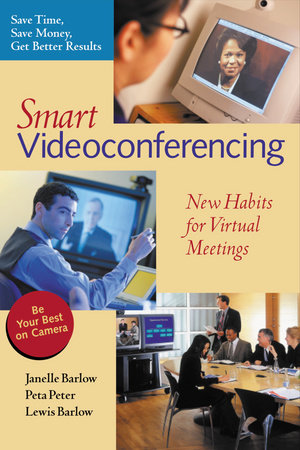 Paperback
Sep 02, 2002 | ISBN 9781576751923
Paperback

$18.95

Sep 02, 2002 | ISBN 9781576751923
*This title is not eligible for purchase to earn points nor for redemption with your code in the
Reader Rewards
program
Buy the Paperback:
Inspired by Your Browsing History
Praise
"This book provides unique and pragmatic insight into communication using videoconferencing. In today's world where many are trying to define new strategies to deal with geographic separation and time sensitive issues, Smart Videoconferencing is essential reading."
—CRAIG DINSELL, EXECUTIVE VICE PRESIDENT, OPPENHEIMER FUNDS

"Smart Videoconferencing is so full of wit and wisdom, it should be read by every executive whether or not they ever use videoconferencing. Janelle Barlow, Peta Peter, and Lewis Barlow have compiled not only the most intelligent and most readable book on this subject, they've also brought together the most extraordinarily useful set of tips on public appearance etiquette I've ever read. This book may also be one of the funniest business books in recent memory. Many of the stories that accompany each of the authors' dozens of tips are so hilarious they'll make you laugh out loud. And the pronunciation guide at the end of the book is alone worth the price of purchase. I know you'll love this book as much as I did!"
—JIM KOUZES, COAUTHOR, THE LEADERSHIP CHALLENGE AND ENCOURAGING THE HEART, CHAIRMAN EMERITUS, TOMPETERS! COMPANY

"With this book the authors have been able to create the perfect guide on how, when, and for what to use videoconferencing. Smart Videoconferencing clearly states all shortcomings people have encountered using any method of conferencing. If I had had this book five years ago, I might have had a positive attitude toward videoconferencing."
—PAUL SPIERINGS, TECHNICAL SERVICES MANAGER, BRITISH TELECOM IGNITE SOLUTIONS, AMSTERDAM

"Unless you've read Smart Videoconferencing, the results of your next videoconference will either be (1) memorable, (2) without impact, or (3) so bad it is now a part of your legacy. This handbook guarantees your results. A 'must' read for every executive." —THOMAS GRISSEN, COO, MAXIMUS"A significant contribution to the world of communication. The book is cogent, informed, and very readable. A must for all businesspeople."
—GRANT D. MELDRUM, SENIOR VICE PRESIDENT, THE ZIMMERMAN AGENCY

"This book is a must-read for anyone curious about videoconferencing or seriously planning to do more with it. Application of the concepts here can save you untold problems from mispronouncing words, goofs on screen, and more. It is filled with practical, real-world examples that can help you avoid problems that others, even celebrities, have encountered."
—TERRY L. BROCK, "TECHNOLOGY TOOLS" AND "CYBERSENSE" COLUMNIST

"Smart Videoconferencing, very enjoyable to read with its amusing anecdotes to illustrate its points, dispels the myths and technical complexity of VC in a user-friendly guide. This book will make a busy executive's life immensely easier and less stressful."
—NIGEL ROBERTS, GENERAL MANAGER, GREAT EAGLE HOTEL, HONG KONG

"If your company uses videoconferencing or is considering this technology, read this book! Smart Videoconferencing gives executives all the tools they need to look and sound their best in this new medium."
—KAREN LAM, PRESIDENT, COMPASS INTERNATIONAL

"Smart Videoconferencing takes you step by step through the do's and don'ts of this powerful media. If you want to master videoconferencing, you must read this book."
—NIALL MURRAY, DIRECTOR OF TRAINING AND DEVELOPMENT, THE VENETIAN RESORT, HOTEL, CASINO

"I didn't realize how much I didn't know about videoconferencing etiquette. I went from clueless to confident in one plane ride!"
—JENNIFER WIMMER, EVENTS COORDINATOR, PIONEER INVESTMENT MANAGEMENT, INC.

Table Of Contents
Preface
Acknowledgments
Introduction

PART ONE: WHAT'S IT ALL ABOUT?
1 Videoconferencing: A Twenty-First Century Business Tool
2 Why New Habits Are Needed
3 Limitations of Videoconferences

PART TWO: HABIT 1—LEVERAGE YOUR CHOICES
4 Should Your Meeting Be a Videoconference?
5 The Demands of Videoconferences
6 Videoconference or Face-to-Face Meeting?
7 Videoconference or Teleconference?

PART THREE: HABIT 2—THINK PRIME TIME
8 Preparation
9 Interesting Agendas
10 Setting Personal Agendas
11 Getting a Great Start
12 Moderators
13 Question Handling
14 Importance of Participation
15 Watching Your Time
16 International Videoconferences
17 Strong Closings
18 Following Up
19 Lessons Learned

PART FOUR: HABIT 3—MAKE TECHNOLOGY YOUR FRIEND
20 Microphones
21 Cameras
22 TelePrompTers
23 Lighting
24 Taping
25 Documents
26 Murphy's Law

PART FIVE: HABIT 4—MAXIMIZE YOUR PRESENCE
27 No Food, No Gum
28 Distractions
29 Patterns and Colors in Your Clothing
30 Anger and Other Negative Emotions
31 Assume You're Live
32 The Importance of Being on Time
33 When You Are on a Panel or Part of a Group
34 Makeup
35 If You Are Sick
36 Jewelry
37 Your Voice
38 Controlling Your Nerves
39 Your Eyes
40 Your Hair
41 Your Clothing
42 Grooming
43 Your Gestures

PART SIX: FINAL CONSIDERATIONS
44 A Videoconference Checklist
45 A Legal Caveat
46 The Future of Videoconferencing
Appendix A Storyboarding
Appendix B Commonly Mispronounced Words
Notes
Bibliography
Useful Terms to Know
Index
About the Authors
Back to Top