Sidle Creek Reader's Guide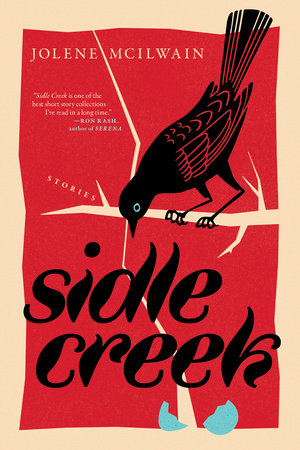 Sidle Creek Reader's Guide
READERS GUIDE
SIDLE CREEK
Jolene McIlwain
Trade Paperback Original 978-1-68589-041-4
eBook 978-1-68589-042-1
"She can write. Not an easy story but a deeply satisfying one."
—Dorothy Allison, author of Bastard Out of Carolina INTRODUCTION
Set in the bruised, mined, and timbered hills of Appalachia in western Pennsylvania,
Sidle Creek
is a tender and truthful exploration of a small town and the people who live there, told by a brilliant new voice in fiction.
In
Sidle Creek
, McIlwain skillfully interrogates the myths and stereotypes of the mining, mill, and farming towns where she grew up. With stories that take place in diners and dive bars, town halls and bait shops, McIlwain's writing explores themes of class, work, health, and trauma, and the unexpected human connections of close-knit communities.
With an alchemic blend of taut prose, gorgeous imagery, and deep sensitivity for all of the living beings within its pages,
Sidle Creek
will sit snugly on bookshelves between Annie Proulx, Joy Williams, and Louise Erdrich.
CONVERSATION STARTERS


1. Several of the stories in
Sidle Creek
touch upon issues of infertility, miscarriage, or stillbirth (such as "Seeds," "Drumming," "Seed to Full," "Shell," "You Four Are the One," "Sidle Creek," and "The Steep Side"). How does each story illustrate the ways we avoid or embrace these topics, and how do the specific characters deal with them?
2. In "Loosed," Luke Abraham exploits his children for financial gain. Is there anything redeeming about him as a character?
3. The food we eat and how it's prepared says a lot about family, class, and overall way of life. What did you learn about the characters in
Sidle Creek
from what they ate?
4. In the world of the
Sidle Creek
, superstition and otherworldly events are the norm for some characters – think of the eggshells in "Shell," the superstitions in "You Four Are the One," or the repeated references to Crazy Miss Jean the clairvoyant. How do these tools of superstition and belief in the supernatural function in the stories? Why do the characters rely on these tools?
5. At least three of the stories are written in mosaic or fragmented form ("Sidle Creek," "The Less Said," and "The Steep Side"). How does the structure in each enhance the storytelling? How would they be different if they were told in a conventional linear narrative?
6. If you were to continue the story "Those Red Boots," how would you resolve the characters' dilemmas, specifically for Reese, Arnie, Mr. Singleton, and Gavin?
7. Some of these stories present clashes between rural and urban communities. What do these depictions say about these communities? Do any of these stories offer a sense of hope for collaboration between the two?
8. What roles do animals play in the stories of
Sidle Creek
? Consider "Fractal Geometry of Grief," "Shell," "Steer," "Loosed," "You Four Are the One," "The Less Said," and "The List." Are animals endowed with any symbolic or allegorical properties?
9. How do issues of class shape the characters' lives throughout
Sidle Creek
?
10. The world of
Sidle Creek
is often violent and despairing. Are there characters who transcend misery by helping others? What do the stories say about the moral universe of America?
ABOUT THE AUTHOR
Jolene McIlwain
's fiction has been nominated for the Pushcart Prize and appeared in numerous literary journals, and in 2019's
Best Small Fictions Anthology
. Her work was named finalist for 2018's Best of the Net,
Glimmer Train
's and
River Styx
's contests, and was a semifinalist in
Nimrod
's Katherine Anne Porter Prize. She's taught literary theory/analysis at Duquesne and Chatham Universities and worked as a radiologic technologist before attending college (BS English, minor in sculpture, MA Literature). She was born, raised, and currently lives in a small town in the Appalachian plateau of Western Pennsylvania.
MORE TO DISCOVER

Find more resources for your book club at www.mhpbooks.com.
Back to Top