A Spot of Bother Reader's Guide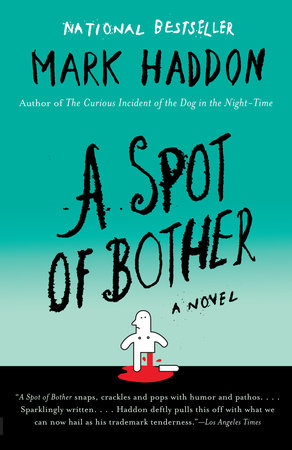 A Spot of Bother Reader's Guide
READERS GUIDE
"
A Spot of Bother
snaps, crackles, and pops with humor and pathos. . . . Sparklingly written. . . . Haddon deftly pulls this off with what we can now hail as his trademark tenderness."
—
Los Angeles Times
The questions, discussion topics, and suggestions for further reading that follow are designed to stimulate your group's discussion of
A Spot of Bother
, Mark Haddon's astonishing follow-up to his international bestseller,
The Curious Incident of the Dog in the Night-Time
, winner of the Los Angeles Times Book Prize for First Fiction and the Whitbread Book of the Year Award.
Introduction
In Mark Haddon's laugh-out-loud new novel,
A Spot of Bother
, a simple backyard wedding threatens to send George Hall over the brink of insanity. George's daughter Katie has decided to marry Ray, a prospect that forces each family member to oscillate between mild apprehension and outright terror. Katie's first marriage ended in disaster; the perfect Graham turning out to be far from it. But her new choice, Ray, is even more unsuitable. Meanwhile, George's wife, Jean, is engaged in a passionate love affair with his former co-worker, and George's son, Jamie, is so concerned that his father disapproves of his lifestyle that he refuses to invite his boyfriend to the wedding. Amidst all this, George Hall discovers a lesion on his hip, convinces himself he's dying of cancer, and quickly begins to lose his mind.
A Spot of Bother
manages to combine wild humor and romantic intrigue with a poignant depiction of aging, illness, and the fear of death. George is consumed by the idea that he has cancer, despite much evidence to the contrary. He has detached himself from any real emotional engagement, settling into a clichéd retirement from household projects, neglect of his wife Jean, and a loneliness he himself can't admit to. But over the course of the novel, all of the Halls—George, Jean, Jamie, and Katie—learn that they must face themselves and the reality of their lives more honestly if they are to salvage their relationships.
This is a rare novel that is as entertaining as it is enlightening, delivering insightful truths about love, family, and what it takes to keep one's sanity intact. Readers will find themselves torn between the book's page-turning narrative pull and the desire to slow down and savor each sentence.
Questions and Topics for Discussion
1. What methods does Haddon use to create the tremendous narrative energy of A Spot of Bother? How do chapter lengths, paragraph lengths, and the predominance of dialogue affect the pace of the novel?
2. A Spot of Bother takes the form of a romantic comedy in which a couple must overcome a series of obstacles before they can be married. What internal and external obstacles must Katie and Ray overcome? To what degree do Jamie and Tony and George and Jean have to overcome similar obstacles?
3. What are some of the most humorous moments in A Spot of Bother? What makes them so funny?
4. While he's playing with Jacob and Ray, George thinks that "if he could find the handle he might be able to open up the secret door and slide down that long chute all the way back to childhood and someone would take care of him and he would be safe" [p. 23]. Why does George feel this desire to return to the safety of childhood?
5. Jamie, Jean, and George (and even, at times, Katie) initially regard Ray with suspicion, mild contempt, and outright dislike. Why do they come to accept and appreciate him over the course of the novel? Does Ray himself change or do their perceptions of him change?
6. In what ways are the Halls a typical family? In what ways are they unusual? How does their family dynamic change over the course of the novel?
7. Why doesn't George tell anyone after he sees his wife having sex with David? Why doesn't he confront Jean? What are the consequences of his thinking that he could put the image in the back of his mind where he hopes that after a time it will "fade and lose its power". [p. 127]?
8. George tells Katie: "I've wasted my life. . . . Your mother doesn't love me. I spent thirty years doing a job that meant nothing to me. And now . . . it hurts so much" [p. 138]. Has George wasted his life? Is this feeling the source of his mental unraveling?
9. A Spot of Bother is a deeply comic and at times farcical novel. But it is also a novel about the fear of death. How does George try to manage his fear of dying?
10. Why does Katie fall in love with Ray only after the wedding has been called off? Is theirs likely to be a good marriage? Why do Jamie and Jean similarly realize the true worth of their relationships only after they seem to be lost?
11. Near the end of the novel, Ray says: "Eventually you realize that other people's problems are other people's problems" [p. 346]. Is this a wise or a selfish way of looking at things? In what ways is it relevant to what's happened in the novel itself? What does it reveal about Ray that no one had really noticed before?
12. Jean thinks to herself: "Her life with George was not an exciting life. But wouldn't life with David go the same way eventually? . . . Perhaps the secret was to make the best of what you had" [p. 311]. In what ways do all the major characters in the novel come to realize the truth of this view?
13. After the various catastrophes of their wedding day have subsided, Ray tells Katie: "We're just the little people on top of the cake. Weddings are about families. You and me, we've got the rest of our lives together" [p. 302]. Why are weddings about families? What effects does Ray and Katie's wedding have on the Hall family?
14. At the very end of the book, George says: "it was time to stop all this nonsense" [p. 354]. What does he mean?
15. A Spot of Bother is very specifically about one family, but what larger truths about the human condition does it express?
About this Author
Mark Haddon
is the author of the international bestseller
The Curious Incident of the Dog in the Night-Time
, which won the Los Angeles Times Book Prize for First Fiction and the Whitbread Book of the Year Award. In addition to the recently published
The Talking Horse and the Sad Girl and the Village Under the Sea
, a collection of poetry, Haddon has also written and illustrated numerous children's books and received several awards for his television screenplays.
Suggested Reading
Kingsley Amis,
Lucky Jim
; Etgar Keret,
The Nimrod Flipout
; Mark Helprin,
Freddy and Fredericka
; David Lodge,
Therapy
; Claire Messud,
The Emperor's Children
; V.S. Naipaul,
A House for Mr. Biswas
; Flan O'Brien,
At Swim-Two Birds
; Gary Shteyngart,
Absurdistan
.
Back to Top