Not a Day Goes By Reader's Guide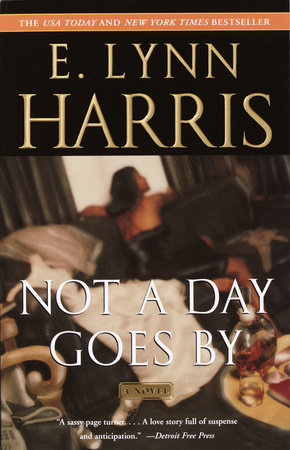 Not a Day Goes By Reader's Guide
READERS GUIDE
The questions, discussion topics, and the suggestions for further reading that follow are designed to enhance your reading group's discussion of
Not a Day Goes By
, a sassy, seductive novel by E. Lynn Harris, one of today's most popular commercial fiction writers. After making unforgettable appearances in Harris's bestselling Invisible Life trilogy, ex-football star John Basil Henderson and ambitious actress Yancey Harrington Braxton take center stage and really strut their stuff in
Not a Day Goes By
.
Introduction
John Basil Henderson has moved from gridiron to a gig as a broadcaster with ESPN, to a partnership in XJI (X Jocks, Inc.), one of the fastest-growing sports management agencies in the country. He has a New York City penthouse, a closet full of finely tailored suits, and a great investment portfolio. Best of all, he has Yancey Harrington Braxton. Before Yancey came along, Basil had spent months with a shrink, facing up to a past that included childhood abuse and an unrestrained (and unsettling) attraction to both women and men. A "perfect ten" and a woman with whom he can share almost all his secrets, Yancey has transformed the former bad boy into an eager groom-to-be.
Yancey Harrington Braxton–a statuesque 5'8" with talent to burn–is well on her way to becoming a Broadway diva. With several starring roles on her r?sum?, she enters a room with the style of a runway model–shoulders back, chest out–and a Miss America smile spread across her face. When she's not on stage, she's taking private lessons in acting, dance, and voice from the best teachers in New York and daydreaming about the Tony, Grammy, Emmy, or Oscar she knows is in her future. Success has even made it possible for Yancey to form a tentative friendship with her mother, who abandoned Yancey as a child to pursue her own acting career. And Yancey has certainly hit the jackpot in the man department. Not only does Basil understand the legacies of growing up in a dysfunctional family, he has, like Yancey, acquired a love for the finer things in life, and he has the desire–and the bank account–to give her anything she wants.
But in the weeks before the wedding–the event which Basil hopes will prove to the world exactly what kind of man he is and the magical moment Yancey has fantasized about all her life–the mistakes, mischief, and misdeeds they thought were long buried suddenly come back to haunt them. Two masters of manipulation, Basil and Yancey find themselves facing the ultimate challenge. As their schemes and strategies spin out of control,
Not a Day Goes By
takes the reader on a rollicking ride spiced with sex, scandal, unsettling surprises–and an inspiring dose of down-home wisdom.
Questions and Topics for Discussion
1. Why does Harris reveal the climax of the romance between Basil and Yancey in the very first chapter? How do his descriptions of Basil's and Yancey's behavior set the stage for the story that follows?
2. Is Basil's explanation of why he loves Yancey [p. 8] a convincing expression of what constitutes real love? Does his need to conceal parts of his past undermine the sincerity of his feelings for Yancey? How do his secrets compare to the secrets many lovers choose to keep from one another?
3. "Yancey loved Basil in her own way" [p. 16], Harris writes. How does Yancey's approach to love differ from Basil's? Is the compromise she makes ("It's okay to love, but never too hard, or too much" [pg. 16]) an inevitable outcome of her own upbringing? In what ways are the other things Yancey does "in her own way"–for example, sending autographed pictures rather than attending her high school reunion and refusing to work ordinary jobs to earn money [p. 13]–also a legacy of her childhood?
4. Why does Harris include "Basil's Rules to Keep the Knuckleheads Away from the Family Jewels" [pp. 21-22]? Does Basil take these rules seriously, or is he indulging in a bit of self-parody?
5. Windsor's personality and the life she leads contrast sharply with Yancey's. Are Yancey's reasons for giving Windsor a room only financial, or does Windsor offer other things Yancey wants, either consciously or subconsciously? What incidents show that Yancey needs Windsor more than she admits?
6. Basil describes the evenings he spends with his sister, Campbell, and her family as "a time when I could let my guard down" [p. 62]. Why is he more comfortable in his role as loving brother and uncle than he is as Yancey's lover or as a partner in the agency? Does his behavior with Campbell and Cade represent the man he really is?
7. What are the implications of Yancey's demand for a part on Sex and the City [p. 67]? Is the media guilty of perpetuating outdated ideas about race? Yancey believes that lighter-skinned African American women have an advantage in society in general and in the theater in particular. Does the way she looks and defines herself [p. 12] play into a prejudice she herself finds offensive?
8. The debate within XJI about hiring an openly gay partner also focuses on a current controversy. Is the upcoming magazine article the only reason Zurich finds it necessary to reveal his sexual orientation? What does Basil hope to accomplish by seeing Zurich alone after the meeting at XJI?
9. Confused about their sexuality, both Milo and Zurich sought help from their ministers, and in both cases, they were advised to get married [pp. 129-30]. Given the teachings of most churches about homosexuality, could their ministers have behaved differently?
10. Beyond the initial shock, how would you characterize Yancey's reaction to Derrick's revelation about their child? After his refusal to marry her, does Derrick's decision about their child represent a further betrayal of Yancey, or was he simply "doing the right thing"? What were his motives in keeping Madison's existence a secret from Yancey for so many years? What are his motives in asking her to become involved now if he doesn't love her?
11. At the beginning of the book, Basil says, "For me, Raymond stood on that thin line between love and hate" [p. 7], yet he asks Raymond to participate in his wedding. What light does his conversation with Raymond [p. 176] shed on Basil's state of mind on the eve of his marriage?
12. Ava's negative influence on Yancey is one of the major threads in the book. Does Ava have any real maternal affection for her daughter? Has she helped Yancey develop any admirable characteristics?
13. Basil and Yancey eventually discover each other's secrets through methods most people would consider highly unethical. Is the end result justified by the method of discovery? Both of them express anger, a sense of hurt and betrayal, and a desire for revenge in response to the information they uncover. Whose reaction do you find more sympathetic and why?
14. Basil's side of the story is told in his own voice, while Yancey's is presented through a third person narrative. How does this affect your impressions of each of them? Does it, perhaps unfairly, make you more sympathetic to Basil? Do you think Yancey's point of view is adequately captured? How might her own narrative differ from the third person account? From Basil's account?
15. If you have read Abide with Me, discuss the ways in which Basil differs from the person he was in that book. Both Basil and Yancey are complicated figures, sometimes arousing the reader's anger and outrage, sometimes eliciting strong feelings of sympathy. To what extent do they create trouble for themselves, and to what extent are they victims of other people, their backgrounds, or society in general? At the end of the book, have your feelings about Basil and Yancey changed from your first impressions? What purpose does the epilogue serve?
16. Harris uses a familiar phrase as his title. What words would complete the phrase to sum up Basil's and Yancey's individual views of the world?
About this Author
E. Lynn Harris
is a former computer sales executive with IBM and a graduate of the University of Arkansas. His previous books, all bestsellers, include
If This World Were Mine
, which won the James Baldwin Award for Literary Excellence, and
Abide with Me
, a finalist for the NAACP Image Award. He divides his time between Chicago and New York, and is currently working on his memoir.
From the Paperback edition.
Back to Top