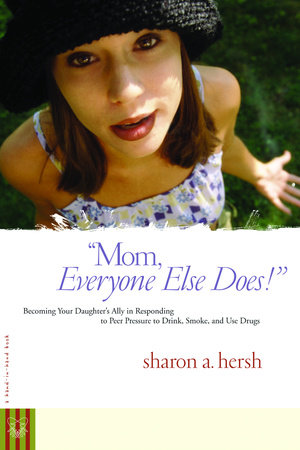 Inspired by Your Browsing History
Praise
Praise for "Mom, Everyone Else Does!"


"Real issues, true stories, and wise advice by a counselor and mom who's "been there."
If you have a teenage daughter, RUN buy "Mom, Everyone Else Does!". The mother-daughter questions throughout each chapter are worth the price of the whole book!"
–Susan Alexander Yates, author of And Then I Had Teenagers: Encouragement for Parents of Teens and Preteens

"My wife and I have been raised by two daughters and one son, and each struggled with the power of peer pressure. For that matter, we do too.  The perspective of one's community is a powerful force for good or ill, and this book is an honest and wise walk through the minefield of adolescent temptation.  Sharon Hersh is the guide I'd most want to help me name the war and encourage me to live well in the face of the struggle.  She has walked the same miles with her children, and as a brilliant therapist she has guided others like us with bold love and fierce compassion.  If you have daughters or sons, this is wisdom you cannot afford to miss."
–Dan B. Allender Ph.D., President, Mars Hill Graduate School and author of The Wounded Heart, Bold Love, How Children Raise Parents, and To Be Told

"Sharon Hersh, a trusted counselor, author, and mother, offers a wise, courageous, and practical guide for connecting and shaping the hearts of mothers and their daughters. If you are a mother of a teenage girl, this book will change you and your relationship."
–Scott Coupland, Associate Professor of Counseling, Reformed Theological Seminary

"I read everything Sharon Hersh writes. As the director of a large Christian counseling agency, I make her books a standard resource. In "Mom, Everyone Else Does!" Hersh dispels the myth of protection Christian parents cling to and helps us confront the realities of today's addiction-prone world. By speaking to both moms and daughters, Sharon seeks to build a strong relationship in sound, practical ways that work. When it comes to teenage peer pressure, this book will help you become your daughter's strongest ally!"
–Gregory L. Jantz, Ph.D., Certified Eating Disorder Specialist and Founder of The Center for Counseling & Health Resources, Inc.
Back to Top