The Attack Reader's Guide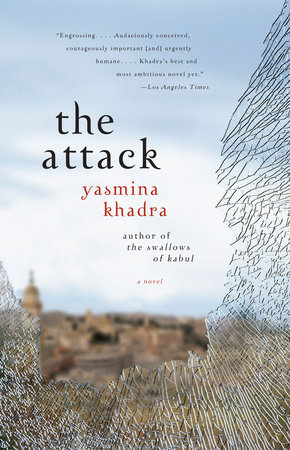 The Attack Reader's Guide
READERS GUIDE
NATIONAL BESTSELLER
"Engrossing. . . . Audaciously conceived, courageously important [and] urgently humane,
The Attack
is Khadra's best and most ambitious novel yet."
—
Los Angeles Times
The introduction, discussion questions, suggestions for further reading, and author biography that follow are intended to enhance your group's reading of
Yasmina Khadra's
The Attack
, the timely and haunting novel from the bestselling author of
The Swallows of Kabul
.
Introduction
Dr. Amin Jaafari is an Arab-Israeli surgeon at a hospital in Tel Aviv. As an admired and respected member of his community, he has carved a space for himself and his wife, Sihem, at the crossroads of two troubled societies. Jaafari's world is abruptly shattered when Sihem is killed in a suicide bombing.
As evidence mounts that Sihem could have been responsible for the catastrophic bombing, Jaafari begins a tortured search for answers. Faced with the ultimate betrayal, he must find a way to reconcile his cherished memories of his wife with the growing realization that she may have had another life, one that was entirely removed from the comfortable, modern existence that they shared.
Questions and Topics for Discussion
1. What was your reaction to the novel's powerful opening scene? How did your perception of this scene shift as the narrator's life later unfolded for you?
2. What were your initial perceptions of Amin and Sihem's marriage? Whom did you trust during the interrogation in chapter four?
3. Why does Kim remain so supportive of Amin? In what way is her friendship different from Navid's? Why are they more patient with him than most of their colleagues are?
4. Discuss the very concept of an attack, which forms the novel's title. What is the nature of the attacks that take place in the book, including not only the terrorist explosions but also the beating Amin receives when he tries to return to home. What emotional and psychological attacks take place? What motivates the novel's numerous attackers?
5. How were you affected by the structure of the novel, including the author's use of present tense, the first-person narration, and the way the timeline unfolds? What makes fiction itself a useful form in examining horrific realities?
6. Revisit the passages that emphasize two of the novel's elderly characters: Kim's grandfather, Old Yehuda, who in chapter six recalls Hitler's rise; and in chapter sixteen, Omr, Amin's great-uncle, who recalls the destruction of family orchards to make way for an Israeli colony. What do Yehuda and Omr reveal about the history of violence, not only in the Middle East but throughout humanity?
7. At the end of chapter seven, Amin tells Kim he has no idea why he did not tell Navid about the letter. In your opinion, why did he keep the receipt of Sihem's letter a secret?
8. In the novel's latter chapters, Amin believes his wife was having a romantic affair with Adel. What parallels exist between her actual liaisons with him and the infidelities usually associated with adultery? Was Sihem seduced?
9. In chapter nine, Amin's taxi driver lauds a militant imam and plays one of his recordings. What elements of persuasion did you detect in the imam's diatribe? What similar tactics are used by religious and political leaders in other circumstances around the world?
10. In chapter eleven, the imam at the Grand Mosque tells Amin, "The margin between assimilation and disintegration is quite narrow. There's not much room for maneuver" [p. 150]. Do you agree? Is assimilation a dangerous goal? Knowing what you do about Amin's upbringing, is it surprising that he was an advocate for assimilation? Does assimilation require a secular society?
11. What is Amin's goal in investigating the truth about Sihem himself, and confronting those who assisted her, rather than letting the Israeli authorities handle it? In the end, has he achieved his quest?
12. Adel and the militants Amin encounters emphasize their anger about being humiliated, saying emotional and cultural destruction are just as devastating as physical destruction. What do these observations imply about solutions for peace? What did you learn from the novel–not only about daily life in the Middle East but also about the prospects for peace?
13. The author is a retired army officer from Algeria, a former French colony. After he won a small French literary prize for a collection of short stories, his writing came to the attention of Algerian army officials and he was forced to submit future works to army censors. Thus, he created a female pseudonym to avoid censorship. He now lives in France and has since revealed his true name, Mohammed Moulessehoul. In what way did his life prepare him to write The Attack? Would your impressions of the novel have been different had you thought the author was female?
14. Compare The Attack to the author's previous novel, The Swallows of Kabul, which is set in Afghanistan during the Taliban's rule. In what ways do these novels complement each other? How do the dynamics of marriage play out in each of these books?
About this Author
Yasmina Khadra
is the nom de plume of the former Algerian army officer Mohammed Moulessehoul, who is the author of three other books published in English:
The Swallows of Kabul
,
In the Name of God
, and
Wolf Dreams
. He lives in France.
Suggested Reading
Chimamanda Ngozi Adichie,
Half of a Yellow Sun
; Irene Nemirovsky,
Suite Française
; Richard Condon,
The Manchurian Candidate
; John Updike,
Terrorist
; Michael Ondaatje,
In The Skin of A Lion
; Kiran Desai,
The Inheritance of Loss: A Novel
; Vikram Chandra,
Sacred Games
; Claire Messud,
The Emperor's Children
; Orhan Pamuk,
Snow
; Khaled Hosseini,
A Thousand Splendid Suns
; Andrew O'Hagan,
Be Near Me
; A. B. Yehoshua,
A Woman in Jerusalem
; Gabriel García Márquez,
Chronicle of a Death Foretold
; Geraldine Brooks,
March: A Novel
; Rory Stewart,
The Places In Between
; Shan Sa,
Empress
Back to Top