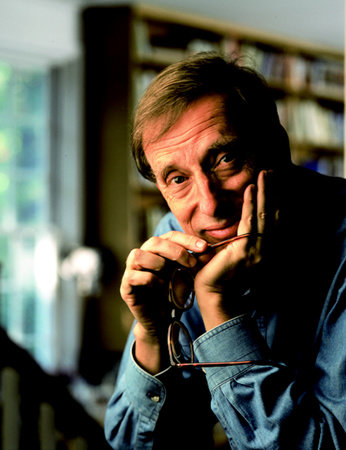 Photo: © Les Todd at Duke News Service
About the Author
A writer for adults, Ariel Dorfman is an exile from the Pinochet regime in Chile and the child of holocaust refugees. He has written several plays about repression and dictatorship including Death and the Maiden (filmed by Roman Polanski).

IF OUR CHARACTER FROM BURNING CITY COULD SPEAK OFF THE RECORD, HE'D SAY . . .

Heller Highlander, that's my name, and as for my birth, I'd rather not tell you how long I have been waiting for that father, Ariel, and his son, Joaquin, to decide to write me into existence–create a novel where I could tear down the streets of New York, fall in love, lose my girl, receive protection from an older man, Salim, and then find myself suddenly without his guidance, alone again in the world. A long time. Characters wait in some sort of literary limbo, expectantly peering down (or up?) into the minds of potential authors, wondering if we'll ever get a chance to fully blossom into words, surrounded by other novelistic wannabes, wagering who will get out of here first.

I was supposed to be one of the young creatures with not much of a chance of a storybook life: I had to be fictionalized by a father and a son. There was no other way to gestate, that's how it was, those were the rules for me. Like Madame Bovary–you should have seen when our Emma noticed the birth of little Gustave. "He's the one, this Flaubert kid," she said to us and we mocked her a bit. How could she know? She was going to have a deluded life anyway, so why be so enthusiastic to get onto the written page? But she was right and off she went, and I remembered her when my eager-to-be created eyes lit upon Ariel and Joaquin talking up a possible young adult novel, roaming always, my eyes, in search of some manner of delivery. They'll do it! But I kept my thoughts to myself, didn't want anyone, especially Holden Caulfield, making fun of me. (I can see him now: "I got Salinger, ha! And you, Heller, all you can hope for are two Dorfmans. Not one! Two!")

At any rate, I had that gut feeling, as deep and wondrous as when you kick the pedal on a bike and the rush about to stir up the street starts to stir up your blood, dancing inside, I had that feeling. Ariel knew something about New York because he was raised there as a child, and Joaquin was even better equipped because he had lived there for years as a young man. And then there was the fact that Ariel had wandered all his life, back and forth, was almost a quintessential exile, open to all those migrants to this Biggest Apple; and Joaquin, well, he should get a diploma, a master's degree, a PhD, in wandering, but in a different way from his father. And they would understand someone like me, someone who feels the joy of delivering messages, even if they are the saddest in the world, because I also know how to comfort, how to somehow find the words that are needed. And who but those two authors of mine could be kind enough to send me on my trip and be severe enough to realize, at the same time, how much I still needed to learn, ready to teach me some lessons? And they were so different in style and approach and narrative strategy and I knew that I required exactly that tension between them in order to find myself on a page, charging through a Manhattan that knows but cannot tell its inhabitants that far dire messages are on their way from abroad, a city on fire in the summer of 2001. And when they started to write me, what could I say? What can I say now? But thanks, guys, thanks for giving me this life. In your face, Holden Caulfield!