Kafka on the Shore Reader's Guide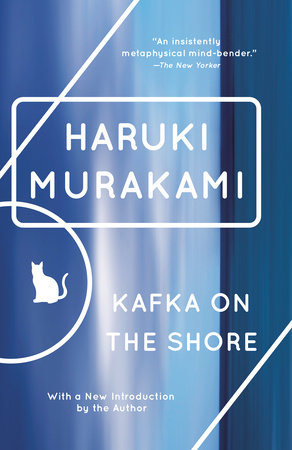 Kafka on the Shore Reader's Guide
READERS GUIDE
NATIONAL BESTSELLER
"As powerful as
The Wind-Up Bird Chronicle
. . . . Reading Murakami . . . is a striking experience
in consciousness expansion."
—Chicago Tribune
The introduction, discussion questions, suggestions for further reading, and author biography that follow are designed to enliven your group's discussion of
Kafka on the Shore
, the magical new novel by the internationally acclaimed author of
The Wind-Up Bird Chronicle
, Haruki Murakami. Part bildungsroman, part metaphysical thriller, part meditation on the elusive nature of time,
Kafka on the Shore
displays all the talents that have made Haruki Murakami one of the most beloved novelists in the world today.
Introduction
Kafka on the Shore
is structured around the alternating stories of Kafka Tamura, a fifteen-year-old boy who runs away from home to escape an awful oedipal prophecy, and Nakata, an aging and illiterate simpleton who has never completely recovered from a wartime affliction. Kafka's journey brings him to a small private library in the provincial town of Takamatsu and to a mountain hideaway where the ordinary laws of time no longer apply. But, like Oedipus, the more Kafka tries to avoid his fate, the closer he comes to fulfilling it. Nakata also sets forth on a quest—for an enigmatic "entrance stone," the significance of which he does not understand. These narratives push relentlessly forward like trains running on parallel tracks. We know the tracks will converge at some point, but not knowing when, or where, or how creates the suspense that makes the novel so compelling and drives it to its astonishing conclusion. Along the way
Kafka on the Shore
investigates and sometimes challenges our conceptions of time, fate, chance, love, and the very nature of human reality. The novel offers up a rich array of extraordinary characters and outrageous happenings: fish falling from the sky, conversations between man and cat, a supernatural Colonel Sanders's ghostly but deeply sensual lovers, a philosophical prostitute, World War II soldiers untouched by time, and much else both strange and wonderful. But more than metaphysical fun is at stake in
Kafka on the Shore
. There is a vicious murder to be solved, complex and possibly incestuous relationships to be untangled, and the very nature of reality itself hangs in the balance.
Intellectually ambitious, emotionally intense, and beautifully written,
Kafka on the Shore
bristles with Murakami's unique brand of imaginative brio. Readers will find themselves simultaneously wanting to turn the pages faster and faster to find out what happens and to slow down to savor the depth and beauty of Murakami's prose.
Questions and Topics for Discussion
1. The first character to speak in Kafka on the Shore is the "boy named Crow" [p. 3]. Who is he? What part of Kafka Tamura's psyche does he represent?
2. "Kafka," we later learn, means "crow" in Czech. What relationship is Murakami trying to suggest between Franz Kafka, Kafka Tamura, the boy named Crow, and actual crows? At what significant moments do crows appear in the novel? What symbolic value do they have?
3. When Kafka meets Sakura on the bus, they agree that "even chance meetings . . . are the results of karma" and that "things in life are fated by our previous lives. That even in the smallest events there's no such thing as coincidence" [p. 33]. What role does fate, or meaningful coincidence, play in the novel? Is it karma that determines Kafka's destiny?
4. Much of the novel alternates between Kafka's story and Nakata's. What effects does Murakami create by moving the reader back and forth between parallel narratives? What is the relationship between Nakata and Kafka?
5. When Kafka is a young boy, his father tells him: "Someday you will murder your father and be with your mother" [p. 202], the same destiny as Oedipus. Kafka's father also tells him that he will sleep with his sister and that there is nothing he can do to prevent this prophecy from being fulfilled. How do Kafka's attempts to escape his fate bring him closer to fulfilling it?
6. The phrase "for the time being" is repeated throughout Kafka on the Shore. Why has Murakami chosen to use this qualifying statement so often? How is the conventional concept of time stretched and challenged by events in the novel? Why does Miss Saeki tell Kafka: "Time's rules don't apply here. Time expands, then contracts, all in tune with the stirrings of the heart" [p. 219]?
7. In what ways are the boundaries between past and present, dreaming and waking, fantasy and reality blurred and often erased in Kafka on the Shore?
8. The teacher in charge of the children who lost consciousness in the woods during World War II writes to her professor many years later and tells him: "I find the worldview that runs through all of your publications very convincing—namely that as individuals each of us is extremely isolated, while at the same time we are all linked by a prototypical memory" [p. 96]. How are the main characters of the novel—Kafka, Nakata, Oshima, Miss Saeki—"extremely isolated"? In what ways do they share a "prototypical memory"? What would that memory be?
9. Kafka Tamura seems, in some mysterious way, to be both Miss Saeki's son and the ghost of her long-dead lover. How does Murakami intend us to understand this shifting and apparently impossible dual identity?
10. What is the relationship between Nakata's quest for the "entrance stone" and Kafka's journey into the forest?
11. In what ways can Kafka on the Shore be read as a love story?
12. The supernatural shape-shifter, who takes the form of Colonel Sanders, tells Hoshino that he is neither God nor Buddha but a kind of "overseer, supervising something to make sure it fulfills its original role. Checking the correlation between different worlds, making sure things are in the right order" [p. 284]. What are these different worlds? Is Colonel Sanders talking about parallel universes?
13. Kafka on the Shore is, for the most part, a realistic novel, yet it contains many magical elements—Nakata's ability to talk with cats and make fish fall from the sky, the shape-shifting Colonel Sanders, the middle-aged Miss Saeki visiting Kafka as her fifteen-year-old self. What is Murakami saying about the nature of reality and our beliefs about it through these seemingly impossible episodes?
14. At the end of the novel, Oshima tells Kafka, "You've grown up" [p. 463]. In what ways has Kafka been changed by his experience? What are the most important things he has learned? Why does he feel he has entered "a brand-new world" [p. 467]?
About this Author
Haruki Murakami was born in Kyoto in 1949 and now lives near Tokyo. His work has been translated into thirty-eight languages, and the most recent of his many honors is the Yomiuri Literary Prize, whose previous recipients include Yukio Mishima, Kenzaburo Oe, and Kobo Abe.
Suggested Reading
Kobo Abe,
The Woman in the Dunes
; Takashi Atoda,
The Square Persimmon and Other Stories
; Kazuo Ishiguro,
An Artist of the Floating World
; Franz Kafka,
The Castle
; Yumiko Kurahashi,
Cruel Fairy Tales for Adults
; Yukio Mishima,
The Temple of Dawn
; Kenzaburo Oe,
Teach Us to Outgrow Our Madness
;
Jay Rubin,
Haruki Murakami and the Music of Words
; Sophocles,
Oedipus Rex
.
Also by Haruki Murakami from Vintage International:
after the quake
;
Dance Dance Dance
;
The Elephant Vanishes
;
Hard-Boiled Wonderland and the End of the World
;
Norwegian Wood
;
South of the Border
,
West of the Sun
;
Sputnik Sweetheart
;
Underground
;
Vintage Murakami
;
A Wild Sheep Chase
;
The Wind-Up Bird Chronicle
.
Back to Top