The Paradise Guest House Reader's Guide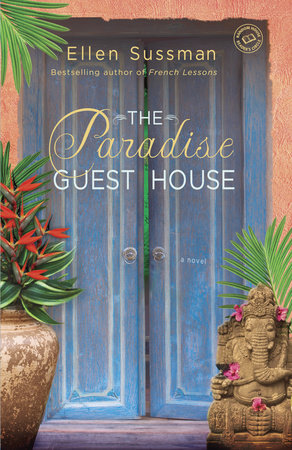 The Paradise Guest House Reader's Guide
READERS GUIDE
A Conversation with Ellen Sussman 
and Michelle Richmond
Michelle Richmond is the
New York Times
bestselling author of
The Year of Fog and No One You Know
and the founder of Fiction Attic Press. She lives in Northern California. Her new novel is forthcoming from Bantam.

Michelle Richmond:
The Paradise Guest House
is loosely based on terrorist bombings that rocked Bali in 2002. So often, we hear about these tragic events, they linger briefly on the edge of our consciousness, and then, very quickly, we forget. What was it about the Indonesia attacks that compelled you to write this story?
Ellen Sussman:
My husband and I visited Bali right after the terrorist attacks. Friends suggested we cancel our trip but we were determined to see the country. In some ways it was the best of times and the worst of times. There were very few tourists—-great for us, lousy for Bali. The landscape is astonishingly beautiful but it felt haunted by the horror of those bombings. The Balinese themselves, famous for their smiles and for their peaceful outlook on life, were clearly suffering. The country was struggling to understand what had happened to them and to learn how to move on.
It was the plight of the Balinese that captured my attention. Unlike the rest of us, they couldn't forget what had happened to their lovely country. They're still struggling with the consequences of those terrible acts of violence ten years later. In writing The Paradise Guest House, I wanted to take a closer look at terrorism and how it affects us. I also wanted to examine our notion of paradise and why we're so drawn to places like Bali. There's a wild disconnect between that act of terrorism and the beauty of Bali. As difficult as it was, I wanted to live there in my imagination.
MR:
You spent time in Bali with survivors and family members of the victims. How did your conversations and relationships with these people shape your story? Are any of the characters in your book directly inspired by real–life persons?
ES:
When I returned to Bali years later I contacted an organization called YKIP. They arranged the interviews, and a lovely young woman, Ida (Sri Damayanti), accompanied me as interpreter. I could not have written
The Paradise Guest House
without that experience. I got a chance to talk to many survivors and family members of the victims. One woman took me into her one–room house, held her baby in her lap, and described her struggle to survive after she was severely burned in the bombing. Another woman talked about waiting for her husband to come home the night of the bombings—-many years had passed, but she could still barely tell the story. Her young daughter stepped in and, holding her mother's hand, described the way the village took care of them for the weeks after her father was killed when he drove his motorcycle by the clubs that night. The stories I heard made the event real for me—-they put a very personal face on the tragedy. I'm so appreciative to all of those brave people who shared their stories with me.
It's odd—-none of those people directly inspired the creation of my fictional characters, and yet all of them did. They whispered to me every day as I wrote, urging me on.

MR:
In your bestselling novel, French Lessons, you explored the magical city of Paris. Bali holds a different kind of magic—-a lush green landscape that, for all its beauty, cannot help but remind Jamie of the tragedy she witnessed there. What role has travel played in your life, and how have your experiences abroad made you a better writer?

ES:
I lived abroad for five years, something I'd recommend to absolutely everyone! The experience changes you—-it helps you understand who you are in a way that you can't quite grasp if you've never left your home country. And it gives you a perspective on the world—-how big it is, how diverse, how complicated—-that we Americans, especially, often fail to appreciate.
I was in my early thirties when I lived in Paris for five years—-since then I've traveled a great deal. I've spent time in Bhutan, Thailand, Argentina, Italy, Morocco, Peru, Spain, Costa Rica, Belize, Mexico, and many other wonderful places. I travel to learn the world and to learn myself. I travel so that my eyes are always wide open.
It's funny—-a writer has to have a kind of split personality. We live our lives and take notes on our experiences, watching it even as it happens. (I once read that Philip Roth took notes at his grandmother's funeral!) Traveling strengthens that ability for me. My senses are heightened in foreign lands, my attention is sharp. Even as I'm having a grand time, part of me is observing, tucking images and memories away for use in my fiction. And it's not always a grand time—-we come up against all kinds of obstacles in unfamiliar places. That's rich material 
for me.
I leave tomorrow for a hiking trip in the Pyrenees. In January I'm headed to Chile. What am I searching for? More. More of the world, more rich experiences, more insight into myself. I need it for every novel I write.

MR:
Do you travel to places that you want to write about, or do you write about places to which you have traveled?
ES:
Both. I didn't know that I'd write about Bali when I first traveled there. I had the idea for the novel by the time my vacation ended—-and that idea wouldn't let go. Years later I went back to spend a month there so that I could learn Bali as well as I could.
When I'm traveling I'm always on the lookout for new ideas. Or maybe I'm just looking for an excuse to return to that country for a longer research trip!

MR:
A few years ago, you edited the well–received anthology
Bad Girls
. There's a nod to that book in
The Paradise Guest House
, when Jamie goes swimming with the niece of her host and a posse of "Indonesian bad girls." While Jamie's acts in the immediate aftermath of the bombing are heroic, in the days that follow, she does not exactly follow the "good girl" path. I thought it was brave of you to have Jamie respond in a way that, in its realism and complexity, might cast her, for some readers, in a negative light. What inspired you to write Jamie's relationship with Gabe in the way that you did?
ES:
I'm so glad you asked that question—-I'm sure this will be a controversial issue for many readers. As far as my "bad girl" inclinations, it's true that I'm willing to break rules or to take chances in my fiction that might displease some readers. I believe Jamie's actions in the days after the bombing. I also believe that when two people meet each other during chaos or tragedy their connection can run very deep. It might move them to surprising actions. (I'm trying not to give anything away here! Please read the novel before you read this interview!)
But I will say this: I read that more babies were born in Manhattan nine months after 9/11 than at any other time.  Sometime it's our ability to connect deeply with another person that saves us.
MR:
In a previously published autobiographical essay, you write about jumping naked into the ocean as your first husband and his shocked colleagues looked on. In The Paradise Guest House, Jamie dives into the sea. For a moment she considers disrobing, but she recalls that she is a foreigner in Bali, and she isn't a teenager anymore. Are you, like Jamie, particularly drawn to water? Beyond that, how much of yourself do you find in the character of Jamie, and in what ways do you differ?

ES:
Funny that you picked up on that! I put together a collection of short stories when I was in high school and I only noticed after I read it as a whole that swimming featured in every story! (And skinny–dipping was pretty common.) I'm not a great swimmer, but I love hot tubs and baths and floating in the pool. And yes, I prefer all of that without my clothes on. (Note to neighbors: our fences are very high.) There's something so sensual about the water, and so soothing.
As for Jamie and me—-well, she might be a version of who I wish I had been at her age. She's more independent than I am—-tougher, scrappier, and even more athletic. I'm probably just as competitive, though! If I could start over, I'd love to be an adventure guide, traveling the world.

MR:
The book has a beautiful economy. As a writer, I'm very curious how many pages or chapters were left on the editing–room floor. How different is the finished novel from the first draft? Did you lose any characters or scenes that, at some point in the writing of the book, seemed essential?

ES:
Oh, you can't imagine the cutting–room floor on this one! Gabe had a new wife and a baby—-poor things got trashed along with an offer of marriage by Nyoman. The mistakes I made! The drafts that no one will ever see! After one draft I started over completely—-without even looking at the previous draft. It's never easy. We writers think we learn how novels get written and then the next novel changes all the rules of the game. Grrrr. But I suppose that's best—-it's learning how to write each new novel that keeps us fresh and creative.

MR:
There is an incredibly harrowing scene in which you describe the bombings and the immediate aftermath. What kind of research did you do to write this scene? Also, when you've written an emotionally exhausting scene such as this one, how do you step out of your writing mindset and reenter your life with family and friends? Do residual emotions from the fictional world you're so immersed in linger as you go about your day?
ES:
I did a great deal of research about the bombings in Bali in 2002. In addition to my conversations with survivors, I read many firsthand accounts that I found in books, articles, and on the Internet. I looked at horrifying photos, mostly on the Internet. And yes, it haunted me day in and day out. When I went to visit the memorial site in Bali, I was as shocked as Jamie on her visit: I expected to see the scenes of those clubs ravaged and burned.
I'm the kind of person who works hard and lives hard. At the end of a writing day, I put the project aside and immerse myself in my daily life with family and friends. But during the writing of The Paradise Guest House, I did have my share of nightmares. I felt a little like Jamie, unable to tuck the experience away.
MR:
This novel is coming out soon after the publication of French Lessons. Do you work on more than one book at a time, or do you completely finish a book before moving on to the next?

ES:
I can work on only one book at a time. I immerse myself so thoroughly in the world of the novel that it would be impossible for me to switch gears. But I do like to know what my next project is—-so that it's brewing somewhere in the back of my mind. That way, when one is done I'm ready to dive into the next. (I'm happiest when I'm writing. Really.)
I'm able to write quickly because I'm a very disciplined writer. I write every day, five or six days a week. I produce one thousand words a day, and I move through a first draft pretty steadily. I love living in the world of that first draft. I turn off the noise of my critical brain and just luxuriate  in the storytelling. It's the many rewrites that are grueling for me.
MR:
We all want to know: What's your next destination, and what's your next book?
ES:
I'm back to France, though this time I've landed in the south of France. It's too soon to say much about the novel. I'm really in the discovery phase—-who are these people? What will happen to them? What draws me into their circle? But I'll say this much: There's a wedding. And there's mayhem.
Questions and Topics for Discussion
1. Jamie works as an adventure guide, but her experiences in Bali left her with panic attacks and a fear of crowds. If you were Jamie, would you have been able to go back to Bali? Have you ever had to return to the scene of some difficulty in your life?
2. What do you think helped Jamie more—-coming back to the site of her trauma for healing or searching for the man who helped save her life?
3. Jamie gives Bambang a chance even after the wallet–stealing incident. What does that say about Jamie?
4. Nyoman tells Jamie, "I will be your Ganesh," referring to the statue in his garden of the Hindu deity with the head of an elephant, who is said to protect his believers from demons. In what ways did Nyoman protect Jamie? And how did her presence at the Paradise Guest House change him?
5. Jamie sees her boss, Larson, as a father figure of sorts. What does she see in him that she doesn't see in her biological father?
6. What did you make of Jamie's rejection of Miguel's proposal?
7. How might Jamie and Gabe's shared experiences in the bombing have changed their feelings for each other? Do you think they would have felt the same way if they had met under different circumstances? Do you think that a relationship that is created during a traumatic event might have a deeper bond?
8. Do you see Gabe's time in Bali as his way of running from what happened in Boston with his son, Ethan, or as his running to something unknown and new? Or both?
9. How did Gabe's response to the bombing differ from Jamie's? How did it differ from that of the residents of Bali?
10. What did you think of the structure of the book? How did the alternating sections from 2002 and 2003 work to advance the narrative in unusual or unexpected ways?
11. There are many themes in this novel—-love, healing, second chances. What struck you as the most important theme? What do you think was ultimately the book's lesson?
12. What do you imagine happens after the end of the novel?
Back to Top