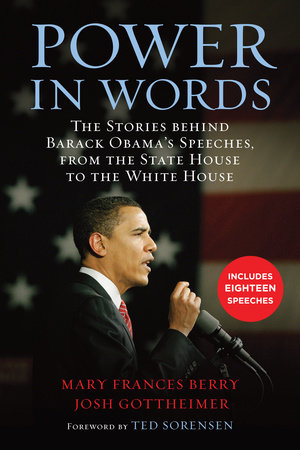 Power in Words
The Stories behind Barack Obama's Speeches, from the State House to the White House
The Stories behind Barack Obama's Speeches, from the State House to the White House
By Mary Frances Berry and Josh Gottheimer
Foreword by
Theodore C. Sorensen
By
Mary Frances Berry

and

Josh Gottheimer


Foreword by

Theodore C. Sorensen



By Mary Frances Berry and Josh Gottheimer
Foreword by
Theodore C. Sorenson
By
Mary Frances Berry

and

Josh Gottheimer


Foreword by

Theodore C. Sorenson




Best Seller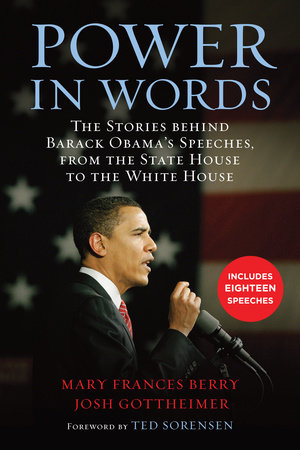 Paperback
Sep 06, 2011 | ISBN 9780807001691
Paperback

$20.00

Sep 06, 2011 | ISBN 9780807001691
*This title is not eligible for purchase to earn points nor for redemption with your code in the
Reader Rewards
program
Inspired by Your Browsing History
Also in Domestic Politics
Praise
"Berry and Gottheimer bring their own depth of insight to an analysis of each of the speeches and the vision they embody…. A book to savor and return to for subsequent readings."—Kirkus Reviews

"In the long sweep of history, readers will be able to refer to this work to better understand and appreciate the power of words of our forty-fourth president of the United States."—Dana Perino, former White House press secretary

"It was the late Richard Neustadt who famously wrote that 'presidential power is the power to persuade.' This rich and thoughtful collection of the stories behind the speeches that launched Barack Obama to the national stage and eventually the presidency demonstrates how incredible this power can be when placed in the hands of a brilliant and gifted orator. Power in Words highlights President Obama's ability—and the abilities of his talented speechwriters and advisers—to translate the unspoken desire of the American people for a leader with humility, intelligence, and understanding into a language that all Americans could connect with and believe in."—John Podesta, former chief of staff for President Bill Clinton and CEO of the Center for American Progress

"Words matter, especially in a time of crisis. Learn how Obama's words got him elected, and why it matters to all of us, in this engaging look at his rise to the presidency."—Eric Schmidt, chair/CEO of Google Inc.
Table Of Contents
Foreword by Ted Sorensen

Introduction

1 Speech against the Iraq War Resolution
October 2, 2002 l Federal Plaza, Chicago, Illinois

2 Keynote Address at the 2004 Democratic National Convention
July 27, 2004 l FleetCenter, Boston, Massachusetts

3 United States Senate Victory Speech
November 2, 2004 l Hyatt Ballroom, Chicago, Illinois

4 John Lewis's Sixty-fifth Birthday Gala
February 21, 2005 l Georgia Tech Hotel and Conference Center, Atlanta, Georgia

5 Knox College Commencement Address
June 4, 2005 l Galesburg, Illinois

6 Call to Renewal Keynote Address
June 28, 2006 l National City Church, Washington, D.C.

7 "An Honest Government, A Hopeful Future"
August 28, 2006 l University of Nairobi, Nairobi, Kenya

8 Presidential Announcement Speech
February 10, 2007 l Old State Capitol, Springfield, Illinois

9 Iowa Jefferson-Jackson Dinner
November 10, 2007 l Veterans Memorial Auditorium, Des Moines, Iowa

10 Night of Iowa Caucus
January 3, 2008 l Hy-Vee Hall, Des Moines, Iowa

11 Night of New Hampshire Primary
January 8, 2008 l Nashua South High School, Nashua, New Hampshire

12 South Carolina Primary Victory Speech
January 26, 2008 l Columbia Hotel, Columbia, South Carolina

13 Night of Super Tuesday Primaries
February 5, 2008 l Hyatt Regency Hotel, Chicago, Illinois

14 "A More Perfect Union"
March 18, 2008 l National Constitution Center, Philadelphia, Pennsylvania

15 Night of North Carolina and Indiana Primaries
May 6, 2008 l RBC Center, Raleigh, North Carolina

16 "A World That Stands as One"
July 24, 2008 l Victory Column, Tiergarten, Berlin, Germany

17 "The American Promise": Democratic National Convention
August 28, 2008 l Invesco Field, Denver, Colorado

18 Election Night Victory Speech
November 4, 2008 l Grant Park, Chicago, Illinois

Acknowledgments

Notes
Back to Top