A Conspiracy of Friends Reader's Guide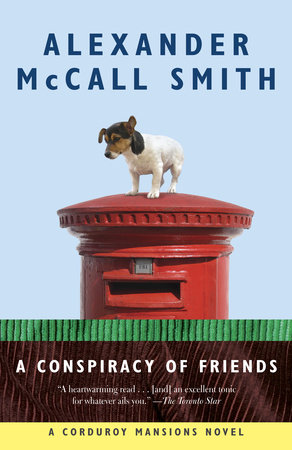 A Conspiracy of Friends Reader's Guide
READERS GUIDE
The introduction, discussion questions, and suggested further reading that follow are designed to enliven your group's discussion Alexander McCall Smithr's latest novel,
A Conspiracy of Friends.
Introduction
A Conspiracy of Friends
is the third installment in the beloved Corduroy Mansions series. There's never a dull moment for the residents of Corduroy Mansions, the slightly dilapidated but well-lived-in mansion block in London's hip Pimlico neighborhood. Berthea Snark is still at work on her biography of her son Oedipus. Literary agents Rupert Porter and Barbara Ragg are still battling each other for first crack at
The Autobiography of a Yeti
. Caroline Jarvis is busy blurring the line between friendship and romance. And William is contemplating the meaning of life and worrying about his son Eddie. And Freddie de la Hay, William's beloved terrier, has disappeared in the Suffolk countryside.
Questions and Topics for Discussion
1. Booklist, in a starred review of this novel, stated "McCall Smith is by turns hilarious at capturing foibles and meditative about the huge role chance and the plots of others play in our lives." Do you agree with this assessment of A Conspiracy of Friends? What role does chance and the plots of others have in this novel?
2. This novel, as did the first two in the Corduroy Mansions series, first appeared as a chapter a day in the British newspaper The Telegraph. Does the flow differ in this serial novel than in his more traditional novels (like those in the No. 1 Ladies' Detective Agency series)? Does it change your reading experience knowing that it was written to be read as a chapter a day?
3. What do you predict will happen in the next volume? Will William and Marcia be together? Will Caroline and Ronald? Hugh and Barbara? What will happen with Oedipus and Terrence and their relationships with Berthea?
4. To what does the title refer? And how is this novel about friendships? Friendship between old friends, new friends, males and females, with animals. Discuss them all.
5. Most of Alexander McCall Smith's novels are filled with stories, poetry, and literary references. This novel mentions William Butler Yeats and Irish Murdoch, a children's book about a dog, a graduate thesis, and more. What do you think the author is saying about the importance of stories, books and poetry in our lives?
6. How is Irish Murdoch crucial to the plot of A Conspiracy of Friends? If you've read Murdoch, why do you think the author references her over other 20th century authors?
7. What is the importance of and relevance of metaphors in A Conspiracy of Friends?
8. Is William the main character of the novel? He seems to have the most philosophical musings. Or is it Freddie de la Hay?
9. With which character do you most identify? Why?
10. Why does Caroline lie to James? Do you think her lie in this case should be forgiven? How often do you think the average person fibs in a week? What would you have done in Caroline's predicament? Do we have a moral obligation to lie or tell the truth at times?
11. Why is Oedipus such a "flawed character" that even his own mother doesn't like him? Is she likeable and believable as his biographer?
12. Discuss Berthea's relationship with the men in her life, with both her brother and son.
13. Why does Barbara change her mind about Hugh? Does the story Hugh shares reveal traits of his she didn't previously know he had? Does the story trigger something in Barbara and unearth self-revelations and make her more self-aware?
14.
How does losing Freddie de la Hay and Maggie's confession drive William to Marcia? Do you think his feelings at the end of the novel are genuine and he'll learn to love and appreciate her?
15. What does Eddie learn about himself through meeting with and working with Cosmo Bartonette?
16. Do you have any superstitions like Barbara Ragg has? Why do you continue practicing or believing in them?
17. Do you agree with William in believing that most great works of art and beauty stem from religion or faith?
18. What do you think the author is saying about appreciating the small things in life and imposing a sense of purpose to everything we do? Do you believe, as William, and perhaps the author, that everything that happens is a small miracle?
About this Author
Alexander McCall Smith
is the author of the No. 1 Ladies' Detective Agency series, the Isabel Dalhousie series, the 44 Scotland Street series, and the Corduroy Mansions series. He is professor emeritus of medical law at the University of Edinburgh and has served on many national and international organizations concerned with bioethics. He was born in what is now known as Zimbabwe, and taught law at the University of Botswana. He lives in Scotland with his wife, and plays the bassoon in the Really Terrible Orchestra.
Back to Top