Problems with People Reader's Guide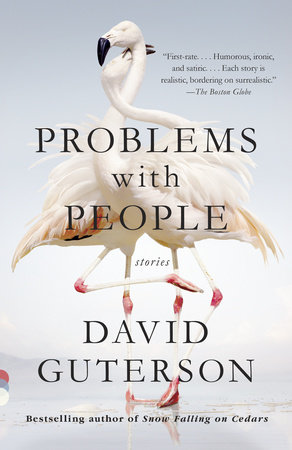 Problems with People Reader's Guide
READERS GUIDE
The questions, discussion topics, and other material that follow are intended to enhance your group's conversation about Problems with People, David Guterson's stirring new collection of stories that explore questions of identity, communication, and heritage through the kaleidoscopic lens of characters whose longings and misgivings bring them to unfamiliar landscapes, both geographical and emotional.
Introduction
Problems with People comprises ten sharply observed, funny, and wise stories from David Guterson, the best-selling author of Snow Falling on Cedars. Ranging from youth to old age, its voices offer tender, unexpected, and always tightly focused accounts of our quest to understand one another, individually and as part of a political and historical moment. The stories are shot through with tragedy—the long-ago loss of a young boyfriend, a son's death at sea; poignant reflections upon cultural and personal circumstances—whether the subject is Jewish, overweight, and single or a tourist in a history-haunted land; and paradigmatic questions about our sense of reality and belonging. Spanning diverse settings—all across America, and in countries as distant as Nepal and South Africa—Problems with People showcases Guterson's signature gifts for characterization, psychological nuance, moral suspense, and evocations of small-town life and the natural world. They celebrate the ordinary yet brightening surprises that lurk within the dramas of our daily lives, as well as the return of a contemporary American master to the form that launched his astonishing literary career.
Questions and Topics for Discussion
1. The man in "Paradise" takes comfort in the fact that on online dating sites, "The people you met were just like you" (4). How can this idea be applied to all of the stories in this collection? What were some areas of common ground—such as family secrets, personal insecurities, or questions of faith or national pride—among individuals, but also things we keep to ourselves?
2. How do the older man and woman who begin dating in "Paradise" exemplify the way that meeting new people creates insecurities and awkwardness, regardless of one's age or experience? How does Guterson use the past and memories in their story to affect a present relationship?
3. In "Tenant," Lydia Williams is called a "cryptic nonpresence . . . invisible, an abstraction," yet her presence very much shapes the story (24). How does this paradoxical description fit other characters in the book, especially those without names and who do not speak in the first-person "I"?
4. What do you think is the real reason the renter is bothered by how Lydia changes his apartment? Does her excessive décor seem similar to any part of his personality?
5. When Shawn reveals to Lydia that he is Indian, he does so "without knowing exactly what that meant about himself" (41). What do you think is meant here, and how might this be true of other ethnicities, cultures, and religions featured in the book?
6. What is the importance of different forms of travel—by car, foot, boat, or plane—and the general sense of dislocation in the stories? Does traveling help the characters gain a stronger sense of identity or further their feelings of isolation?
7. Discuss some of the tonal and thematic differences that arise from stories with male versus female protagonists. Compare, for example, "Politics" and "Feedback."
8. How does learning that the woman in "Pilanesberg" has cancer change your reading of the story? Does ending the story with this kind of surprise, twist, or reveal—as Guterson does in some other stories in this collection—give these snapshots of a complete life?
9. Why do you think the woman in "Feedback" is so stressed by meeting Hamish McAdam on the track? How does the dissection of his name—its seemingly incongruous ethnicities—contribute to that stress? Are other characters' names in different stories, or the fact that they go unnamed, laden with similar expectations and preconceived ideas?
10. Discuss the significance of the title of the story "Feedback." In particular, what do you think the woman takes away from reading the plaque in Hamish's exhibit, defining feedback as "a way of looking, ultimately, at 'self'" (87)?
11. How does the theme of Jewishness affect characters' identities and relationship to history, especially in the latter half of the collection?
12. Is there a correlation between age and a character's sense of his or her running out of time? Compare stories in which missed opportunities are experienced by people of different ages, such as "Photograph" and "Paradise" versus "Shadow" and "Hush."
13. What are some of the major ideas about father-son bonds that you take away from the collection? Consider "Hot Springs," "Shadow," and "Photograph."
14. What does the snapshot of Hutchinson's son at the end of "Photograph" illustrate about the nature of memory, and how emotions are preserved and revised over time? How do photographs function in general throughout the collection? Consider "Pilanesberg" and "Feedback" as well.
15. The young tour guide in "Krassavitseh" notes that there are many "ghosts" throughout Berlin, which has obvious references within that story (106). What are some other ghosts in the collection that are resurrected by forces such as memory, age, and illness? How do other characters, including those of different generations, confront these ghosts, which may or may not be specters of specific people?
16. Guterson has written in a variety of genres and forms: novels, short stories, poetry, memoir, and nonfiction. Do you think that the stories in this collection demonstrate fluidity in shifting among modes, especially in their tone and style? Which stories seem to you to be more clearly influenced by his writing outside of fiction? How does he use these other styles to achieve a sense of realism?
About this Author
David Guterson is the author of five novels: Snow Falling on Cedars, which won the PEN/Faulknerand the American Booksellers Association Book of the Year Award; East of the Mountains; Our Lady of the Forest, a New York Times Notable Book and a Los Angeles Times and Seattle Post- Intelligencer Best Book of the Year; The Other; and Ed King. He is also the author of a previous story collection, The Country Ahead of Us, the Country Behind; a poetry collection, Songs for a Summons; and two works of nonfiction, Family Matters: Why Homeschooling Makes Sense and Descent: A Memoir of Madness. A recipient of a Guggenheim Fellowship, he lives in Washington State.
Back to Top