Your Blues Ain't Like Mine Reader's Guide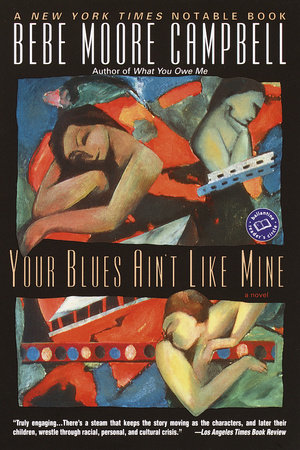 Your Blues Ain't Like Mine Reader's Guide
READERS GUIDE
Questions and Topics for Discussion
1. Armstrong Todd is the perfect scapegoat. Why?

2. Lily Cox is partly responsible for Armstrong Todd's murder. Yet, in
what ways is she also a victim?

3. Floyd Cox and Clayton Pinochet appear to be two different men
from two different walks of life. Examine the ways in which their
relationships with their fathers are similar and in which ways
Floyd's and Clayton's responses to their fathers are different.

4. Ida and Sweetbabe, Lily and Floyd junior–two mothers and two
sons. How are Ida's and Lily's circumstances similar? How is Ida's
character different from that of Lily's?

5. Discuss the character of Jake. Is he an enemy to his own race, an
enemy, or just selfish?

6. The Illinois Central train runs through the town of Hopewell.
What does this train mean to Armstrong, Lily, Ida, and Clayton?

7. What is Clayton and Marguerite's relationship like initially? How
does this relationship change? Why does it change?

8. Wydell poses the question to Delotha, "What kind of mother would
send her own kid to that hellhole?" Was Delotha a bad mother and
responsible for Armstrong's fate?

9. Does Wydell ever become a real man? Why or why not?

10. What is the significance of the singing of black slaves to all the different
characters, black and white, throughout the novel?
Back to Top