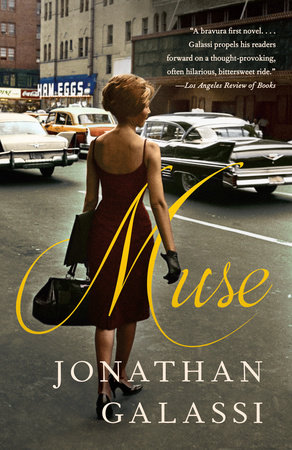 READERS GUIDE
The questions, discussion topics, and reading list that follow are intended to enhance your reading group's discussion of
Muse
, the debut novel by the publisher, poet, and translator Jonathan Galassi, which features an irresistible literary love triangle at its center.
Introduction
In these pages, Jonathan Galassi—the longtime publisher of Farrar, Straus and Giroux—gives us an extraordinarily sensitive, satirically sharp novel set in the world of books that he knows so well. At the center is Paul Dukach, editor-in-chief and heir apparent at Purcell & Stern, one of New York's last great independent publishing houses. But despite all his success, Paul remains obsessed with the writer who got away: the poet Ida Perkins, whose outsize life and work have made her a celebrity—and who is published by Stern's biggest rival.
When Paul at last meets Ida at her Venetian palazzo, she entrusts him with her greatest secret—one that will change all their lives. Filled with juicy details only a quintessential insider could know,
Muse
is a salty valentine to the people who write, sell, and, above all, read the books that shape our lives.
Questions and Topics for Discussion
1. Muse begins with the announcement: "This is a love story." What are some of the different kinds of love that are evoked, tested, and perhaps defeated in the novel—for people, ideas, works of literature, and so on? What does Paul in particular learn are the dangers of falling too fast or too deeply in love?
2. How does the novel build up the legend of poet Ida Perkins from its opening pages? Are there writers living today—writers of poetry, fiction, or nonfiction—who have a similar iconic status in America? How realistic is the author's portrayal of Ida and of the publishing world?
3. Discuss the differences and similarities between Sterling Wainwright and Homer Stern, Paul's two publishing mentors, about whom we learn: "Both were spoiled, handsome, charming ladies' men with a nose for writers. . . . They cordially detested each other, and greatly enjoyed doing so" (15). What does it mean to be a rival over many years with someone in a tight-knit field? And what, despite their respective publishing houses' very different lists, draws them both so ardently to Ida Perkins?
4. How does Paul straddle the divide between the old and young guard of the publishing industry?
5. Over the course of the pages of Muse, how does Jonathan Galassi convey the details of publishing a book, including through the roles of the various characters—publisher, editor, agent, production, designer and jacket artist, author, critic, bookseller, etc.?
6. When reflecting on his life as an editor, Paul thinks about how he "was so beset by doubt—about his own talents, his eligibility for love, his capacity for happiness—never for a minute questioned the value of what he was doing. He was made for it, and he knew it. So he kept his head down, at one with his work, while his life flew by" (58). What does this tell you about him as a character, and the solitary, immersive, and meticulous work of an editor?
7. How does Homer cultivate loyalty among the employees of Purcell & Stern, including Paul, even within Homer's "alpha male need to dominate" (19)? How do you feel about Homer, both as a man and as a publisher, by the end of the story?
8. At the two main publishing houses portrayed in Muse, Impetus and P & S, what is the balance of power between men and women? How do women like Ida, Homer's assistant Sally Savarin, the critic Pepita Erskine, and Maxine exert their own kind of influence in the novel's literary community?
9. Describe Paul's relationship with the upstate NY (Hattersville) independent bookstore Pages and with Morgan Dickerman. How does his loyalty to Morgan and her world evolve over time, and why?
10. What are some of the things that lure Paul to New York City? What tools as a novelist does Galassi use to paint a portrait of life in the city, both in and out of the publishing industry, that is at once cutthroat and romantic?
11. What are the principal characteristics of Ida's poetic style, and what facets of both her work and her unconventional personal life does Paul, who says he felt "like an alien born in the wrong family" (25), connect to most?
12. What is the effect of Galassi's insertion of real literary and public figures (such as Marianne Moore, Wallace Stevens, and President Obama) alongside individuals with real-life inspirations (but changed names) and wholly imagined figures into this work of fiction? In what other ways do you suspect Galassi's experience as a poet and publisher of Farrar, Straus & Giroux come through in this novel?
13. How does Galassi strike a balance between writing Muse as a roman à clef and as a bildungsroman and/or romance on its own terms, and between using humor/satire and genuine emotion to tell this story? Which among the novel's various aspects kept you most engaged?
14. Is Muse a comedy, a satire, or a realistic novel? How does Galassi play with these different genres and kinds of humor in his book and why?
15. Do Sterling and Homer assess their writers more for their commercial success or their literary merits and prestige? Where does Paul wind up landing in the spectrum of valuing a writer's so-called worth?
16. What is special about "the Magic Kingdom" (88) of Hiram's Corners, including its history? How does its atmosphere affect Paul and the work he does there decoding Arnold Outerbridge's notebooks?
17. Why is Homer so deeply in his element at the Frankfurt Book Fair? What do the goings-on, including the announcement of the Nobel Prize winner, and various relationships among publishing people at the fair, illustrate about the role of reputation and status in publishing?
18. When Paul visits Ida at the Palazzo Moro in Venice, are his high expectations about her, as a poet and woman, and the place in general met? What does this encounter teach Paul about the difference between writers' work and their actual lives, their legend and their reality?
19. What do you think Ida hopes to gain by entrusting Paul with the manuscript of Mnemosyne? Why, although this is their first meeting, do you think she confesses so much about her life and work to him?
20. Did you agree with Paul's decision to publish Ida's work? Whom did he betray by doing so? What does this decision say about the repercussions of publishing "confessional" writing and the responsibilities of editors, publishers, and authors to themselves and one another?
21. Were you surprised by the way the pages of Mnemosyne and Paul's interpretation of them reveal the secrets of Ida's past? Does this investigation of her poetry support any of Paul's ideas about writers infusing their lives into their work?
22. What was your reaction to the poetry in Muse, which although "written" by Ida Perkins in the novel was penned by Galassi himself? Did this literary layering or ventriloquizing remind you of other authors or books—for example James Joyce, Colm Tóibín, A. S. Byatt, or others?
23. Who is Mnemosyne? How does she relate to Ida? What does the love affair evoked in the poems of the manuscript say about Ida, about her work, about the life she has lived—and how does this relate to the dominate themes in Muse?
24. How does Galassi address, directly and indirectly, some of the real-life conflicts and issues affecting publishing in the contemporary world? What is the difference for Paul in "discovering" an author among piles of manuscripts versus digital publishing? How are his romantic relationships also tied up in the epic, for him and his colleagues, battle between traditional and digital publishing?
25. What keeps Paul from leaving P & S for Medusa? Does his loyalty to the world of publishing he grew up in, and to the memories of Sterling and Homer and Ida, pay off in the end? Do you think the publishing future suggested at the end of the book is realistic, or is it meant satirically?
26. What does the Concise Bibliography of Ida's work at the end of Muse reveal about her legacy and Paul's contribution to it, even beyond his publishing of Mnemosyne? What does it say about the way publishing itself is changing?
27. What kind of book is Muse, in the end? What are your feelings about writing and literature and their relationship to life at the end of the book?
28. Do you feel about any writers or books from your own reading experiences the way Paul does about Ida? What have been some of your most memorable or transformative reading experiences?
About this Author
Jonathan Galassi is the president and publisher of Farrar, Straus & Giroux and the author of three collections of poetry, as well as acclaimed translations of the Italian poets Eugenio Montale and Giacomo Leopardi. A former Guggenheim Fellow and poetry editor of
The Paris Review
, he also writes for
The New York Review of Books
and other publications.
Back to Top