People of the Book Reader's Guide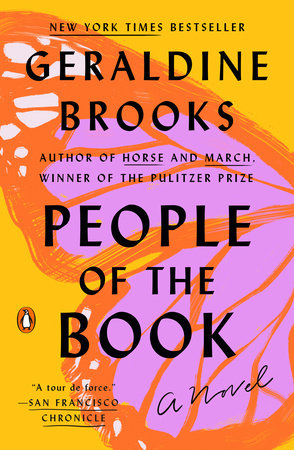 People of the Book Reader's Guide
READERS GUIDE
Questions and Topics for Discussion
INTRODUCTION
Hanna Heath has cultivated a life of exquisite detachment. Raised by an aloof and often absent mother, she has eschewed any kind of deep emotional involvement. But—as an expert on rare books and an Australian whose nationality makes her the least controversial political choice to inspect a priceless Hebrew codex—Hanna is about to be plunged into a dangerous drama that will force her to confront both her past and the passions she has worked so hard to conceal.
It is 1996 when Hanna first flies to Sarajevo. The city's peace is new and still tenuous, but the opportunity to inspect the famous Sarajevo Haggadah is a career maker that she cannot pass up. A lavishly illuminated medieval Hebrew text, this haggadah is an anomaly that has fascinated scholars for generations and its survival in war-torn Bosnia is hailed as "a symbol of the survival of Sarajevo's multiethnic ideal."
Initially put off by her armed U.N. escort and the intense scrutiny of the National Museum, where she is forced to perform her delicate work, Hanna is nonetheless mesmerized by the book's astonishing beauty. She studies its inks and parchment and recovers a fragment of an insect wing, salt crystals, wine stains, and a single white hair from between the delicate pages. She also notes that the clumsily rebound book is missing its original clasps. Each discovery is a clue that offers to unlock a chapter of the haggadah's mysterious history.
But Hanna becomes involved with more than the book during her time in Sarajevo. After she completes her initial documentation and repair work and leaves the city, she remains haunted by the few nights of intimacy she shared with Ozren Karaman, the Muslim librarian who braved enemy shelling to rescue the hagaddah. As she travels from Vienna to Boston and then to London in the hope of deciphering her scant evidence, Hanna fleshes out shadows of the book's past. Simultaneously, Brooks reveals the gripping tale of survival behind each miniscule artifact.
During World War II, a young partisan is saved by the same Muslim who risks his life to protect the haggadah from the Nazis. In fin-de-siècle Vienna, a Jewish doctor unwittingly plays a role in the theft of the book's clasps. In Inquisition-era Venice, a Catholic priest's most damning secret spares the book from burning. In Tarragona in 1492, a poor scribe completes the text just days before the expulsion of Spain's entire Jewish community. And in Seville in 1480, the unlikely artist paints a self-portrait into the Seder illustration.
Hanna is thrilled by her discoveries, little suspecting that her professional and personal worlds are about to come crashing down around her. When she returns to Sarajevo under very different circumstances, Hanna can no longer remain a dispassionate observer and finds that she has become one of the "people of the book" whose passions and sufferings, nobility and frailty, contribute to the hagaddah's continuing history.
The author of the Pulitzer Prize–winning March and Year of Wonders, Geraldine Brooks has made a name for herself as one of the foremost novelists of our era. In People of the Book—inspired by the true story of the Sarajevo Haggadah—she brilliantly interweaves an epic historical saga of persecution and survival with a powerful modern-day tale of private betrayals and international intrigue.
ABOUT GERALDINE BROOKS
Geraldine Brooks is the author of Year of Wonders and the nonfiction works Nine Parts of Desire andForeign Correspondence. Previously, Brooks was a correspondent for The Wall Street Journal, stationed in Bosnia, Somalia, and the Middle East.
A CONVERSATION WITH GERALDINE BROOKSQ. Your previous two novels are set during Europe's plague years and the American Civil War. Now, you've created an epic story about art and religious persecution. What is it that draws you to a particular subject, or a particular historical era?
I love to find stories from the past where we can know something, but not everything; where there is enough of a historical record to have left us with an intriguing factual scaffolding, but where there are also enough unknowable voids in that record to allow room for imagination to work.
Q. What do you think it is about the real Sarajevo Haggadah that has allowed it to survive the centuries?
It's a fascinating question: Why did this little book always find its protectors when so many others did not? It is interesting to me that the book was created in a period—convivencia Spain—when diversity was tolerated, even somewhat celebrated, and that it found its way centuries later to a similar place, Sarajevo. So even when hateful forces arose in those societies and crushed the spirit of multiethnic, interfaith acceptance, there were those individuals who saw what was happening and acted to stop it in any way they could.
Q. Were you already working on People of the Book when March won the Pulitzer Prize? How does winning such a prestigious award affect your writing?
I was working on People of the Book even before I started to write March. I'd been struggling quite a bit with the World War II story: It's such a picked-over period and I was looking for a backwater of the war that wouldn't perhaps feel so familiar to readers. That search was leading to a lot of dead ends when I suddenly got the idea for March and it was so clear to me how to write that book that I just did it.
The "Pulitzer Surprise," as my then-nine-year-old son so accurately dubbed it, affected my writing only in that it interrupted it for a while by drawing renewed attention to March. But after a few weeks of pleasant distraction I was back at my desk, alone in a room, simply doing what I've always done, which is trying to write as best I can, day after day.
Q. Book conservation is hardly a glamorous job, but Hanna's framing narrative is every bit as action-packed and compelling as the stories in the hagaddah's history. What inspired her creation?
Because I like to write with a first-person narrator, getting the voice of the book is everything to me. I'd struggled a lot with my first idea, which was to have the conservator be Bosnian. I love the way Sarajevans express themselves; it's a kind of world-weary, mordant wit overlying an amazing ability to absorb and survive great suffering. But I wasn't getting the voice and the book was stalled as a result. Then I suddenly thought, Well, why shouldn't she be Australian? That's a voice I can hear clearly. Hanna came alive in my head and as a result the contemporary story, which I'd originally thought of as merely a framing device for the stories from the past, became much more important.
Q. The scientific resources that Hanna employs to find out more about the book's artifacts are really fascinating. How much of that is drawn from actual research and how much springs from your imagination?
I went to labs. I interviewed scientists and conservators and observed their work. But the book is fiction, not a technical treatise, so experts will be able to spot a place or two where I took some small liberties.
Q. The Jewish people have endured extraordinary trials. How much about this history did you know before writing the book?
Most of it. The whipsaw of Jewish history has fascinated me since I was in junior high.
Q. Who is your favorite character and why?
That's like asking a parent to name a favorite child. Hanna became like a good mate, and I actually miss hanging out with her. But I feel a certain tenderness towards all of the characters, perhaps especially the most flawed ones.
Q. People of the Book is set in so many different eras. Was it a more difficult book to research and write than your previous novels?
There was definitely more to research, but it wasn't difficult. I loved the various journeys—actual and intellectual—that it took me on. Seeing the domes and spires of Venice shimmering in the watery morning light; having the great privilege of meeting Servet Korkut, who supported her husband in resisting fascism; watching Andrea Pataki painstakingly take apart the real Sarajevo Haggadah—these are experiences of a lifetime.
Q. Will the book be published in Bosnia, and if so, what kind of reception do you anticipate?
I hope it will. I have no idea about the reception. It's very presumptuous, what I do—meddling around in other people's history. When I went back to Eyam, the plague village, I fully expected a faction of the townsfolk to want to have me clapped in the stocks. (They still have them there.) To my intense relief, the people I met had really embraced the book. I had the same feelings of trepidation when I went to read March in Concord, Massachusetts. I was delighted to be met at the reading by Louisa May Alcott (Jan Turnquist, director of the remarkable Orchard House Museum, in costume), who thanked me for being one of the very few who had tried to understand and appreciate her father. So I hope the people of Bosnia will forgive me for taking liberties with their history and see the book as a tribute from someone who was inspired by the remarkable spirit of Sarajevo.
Q. What are you working on now?
I'm just at the earliest stages of exploring an intriguing story set very close to home, on Martha's Vineyard. It concerns people who lived on this island in 1666, one of my favorite years, and seems to have just the right mix of knowns and unknowables—a lovely incomplete scaffold to build on.
DISCUSSION QUESTIONS
When Hanna implores Ozren to solicit a second opinion on Alia's condition, he becomes angry and tells her, "Not every story has a happy ending." (p. 37) To what extent do you believe that their perspectives on tragedy and death are cultural? To what extent are they personal?
Isak tells Mordechai, "At least the pigeon does no harm. The hawk lives at the expense of other creatures that dwell in the desert." (p.50) If you were Lola, would you have left the safety of your known life and gone to Palestine? Is it better to live as a pigeon or a hawk? Or is there an alternative?
When Father Vistorni asks Rabbi Judah Ayreh to warn the printer that the Church disapproves of one of their recently published texts, Ayreh tells him, "better you do it than to have us so intellectually enslaved that we do it for you." (p. 156) Do you agree or disagree with his argument? With the way he handled Vistorni's request?
What was it, ultimately, that made Father Vistorini approve the haggadah? Since Brooks leaves this part of the story unclear, how do you imagine it made its way from his rooms to Sarajevo?
Several of the novel's female characters lived in the pre-feminist era and certainly fared poorly at the hands of men. Does the fact that she was pushing for gender equality—not to mention saving lives—justify Sarah Heath's poor parenting skills? Would women's rights be where they are today if it weren't for women like her?
Have you ever been in a position where your professional judgment has been called into question? How did you react?
Was Hanna being fair to suspect only Amitai of the theft? Do you think charges should have been pressed against the culprits?
How did Hanna change after discovering the truth about her father? Would the person she was before her mother's accident have realized that she loved Ozren? Or risked the dangers involved in returning the codex?
There is an amazing array of "people of the book"—both base and noble—whose lifetimes span some remarkable periods in human history. Who is your favorite and why?
Back to Top