The Tain Reader's Guide
By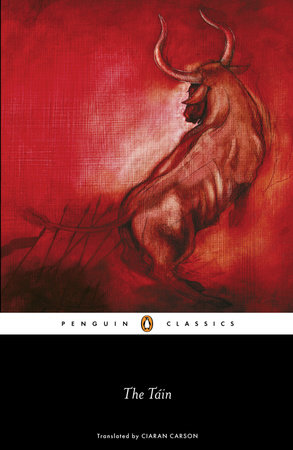 The Tain Reader's Guide
By
READERS GUIDE
Questions and Topics for Discussion
INTRODUCTION

Ireland has produced as much great literature (mythology through contemporary) as any nation in the world. The seeds of this storytelling tradition lie in the heroic tales and wild imagery of the Ulster cycle, one of the four great cycles of Irish mythology. The longest and most important story of the cycle is the Táin Bó Cúailnge, or "Cattle Raid of Cooley."
Long before the arrival of Christianity with its scribes and books, tales of gods and heroes permeated Irish culture through oral storytelling. Around the time of Christ, each storyteller, or bard, told his own version of what would become The Táin; and the same man likely spun his tale a bit differently each time he told it. So it is easy to imagine how The Táin's stories, when finally recorded on cowhide, became garbled and riddled with repetitions and omissions. In addition to the mercurial nature of the bards, monks serving as scribes generally added their own dash of Christian morality to these pagan tales.
Such a history means The Táin arrived many hundreds of years later as collected fragments, rarely read by anyone other than literary scholars. Then, in 1969, Thomas Kinsella's translation brought The Táin back to life. Published during Northern Ireland's Troubles, Kinsella's vivid re-creation served to remind Ireland of the North's glorious history. Today, The Táin stands as Ireland's answer to epics such as The Iliad and Beowulf.
In his introduction, Ciaran Carson, one of contemporary Ireland's best poets, refers to his own work as an homage to Kinsella. (Those interested in further study might begin by reading Kinsella's version.) Also, thanks to the narrative's obsession with topography, tourists can easily trace the route taken by Queen Medb's armies.
The Táin depicts a war between two great kingdoms, Connacht and Ulster. That they are fighting over nothing more than a prize bull does little to discourage them from spilling countless gallons of human blood in every conceivable manner.
This catalog of unbounded cruelty and slaughter begins with a husband and wife chatting in bed after sex. Queen Medb of Connacht is amused but a little annoyed when her husband Aillill mentions he's done her a financial favor by marrying her. She argues that, in fact, her possessions are more valuable than his. A full audit reveals their holdings to be equal until Aillill's magical white bull is taken into account. Medb decides that to even things out she must get hold of the famous brown bull of Cúailnge in Ulster. When peaceful negotiations break down, ruthless Medb decides she'll take the animal by force.
Medb believes she holds an advantage over the men of Ulster, because they famously suffer under a terrible curse. The origins of the curse are described in an earlier portion of the Ulster cycle: Macha, a legendary female athlete, was forced to race against the king of Ulster's horses after her husband boasted she could outrun them. According to the tale, she had to win the race to save his life. But Macha was nine months pregnant! Collapsing in agony at the finish line while delivering twins, she declared the Ulstermen would suffer similar pains for five days and nights whenever they found themselves in trouble. Cú Chulainn was the only warrior exempted from her curse.
Another bit of backstory that supplements our reading of The Táin is the tale of why Fergus, an Ulsterman, takes the side of Connacht. In an earlier tale from the cycle, we learn that he was actually Ulster's king until Conchobar's mother tricked him into giving up the throne.
Perhaps the most famous character in Irish literature, Cú Chulainn is young, beautiful, and vain. Witty, wise beyond his years, and a supernaturally gifted killing machine, Cú Chulainn at times laments the effects of his own strength and power. His sorrow, after killing his friend Fer Diad, ends with the stunning lines: " . . . you dead, I bursting with life. Courage has a brutal core." A sort of flawed superhero, he has fascinated and inspired Irish writers from those ancient bards through W. B. Yeats and Seamus Heaney.
Woefully unaware of how formidable a warrior is Cú Chulainn, Queen Medb thinks the war is practically won thanks to the curse. But Cú Chulainn stops Medb's allied armies cold until the warriors of Ulster are recovered from their pains. In a rare moment of restraint, he spares Medb's life when he comes upon her urinating in a field. Still, by the end of this dramatic and magical epic, thousands lie dead as the result of a lovers' tiff and the prized bulls lay slain.
ABOUT CIARAN CARSON
Ciaran Carson is a poet, translator, novelist, and essayist. Currently living in Belfast, Carson has written extensively on Irish history and mythology and has won many prizes for his poetry and translations. In a Times Literary Supplement feature, poets Seamus Heaney and Paul Muldoon each named Carson's translation of The Táin one of the best books of 2007.
DISCUSSION QUESTIONS
As a modern reader, in what ways were your expectations met or not met by The Táin?
 
Is Queen Medb a villain? Is Cú Chulainn good, evil, or neither?
 
Does The Táin have a moral?
 
In his introduction, Carson mentions the obsessive detailing of topography. What effect did this have on you as a reader?
 
Describe your favorite of Cú Chulainn's many inventive ways of defeating his foes.
 
Cú Chulainn is both an adolescent boy and superhuman. How are these dual roles played out both physically and psychologically?
 
Cú Chulainn spares Medb's life. The reason he gives is that he does not kill women. But, in fact, he killed a number of women and children before this scene. So why did he spare her?
 
If all of The Táin is viewed as a battle of the sexes, who has won?
 
Every word and action in The Táin is steeped in violence. How does this affect the social world depicted?
 
Discuss the role of the body and bodily functions in The Táin. What thematic and narrative purposes do such functions serve?
 
What elements of this story seem particularly representative of Irish culture, history, or literature?
 
How does The Táin compare to other great epics? What are some similarities and how is it unique?
Back to Top