Leaving Lucy Pear Reader's Guide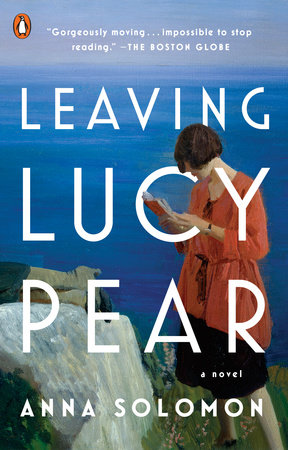 Leaving Lucy Pear Reader's Guide
READERS GUIDE
Introduction
"He never heard or saw a thing, but the next morning he would look out his window and down the hill and there, where the day before the pears had packed the branches like sparrows, there would be only leaves and the gray, fleshy stubs from which the pears had grown." (
Leaving Lucy Pear,
p. 5.)
An Introduction to Leaving Lucy Pear, by Anna Solomon

One quiet summer night in 1917, on the craggy coastline of Cape Ann, Massachusetts, eighteen-year-old Beatrice Haven sneaks out of her uncle's house, sets her newborn baby under a pear tree in the orchard, and watches as another mother claims the infant as her own. The unwed daughter of wealthy Jewish industrialists and a gifted pianist bound for Radcliffe and a life of ease, Bea plans to leave her shameful secret behind and make a fresh start.
But ten years later, with Prohibition in full swing and postwar America in the grips of a xenophobic euphoria, nothing has gone as planned. Her dreams for her future have been discarded, and Bea, having abandoned the piano and married a man who can't fully love her, returns to Cape Ann seeking refuge from her unhappiness. When she hires a nurse to care for her uncle, the woman appears to be a simple, Irish Catholic fisherman's wife and mother of nine—but under cover of night, the headstrong Emma Murphy makes moonshine out of pears and sleeps with Josiah Story, the married manager of the local quarry and a favored candidate in Boston's upcoming mayoral race. And Emma has another secret, too—she is the woman who's been raising Bea's abandoned child, now a bright, bold girl named Lucy Pear, with secrets of her own.
As spring turns into summer, Bea and Emma begin to build a strained, strange friendship. Lucy Pear, unable to find the place where she fits in her adoptive family and her adopted life, plots her escape to Canada. Josiah languishes under the strain of his marriage and struggles not to side with his workers, who are protesting the long-awaited execution of the Italian-American anarchists Sacco and Vanzetti. Emma battles her attraction for Josiah and fears the return of her domineering husband. And Bea, fighting for her sanity, makes yet another ruinous choice whose consequences will shake them all.
In mesmerizing prose, award-winning author Anna Solomon weaves together an unforgettable group of characters as their lives collide on the New England coast of the 1920s. Set against one of America's most turbulent, intoxicating, and strikingly relevant decades,
Leaving Lucy Pear
is a riveting story of two very different women brought together by chance and bound by the daughter they share. Subtly illuminating issues of class, freedom, and the meaning of family, Anna Solomon offers a powerful exploration of identity and what it truly means to belong, establishing herself as one of our most captivating storytellers.
Questions and Topics for Discussion
1. The novel's title most obviously refers to Beatrice's leaving Lucy in the orchard. What else do you think it means, and how did your understanding of it change as you read the book?
2. Bea and Albert's marriage could be called a sham. What do you think? What defines a "real" marriage? What about a good one?
3. Bea has made a career out of doing "good works," but their results—and her motivations—turn out to be morally complex. Have you ever had misgivings about an act of charity (your own or another's)?
4. Who is Lucy's mother? How do Bea's and Emma's relationships with Lucy speak to different ideas about what it means to be a mother? What experiences have shaped your own definition of motherhood?
5. To that end, what can this novel tell us about what it means to be a biological versus an adoptive parent? In what ways does Emma treat Lucy differently from her other children, and how does this affect Lucy? Do you think it's possible to be both a member of a family and an outsider?
6. Both Emma and Bea feel torn between their own fulfillment and their obligations to family. What sacrifices do these women make, and do you think these sacrifices would look different if Bea and Emma lived in the present day?
7. Leaving Lucy Pear tackles a number of intersecting themes, from motherhood and woman's rights to racism and class prejudice. What elements or characters from the novel resonated most with you?
8. The Roaring Twenties are often depicted as carefree years in the United States, but in Leaving Lucy Pear you see how tumultuous the time period really was. Do you see any resonance between the twenties and the times in which we're living now?
About this Author
A graduate of Brown University and the Iowa Writers Workshop, and a two-time winner of the Pushcart Prize, Anna Solomon is a former journalist for National Public Radio's
Living on Earth
. Her previous books include the novel
The Little Bride
and
Labor Day: True Birth Stories by Today's Best Women Writers,
a collection she coedited with Eleanor Henderson. Solomon currently lives in Brooklyn.
Back to Top