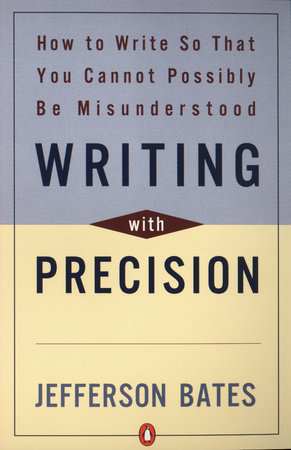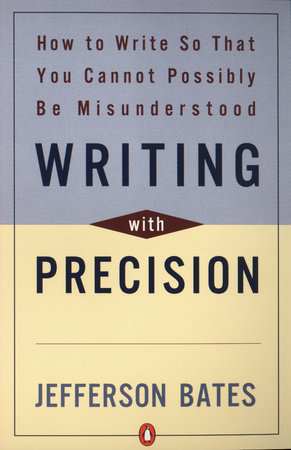 Apr 01, 2000
|
ISBN 9780140288537
Buy the Paperback:
Inspired by Your Browsing History
Buy other books like Writing with Precision
Table Of Contents
Credo
Preface to the Penguin Edition
Preface
Acknowledgments
About This Book… Who Needs It?

Part 1: Writing with Precision
1. Introduction
Can Good Writing Be Taught?
What Is Good "Useful" Writing?
Why the Confusion About "Good Usage"?
Why Bother to Write Better?
The Economics of Clear Writing
The Life You Save…
Getting Down to Brass Tacks
Copyreading Marks

2. The Craft of the Editor
Introduction
Duties and Responsibilities of the Writer: A Preview
Duties and Responsibilities of the Editor: A Preview
Checklist of Editorial DOs and DON'Ts
The "Rules" of Editing
Ten Principles for Improving Clarity and Precision of Written Documents
Editing Your Own Copy—Hardest Editorial Task of All
Checklist of Steps in Revising or Self-Editing

3. Editing for Strength
Introduction
Definitions of Active and Passive Voice
Make Every Word Count
An Unwritten Rule?
When Should You Use a Passive Construction?
PRINCIPLE ONE: Prefer the active voice.
Smothered Verbs
PRINCIPLE TWO: Don't make nouns out of good, strong "working verbs."

4. Editing for Conciseness and ClarityIntroduction
Why Is Conciseness So Important?
PRINCIPLE THREE: Be concise. Cut out all excess baggage. Keep your average sentence length under 20 words.
Too Much of a Good Thing?

5. The Quest for Clarity
Introduction
Checklist: How to Keep Writing "In Focus"
Clarity Is Everything
PRINCIPLE FOUR: Be specific. Use concrete terms instead of generalizations.
Don't Sacrifice Clarity in Your Quest for Speed
Abstraction—the Enemy of Clarity
Use the Right Name for Things
The Ladder of Abstraction

6. The Quest for Precision
Introduction
The Importance of Word Order in the English Language
Ambiguity
PRINCIPLE FIVE: Keep related sentence elements together; keep unrelated elements apart. Place modifiers as close as possible to the words they are intended to modify.
Misplaced Modifiers
Look Out for "Only"
Dangling Modifiers
Squinting Modifiers
Consistency
PRINCIPLE SIX: Avoid unnecessary shifts of number, tense, subject, voice, or point of view.

7. The Right Word
Introduction
Choosing the "Right Word"
Good English Is Appropriate English
PRINCIPLE SEVEN: Prefer the simple word to the far-fetched, and the right word to the almost right.
The evils of elegant variation
PRINCIPLE EIGHT: Don't repeat a word or words unnecessarily. But don't hesitate to repeat when the repetition will increase clarity.
Reference Works

8. How to Make Order Out of Chaos
Introduction
Parallelism
PRINCIPLE NINE: Make sentence elements that are parallel in thought parallel in form. But do not use parallelism to express thoughts that are not parallel.
Making Logical Arrangements
PRINCIPLE TEN: Arrange your material logically. Always begin with ideas the reader can readily understand. If you must present difficult material, go one step at a time.
Checklist for Logical Arrangement

9. How to Write Letters and Memos
Introduction
AXIOM ONE: Do not write without good reason.
Plain Letters
Applying the 4-S Formula
More Advice on Letter Writing
The Importance of Tone
Checklist of Common Mistakes to Guard Against
Don't Be Obsequious or Phony
The "You" Attitude
Using "Word Softeners"
Is Tone Always Important?

10. Know Your Audience
Introduction
AXIOM TWO: Slant your presentation for your audience.
Checklist for Audience Analysis
Analyzing Your Reader(s)
Writing for the "Average" Reader

11. Getting and Holding the Reader's Attention
Introduction
AXIOM THREE: Get straight to the point.
Exceptions to the rule.

12. How to Do "How-to-do-its"
Introduction
AXIOM FOUR: Show the reader!
Checklist for Writing Instructions
How to Describe Simultaneous Operations

13. How to Write Regulations
Introduction
Check with the Legal Staff
Some Steps in the Right Direction
Cutting Out the Legalistic Jargon
The Rules for Shall and Will
The Rules for Must and Should
Checklist for Writing Regulations
Exception Disclosures
Consistency
AXIOM FIVE: Be consistent.

14. How to Write Reports
What's the Problem?
Getting Started
Taking Notes: It's in the Cards!
Visualizing the Final Report
Using Footnotes, Credits, and References
Using Copyrighted Material
Summing Up

15. The Easy Way to Outline
Why the Old-fashioned Outline Often Doesn't Work
Checklist: The Easy Way to Outline

16. How to Write Like a Pro
Establishing Good Writing Habits
Pat Jones's Advice
Production Rates for Writers
AXIOM SIX: Rewrite—rewrite—rewrite!
The Mechanics of Writing Production
AXIOM SEVEN: Allow in your planning for production delays
Deadlines and supervisors

17. Retaining and Using Your New Knowledge
Training Is Big Business
Some Ways to Help You Remember—and Use—Your New Knowledge and Skills
The Big Secret of Learning and Remembering
Information
On to the Millennium
Books on Cards
Books on Tape
Department of Anticlimax

Epitaph

Part 2: Editing (and Self-Editing) with Precision
18. An Editor's Credo
What Is an Editor's Job?

19. Hyphenation and Word Compounding
Doormats, Floormats, and Fruitflies
So What's the Problem?
Research
Getting Down to Common-Sense Principles
Common-Sense Principle Number One
Common-Sense Principle Two
Common-Sense Principle Three
Common-Sense Principle Four

20. Avoid "Second Cousin" Words
Second Cousins and Lightning Bugs

21. Capital Crimes
To Cap or Not to Cap?
Using Style Manuals
Top Editorial Priority: Reader Understanding
Why Do We Use Caps, Anyway?
A "Sea Story" from Space

22. Vogue Words and Technical Jargon
A Definition of Terms
Changing Patterns of Language
The Two Cultures
Common-Sense Principles—Vogue Words and Technical Terms

23. Tell Me Not in Mournful Numbers
Figures? Or Words?
Numbers Speak Louder Than Words
Numbers and Cases
Billions and Billions and Billions
All Numbers Great and Small

24. The Dangerfield Syndrome
Must We Die to Get Respect?
Dictums from a Newspaper Stylebook
Manners of Style? Or Style of Manners?
For Example?
Once More Unto the Breach!

25. Writers and Editors—Can't We Be Friends?
Crotchets, Anyone?
Two Words Better Than One?
Blue Pencils and Blue Language
How Far, O Lord, How Far?
Two Schools of Thought
Pride of Ownership

Part 3: Handbook
How to Use the Handbook
Alphabetical Listings

Part 4: Exercises
Suggested Answers

About the Contributors
Recommended Reading
Bibliography
Index
Back to Top