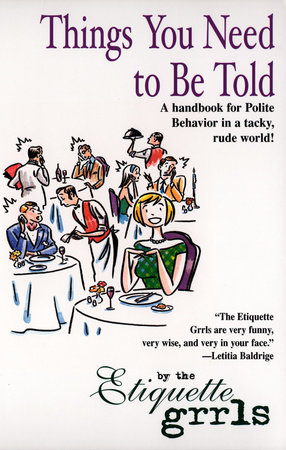 Things You Need To Be Told
A Handbook for Polite Behavior in a Tacky, Rude World!
By Etiquette Grrls

By
Etiquette Grrls
Best Seller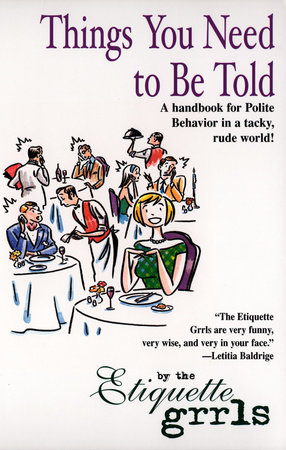 Oct 01, 2001 | ISBN 9780425183700
Buy the Paperback:
People Who Read
Things You Need To Be Told

Also Read
Inspired by Your Browsing History
Table Of Contents
Acknowledgments
Introduction

Chapter One: In Your Apartment
Chez Toi
You Don't Have to Love Thy Neighbors, but You Shouldn't Drive Them to the Brink of Insanity, Either
Indoor Sports
Practicing Your Do-Re-Mis
Appropriating Space: Common Areas
Sticky Fingers
Roomates: The Necessary Evil
Entertaining at Home
Meals
Table Manners>br> The Proper Place Setting
Are Hot Hors d'Oeuvres a Heresy?: Party Food
Your Bar
Whom to Invite
Smoke, Smoke, Smoke That Cigarette
Miss Otis Regrets: Invitations and R.S.V.P.-ing
That You SHould Wear to a Soirée
The Weekend Guest
The Well-Stocked Pantry
The Etiquette Grrls' Recipe for Delicious Artichoke Dip

Chapter Two: Out and About
At the Bar
Are You in the Right Bar?
Drinking Games
Is It a Real Drink?
M Is for Martini
Has Anyone Ever Told You That You Look Just Like Gwyneth Paltrow?: Pick-Up Lines and How to Avoid Them
Where and When to Pass Out, and What You Should Wear
At the Movies, Theatre, and Concerts
Keeping Quiet
What You Should Wear
Food and Beverages
Sitting Still
Rock Concerts
From McDonald's to Tavern on the Green: Dining Out
Where you Should Dine
What You Should Order, and how You Should Order It
Advanced Math: Splitting the Check and Tipping
The Service at This Place Is Lousy!: Dealing with Surly Waiters

Chapter Three: Your Personal Appearance
Good Grooming
Basic Cleanliness
Cosmetics: Use and Abuse
What Looks Good on Everyone
What Looks Good on No One
What Looks Good When Applied Very, Very Carfully
The Importance of Subversive Nailpolish
Clothing
General Advice on Fit
Faux Pas of Fit Which Must Be Avoided
General Advice on Style
Items of Clothing All Girls Should Own
Items of CLothing All Boys Should Own
Articles of Clothing Which Are Never, Ever Acceptable Attire
Last-Minute Checks
Choosing an Appropriate Outfit
Defining Our Terms: Formal, Semi-Formal, Etc.
Formal
Semi-Formal
Casual
Other Catagories of Dress
The See You in Hell Look and How to Create It
You Must Have Studied Dance: Posture and Movement
Poise

Chapter Four: Staying in Touch
The Internet
Forwarded Mail and Attachments
Some Thoughts on Clarity: The Well-Written Message
Choosing an E-mail Address and User-ID
What You Should Wear While On-Line
The Telephone
Call Waiting
Other Activities While on the Telephone
Wrong Numbers
When Not to Call
Answering Machines and Voice Mail
Taking a Message
The Facsimile (Fax) Machine
Portable Communications Devices
Cellular Telephones
Attn: Doctors and Drug Dealers-Some Thoughts on Pagers and Beepers
Palmtop Computers
Letters
Equipment for Letter Writing
Enclosures
Sealing and Stamping the Envelope
The Thank-You Note
What You Should Wear While Writing Letters
In Person
No One's Impressed by an Illiterate Hick: Grammar 101
Introductions and Farewells
Editorial Comments on Other People's Appearances
The Left-Handed Compliment
Too Much Information (TMI): Conversations You Should Not Have

Chapter Five: At Work
The World of the Gainfully Employed
Your Brilliant Career: Where You Should Work, and How to Land the Correct Job
When You're a Worker Bee
When You're the Leader of the Pack
Your Attire
Your Attitude
Bad Office Behavior
Optimizing Synergistic Cross-Platform Eyeballs: Tacky Office Speech
Under the Weather
Office Parties
Office Romance
Office Hook-Ups
Office Gossip: The Correct Way to Dish the Dirt
Working Lunches
Birthday Parites, Gifts, Etc.
Electronic Devices at Work
Quitting Avec Style and Grace
You're Fired!

Chapter Six: Dating and Breakups
Let Me Call You Sweetheart: Dating
How Do You Ask for a Date?
Who Should You Ask for the Date?
How to Refuse a Date, and How to Take "No" for an Answer
The Telephone: What It Is and How to Use It
What Constitutes a First Date?
Formals and Other Fancy Dates
Bringing a Date to Events Where Extended Family Is in Attendance
Public Displays of Affection (P.D.A.)
Babytalk
Disciplinary Action
Some Thoughts on Abandoning Old Friends
Engagement and Marriage
I Hope You Know That This Will Go Down on Your Permanent Record: Breakups
The Graceful Breakup
The Cheatin' Heart
Going AWOL
Theft and Other True Crimes
Seeking Revenge

Chapter Seven: Traveling
First Class, Whenever Possible: How you Should Get There
Air Travel
By Train
On Busses
By Ship
Traveling Clothes
Your Luggage
Staying at Hotels
Staying at a Private home
The Bread-and-Butter Letter
Getting Your Kicks on Route 66: The Road Trip
What You Should Bring with You
What You Should Wear
Where You Should Go
The Etiquette Grrls' Grand Tour
Things to Think About Before You Cross the Pond

Chapter Eight: Miscellaneous Matters of Importance
Advice for the Collegiate Set
Your Rooomate
Decorating Your Room
Your Wardrobe
Behavior in Class
Making Friends Avec the Faculty
Asking for Recommendations
Social Life at College
At Church
Getting There on Time
Visiting a Strange Church
Behavior at Weddings and Funerals
How You Should Be Buried
Holidays
Litigous Behavior
When You're Famous
Well, Conan, It Was a Funny Thing…: Talk Shows
The Etiquette Grrls Would Like to Thank the Academy: Award Shows
Dealing With One's Fame
Excuse Me, Are You…?: Meeting Celebrities
Very Unusual Situations
Spies Like Us
On the Usefulness of Speaking a Foriegn Language
Which Doc Martens?
Smoking Avec Style and Grace
The Servant Problem

Chapter Nine: The Etiquette Grrls' Patois: A Glossary
Profiles in Etiquette: About the Authors

Back to Top