The Edible Woman Reader's Guide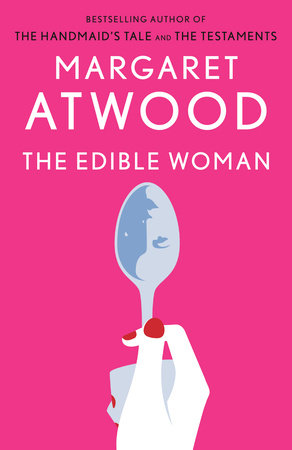 The Edible Woman Reader's Guide
READERS GUIDE
Introduction
The Edible Woman is the first published novel by Margaret Atwood. Rich in metaphor, deliciously comic, and glittering with insight, the story chronicles the fantastic and dramatic ego disintegration of Marian McAlprin, who seems at first to be a perfectly conventional young woman, with friends, a successful and attractive man in her life, and a reasonably good job working for a market research company. Everything in her life seems to fly out of control with her engagement, just as Marian seems ready to fulfill "every woman's" dream of trading in her troublesome job for marriage and a new life at home with children. The manner of her collapse and the startling ending make for often hilarious reading.
This brilliant and witty early work by one of the most admired novelist of our time contains the hallmark themes in the body of work that inspired Vogue magazine to call Atwood "one of the most intelligent and talented writers to set herself the task of deciphering life in the late twentieth century."
Questions and Topics for Discussion
1. Do you see a relationship between the kind of work Marian does in consumer research with the particular way her life begins to disintegrate?
2. Peter is afraid of being captured by a woman, of losing his freedom; Marian begins to feel hunted, caught in his gaze; eventually she even confuses his camera with a gun. In what ways can all the characters seem at once to be hunter, then predator, master then slave, subject then object?
3. Two parties take place in the book, the office party and the engagement party. Discuss what these parties do for the structure and development of the novel.
4. Sexual identity lies at the heart of much of the story. Discuss the role Marian's roommate Ainsley, her friend Claire, and finally the "office Virgins" play in helping define Marian's dilemma. Discuss the men: Why is Marian drawn to Duncan? Contrast him with Peter.
5. The novel is narrated in first person in parts one and three, third person in part two. What is the effect on the reader of the change in voice?
6. Margaret Atwood has described The Edible Woman, her first novel, as an "anti-comedy," with themes many now see as proto-feminist. Give examples of Atwood's clever use of food images throughout the book.
7. First Marian drops meat from her diet, then, eggs, vegetables, even pumpkin seeds. Can you point to the incidents that precede each elimination from her diet? How does her lack of appetite compare or contrast with Duncan's unnatural thinness, his stated desire to become "an amoebae?"
8. What is the meaning of the cake Marian serves Peter at the novel's end? What is the significance of her eating the cake?
9. Margaret Atwood is a writer who often plays with fairy tale images in her work. "The Robber Bridegroom" (which she much later turns on its head with The Robber Bride) was likely an inspiration for The Edible Woman: the old crone warns the bride-to-be " . . . the only marriage you'll celebrate will be with death . . . When they have you in their power they'll chop you up in pieces . . . then they'll cook you and eat you, because they are cannibals." What images of cannibalism does Atwood use? Do you see traces of other fairy tales in this novel?
10. At the time The Edible Woman was written in 1965 food, eating and weight issues had yet attracted wide attention as feminist concerns. Three decades later, in The Beauty Myth, author Naomi Wolf observes that the obsession with thinness began to become a serious national problem for women America around 1920, coinciding with women's right to vote; studies indicate that today nearly half of American young women have had at one time or other had an eating disorder. What are the symbolic meanings of food, and why does it become the focus for so much anxiety?
About this Author
Margaret Atwood was born in 1939 in Ottawa and grew up in northern Ontario, Quebec, and Toronto. She received her undergraduate degree from Victoria College at the University of Toronto and her master's degree from Radcliffe College. The daughter of a forest entomologist, Atwood spent a large part of her childhood in the Canadian wilderness. At the age of six she began to write "poems, morality plays, comic books, and an unfinished novel about an ant." At sixteen she found that writing was "suddenly the only thing I wanted to do." Throughout her career, Margaret Atwood has received numerous awards and several honorary degrees including the Canadian Governor General's Award, Le Chevalier dans l'Ordre des Arts et des Lettres in France, and the National Arts Club Medal of Honor for Literature. She is the author of more than thirty volumes of poetry, nonfiction, and fiction, including children's books, and short stories. Her most recent works include The Handmaid's Tale (1986), Cat's Eye (1989), and Alias Grace (1996), the story collection Good Bones and Simple Murders (1994), and a volume of poetry, Morning in the Burned House (1995). Ms. Atwood's work has been published in more than twenty-five countries. She has traveled extensively and has lived in Boston, Vancouver, Montreal, London, Provence, Berlin, and Edinburgh. Margaret Atwood now lives in Toronto with novelist Graeme Gibson and their daughter.
Back to Top