Beth and Amy Reader's Guide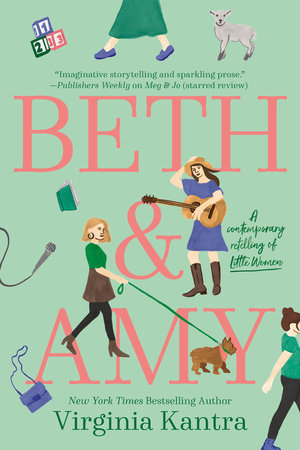 Beth and Amy Reader's Guide
READERS GUIDE
Reader's Guide:
Beth and Amy by Virginia KantraDiscussion Questions


1. What scenes or lines from the original Little Women do you recognize in Beth & Amy? What struck you as most different?
2. Amy feels guilty for having sex with her sister Jo's ex—"a clear violation of the Sisters' Code." Do you believe in a similar code? What makes Amy's choices in Paris and three years later in Bunyan okay or not okay?
3. When Beth arrives for the wedding, her family reacts to her changed appearance. "Look at you," Abby says. "You're skin and bones." And Phee replies, "You can never be too rich or too thin." How do their comments reflect the messages women hear about their bodies? How do other characters in the story feel or talk about weight or appearance?
4. Why do you think the author chose to include Abby/Momma's point of view in this story? What did it add to your understanding of the characters?
5. At what point in the story did you realize Beth had an eating disorder? Why doesn't she confide in her family about her anorexia? Why do you think it took her family so long to recognize her problem? Have you known anyone who has struggled with an eating disorder? Have you discussed it with them? What do you think is helpful to say or not say? (Want to learn more about eating disorders? You can find resources and support at nationaleatingdisorders.org.)
6. Several romantic relationships in the book involve missed opportunities and connections—Abby and Ash, Jo and Trey, Amy and Trey, Beth and Colt, Aunt Phee and James Laurence. How were these resolved? Were you satisfied with the resolutions? Why or why not?
7. Do you agree that Beth and Amy are "defined by who we were not. Shadows of Meg and Jo"? How does birth order affect the sisters' relationships? In what ways do they embrace or reject their family roles? How does their closeness, comparison, and competition affect their choices?
8. Amy refers to Trey as "Prince Charming" and herself as "Cinderella." How accurate is this description? How does their relationship stay the same or change?
9. When the March sisters go out to dinner, Beth says, "Food has always been about me saying no. I have to teach myself to say yes." What are the turning points in the story where the characters say yes or no?
10. In Louisa May Alcott's time, many young women died in childhood or childbirth. The original Beth dies of scarlet fever. Why do you think the author chose to give Beth an eating disorder instead? Were you satisfied or dissatisfied with the decision not to kill off her character?
11. At the end of the book, Abby thinks Ash is "finally the man he was meant to be." Do you agree or disagree? In what ways do the other characters become their best selves?
Back to Top