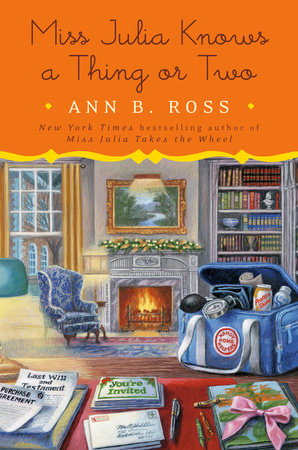 Latest in the Series
Miss Julia Knows a Thing or Two
Book 21
Hardcover
$27
Miss Julia Series :
Titles in Order
Book 21
The delightful new installment of the beloved and New York Times bestselling Miss Julia series

Miss Julia has decided to turn over a new leaf. It's time to stop meddling in other peoples' lives, she thinks–but her hands are full before long! Her neighbor Mildred is sent into a tizzy when a grandchild she's never met shows up on her doorstep. And Mildred's husband keeps forgetting who she is, so she's all on her own. Meanwhile, Etta Mae is worried about losing her job now that the Handy Home Helpers is up for sale. Luckily, Miss Julia has experience dealing
with children dropped on doorsteps, and sweeps in to lend a hand. But there's something missing in that child's life, and Miss Julia knows exactly what it is.
Book 20
The delightful new installment of the beloved and New York Times bestselling Miss Julia series

When Miss Julia's regular doctor goes on vacation with his wife, leaving a replacement in his stead, Miss Julia is immediately concerned. Never one to miss an opportunity to entertain–or size up–a newcomer, she invites the charming Dr. Don Crawford, and his painfully shy wife, Lauren, to dinner. While Miss Julia and Sam both note Lauren's obvious lack of social skills, it's her friends Hazel Marie and Binkie that pick up on some of Dr. Crawford's less palatable qualities.

Meanwhile, Lloyd has gotten his first car, and LuAnne, fresh off her divorce, has started a job at the local funeral home and is in urgent need of an occupation-appropriate makeover–Miss Julia has enough on her plate. Yet there is just something she can't place about the Crawfords, and she won't rest until she gets to the bottom of it.

As always, hijinks ensue as Ann B. Ross delivers this delightful and entertaining installment, Miss Julia Takes the Wheel, in her bestselling Miss Julia series.
Book 19
The nineteenth installment of the beloved and New York Times bestselling Miss Julia series

With her husband Sam off on a trip to Europe, Miss Julia reckons it's about time to roll up her sleeves and be of some use to her community. It's then that she hears that the nosy do-gooder Madge Taylor and the new pastor Rucker are embarking on a mission to buy up the vacant house next door to Hazel Marie and establish a group home for wayward teenagers. No stranger to taking in the down-and-out herself, Miss Julia is shocked to learn Madge and the pastor are keeping the project a secret. When Miss Julia and Hazel Marie start investigating, though, they uncover a far less philanthropic plot for the house that even Madge doesn't know about–one that could change the quiet, peaceful neighborhood forever.

Miss Julia must band together with friends and neighbors to take on nosy Madge and her steamrolling plans, while still being helpful to those in need in another entertaining installment of Ann B. Ross's bestselling series.
Book 18

In the latest installment of Ann B. Ross's New York Times bestselling series, Miss Julia takes a trip to the beach, only to confront a hurricane roiling off the coast–and all the trouble it washes ashore

Miss Julia's sweet and generous husband, Sam, has decided to take a big group trip to the beach, inviting family and friends. While Miss Julia prepares for the big trip, her longtime friend LuAnne comes to her with a horrifying discovery–her husband may be cheating on her. Julia invites LuAnne along to the beach to get away and clear her head–and to keep from doing anything rash.

Everyone settles into the rental house and six-year-old Latisha, their beloved housekeeper Lillian's great-grandaughter, is having a blast searching for seashells when she discovers some much more valuable treasures that have washed up from a strong storm off the coast. As the storm nears, the crew packs up to head back to Abbotsville, and it appears that the three strangers they met on the beach–who seemed a bit too interested in little Latisha's treasures–have followed them back to their sleepy town.

In Miss Julia Weathers the Storm, another highly entertaining and delightful installment in the series by Ann B. Ross, Miss Julia must rely on her quick wit and strong will to protect Latisha, get to the bottom of LuAnne's predicament, and once again save the day.Watch out for Ross's Miss Julia Raises the Roof, coming in April 2018!
Book 17
In this entry in Ann B. Ross's New York Times bestselling series, Miss Julia finds herself an executrix on a desperate hunt for a valuable antique so she can honor her friend's last wishes. Don't miss her newest, Miss Julia Raises the Roof, coming April 2018 from Viking.

When Miss Julia hears that Miss Mattie Freeman has taken a fall and is in the hospital, she wishes she'd spent more time getting to know the woman–and not just because she's last to hear about the accident! So when the tumble proves fatal, the last thing Miss Julia expects is a phone call from Ernest Sitton, Attorney at Law. Suddenly Miss Julia finds herself the executrix of Miss Mattie's estate, and from what Ernest has to say, Miss Mattie's coffers weren't exactly full. 

Determined to find something of value for Miss Mattie's beneficiaries, Miss Julia is faced with a room full of clutter that's now hers to disperse. With the lovelorn caretaker Etta Mae Wiggins working overtime, her good friend Mildred Allen on bed rest, and Helen Stroud cataloging Miss Mattie's furniture, Miss Julia soon realizes she's got a blue-million things to do to honor her friend's last wishes. Thank goodness for Miss Mattie's handsome young neighbor, Nate Wheeler, who's ever ready to help out, and of course for Sam, who's always willing to lend an ear.

But when a young man claiming to be Miss Mattie's great-nephew turns up, demanding to live in her apartment while he writes a family history, Miss Julia will find herself closer to Mattie Freeman and her mysterious family than ever before. In this seventeenth installment in the Miss Julia series, Ann B. Ross delivers another hilarious and big-hearted novel celebrating the South's favorite steel magnolia and the unforgettable residents of Abottsville.
Book 16
It's up to Miss Julia to sort out the murder of a hoity-toity newcomer in the latest addition to the New York Times bestselling series. Look out for the newest in the series, Miss Julia Raises the Roof, coming from Viking in April 2018. 

Miss Julia fans both new and old will be especially keen to get their hands on the sixteenth in the series, Miss Julia Lays Down the Law, guaranteed to be the steel magnolia's most exciting adventure yet.

It's November and Miss Julia is looking forward to some quiet time before the holidays. That is until snobby Connie Clayborn and her rich husband move to town. At first, Miss Julia and the other ladies are pleased to be invited over for coffee, but the afternoon turns into a slap in the face when their hostess spouts nonstop criticism about Abbotsville. Why, how dare she? Days later, Miss Julia decides to confront Connie woman to woman, but when she arrives, Connie is lying on the kitchen floor—lifeless in a pool of blood. Who could have done this? Miss Julia will need to find out fast—particularly because her fingerprints are now all over the crime scene. . . .
Book 15
"Yes, Miss Julia is back, and I, for one, am one happy camper." —J. A. Jance

In the 15th installment of Ann B. Ross's bestselling series, Miss Julia must teach her cousin's granddaughter some manners–and remake a political campaign. Don't miss the newest, Miss Julia Raises the Roof, coming April 2018 from Viking.  

Miss Julia's adoring fans sent this novel straight to the New York Times hardcover bestseller list. But everyone's favorite steel magnolia isn't one to rest on her laurels. It's summer in Abbotsville, and Miss Julia's cousin Elsie calls in an old family debt, asking Miss Julia to teach her granddaughter how to be a lady. When the rude and unkempt Trixie arrives, it's clear Miss Julia has her work cut out for her. Meanwhile, Sam's campaign for state senate is in trouble. Miss Julia enlists Lillian, Latisha, Lloyd, and Hazel Marie to whip Trixie and the campaign into shape!
Book 14
The perfect next course in the New York Times–bestselling series—plus dozens of recipes from Abbotsville's best cooks. Don't miss Miss Julia Raises the Roof, coming April 2018 from Viking.  
Autumn's crisp bite is in the air, but Miss Julia soon discovers that, alas, leaves aren't the only things falling. James, Hazel Marie's housekeeper, has taken a nasty tumble down some stairs. How can Hazel Marie feed and take care of him—not to mention a husband, son, and twin baby girls—when she barely knows how to boil water? Miss Julia promptly organizes the ladies of Abbotsville to give Hazel Marie cooking lessons. But before she can relax, Hazel Marie's shady preacher-uncle turns up—just as Miss Julia learns that James has roped young Lloyd into an Internet scam!Filled with mayhem, delicious recipes, and plenty of steel-magnolia-style action, Miss Julia Stirs Up Trouble is a feast from cover to cover.


Book 13
"Delightful . . . Those who like smiles with their crimes will be satisfied" by the 13th in the popular Miss Julia series (Publishers Weekly). Don't miss her newest, Miss Julia Raises the Roof, coming April 2018 from Viking. As we know from her many trips to the New York Times bestseller list, Miss Julia simply can't abide sitting idle. And with young Lloyd moving out and husband Sam off to the Holy Land, everybody's favorite steel magnolia is feeling restless. Maybe it's time for that long-delayed home makeover. But before Miss Julia can even pick a color swatch, Hazel Marie's new husband, private eye J.D. Pickens, goes missing—and police in West Virginia have detained an injured man fitting his description. Meanwhile, a religious cult is out to convert the locals—and Miss Julia must pick up the pace to free J.D. and get back in time to stop them.



Book 12
Pardon our French, but in Miss Julia's newest nonstop adventure, "steel magnolias kick butt" (Kirkus Reviews). Don't miss the newest, Miss Julia Raises the Roof, coming April 2018 from Viking.   Miss Julia has promised her adoring husband, Sam, to mind her own business. What a relief! Instead of trying to figure out why that dead body was found in Miss Petty's toolshed, Miss Julia can concentrate on taking care of just-in-time newlywed Hazel Marie as she prepares for her impending due date. But then Miss Julia-who has always balanced her checkbook down to the penny-suddenly finds her checks bouncing all over town. Just this once (as she tells herself), Miss Julia starts investigating and so begin the antics that have made her one of the most beloved and irrepressible ladies-of-a-certain-age in today's fiction.
Book 11
"Start with the first book and read straight on through…[or] grab the latest and devour it as a stand-alone." -Charleston City Paper. Don't miss the newest, Miss Julia Raises the Roof, coming April 2018 from Viking. 

Every one loves the irrepressible Miss Julia. Her latest triumph is getting Hazel Marie and J. D. Pickens to the altar before it becomes too obvious that they're expecting twins! But why has Sam agreed that he and Julia will attend the odious Dr. Fowler's marital enrichment sessions? Could Sam feel their flames need fanning? Meanwhile, this lady of a certain age must spring Etta Mae from jail when she's wrongly accused of attacking Francie Pitts. With a fragrant felon to be caught- plus a wedding, babies, and a heaping dose of mischief-it's fortunate for all that Miss Julia's on the case.
Book 10
Miss Julia faces a double dose of trouble-this time right under her own roof. Don't miss the newest,  Miss Julia Raises the Roof, coming April 2018 from Viking. 

Miss Julia's iron will and kind heart have assured her a spot among the most beloved characters of Southern literature. In her latest adventure, Miss Julia whisks Hazel Marie off to the doctor when the latter admits she's been feeling poorly. The news floors them both: Hazel Marie is pregnant with twins. Unfortunately, she's also just sent her beau, Mr. Pickens, packing. Miss Julia needs a plan-and fast. So when Sam's house is robbed, Miss Julia declares that only J. D. Pickins, P.I., can get his things back. Playing Cupid and solving the crime might seem like a tall order but readers everywhere know that Miss Julia always delivers the goods.
Book 9
The inimitable Miss Julia is back and ready for a fight in her latest rollicking adventure. Don't miss Miss Julia Raises the Roof, coming April 2018 from Viking. 

The sleepy town of Abbotsville is abuzz over the mayor's plans to replace the old courthouse with luxury retirement condos. On top of that, several of the town's husbands seem to have flown the coop. As usual, it falls to Miss Julia to save the day-and the courthouse- even if she has to expose a few of the town's not-so- well-kept secrets.

Fans simply can't get enough of Ann B. Ross. Her author events consistently draw crowds of readers craving another book featuring her feisty, white-haired heroine. Miss Julia Paints the Town is certain to satisfy their craving and draw new fans to this hilarious and heartwarming series.
Book 8
The irresistible, indefatigable Miss Julia is back, turning the tables on a thief who chose the wrong belle to burgle. Don't miss  Ann Ross's latest, Miss Julia Raises the Roof, coming April 2018 from Viking. 


Having earned a devoted following for her rollicking antics and unshakable poise, Miss Julia's eighth outing begins with an unfortunate discovery. Her cherished engagement ring-an exact replica of Princess Di's-turns up missing after a party, making her the latest target of a Florida- based gang who, according to Sergeant Coleman Bates, has been denuding Dixie of its jewelry. Incensed, Miss Julia packs Little Lloyd into the car and heads south to claim what is rightfully hers-and to show the feds that there's more than one way to do reconnaissance: selling the Good Book!
Book 7
The feisty Miss Julia returns to set things right in her seventh hilarious adventure. Don't miss Ann Ross's latest, Miss Julia Raises the Roof, coming April 2018 from Viking. Miss Julia has charmed and captivated fans of humorous Southern tales through six rollicking novels, and now, in Miss Julia Stands Her Ground, she faces her most daunting challenge yet. Hazel Marie's troublemaking uncle, Brother Vernon Puckett, has just swept into town and questioned Little Lloyd's paternity. Suddenly Miss Julia's late husband's estate is up for grabs, and it's up to her to prove that the boy's claim is legitimate. In another hilarious and heartwarming caper, Ann B. Ross proves that a little spunk and Southern charm go a long way.


Miss Julia Series:

Bundles & Boxed Sets
Miss Julia Series:

Related Titles
Other Series You Might Like
Back to Top
Visit other sites in the Penguin Random House Network